Ohtani tops MLB pay list with record US$65 million
Japanese two-way star Shohei Ohtani is to make a one-season MLB record US$65 million this year in salary and endorsements, Forbes magazine reported on Tuesday.
Ohtani, set to be the starting pitcher for the Los Angeles Angels in their MLB season opener today against Oakland, helped spark Japan to the World Baseball Classic title a week ago with a victory over the US in the final.
The 28-year-old who serves as an outfielder and designated hitter when not on the mound, signed a one-year contract extension worth US$30 million last year and will make US$35 million in endorsements this year, Forbes reported.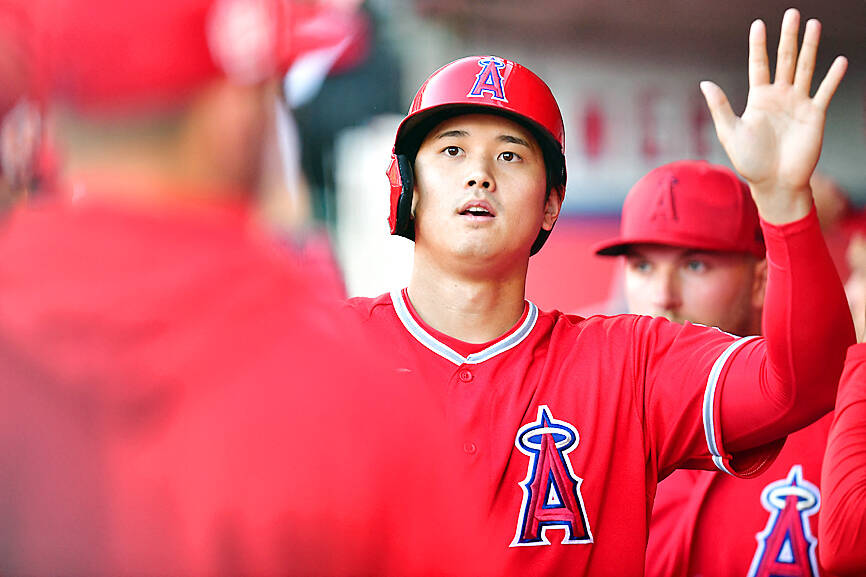 The Los Angeles Angels' Shohei Ohtani greets his teammates after scoring a run against the Los Angeles Dodgers during their MLB pre-season game at Angel Stadium in Anaheim, California, on Tuesday.
Photo: Gary A. Vasquez-USA TODAY
That is a huge jump from only US$6 million in 2021 sponsorship deals and US$20 million last year.
While the numbers already make Ohtani the highest-paid player in the sport, the 2021 American League Most Valuable Player (MVP) is set to become a free agent after the upcoming campaign and is expected to receive one of the richest contracts in MLB history for next season and beyond.
"Shohei's commercial impact annually for the Japanese market will be to the tune of tens of millions of dollars, because he is a cultural icon in Japan first and a baseball player second," New Balance chief marketing officer Chris Davis told Forbes.
"He'll probably be the first and only baseball player of this generation that has the ability to have that level of commercial impact for a brand," he said.
Last year, Ohtani went 15-9 with a 2.33 earned-run average and 219 strikeouts over 166 innings. He had a .273 batting average with 34 home runs, 30 doubles and 95 runs batted in over 157 games.
The MLB's 10 highest-paid players are set to make a record US$436 million this year, up 15 percent from last year's record of US$377 million, Forbes reported.
A major reason for the leap was the US$3.8 billion MLB clubs spent on free agent contracts for this season.
Among the deals was a US$360 million nine-year contract for last year's American League MVP Aaron Judge to stay with the New York Yankees and pitcher Justin Verlander's US$86.7 million two-year deal with the New York Mets.
Verlander and teammate Max Scherzer have the top on-field contract totals for this year at US$43.3 million.
Scherzer ranked second on the season's highest-paid players list at US$59.3 million, bolstered by US$15 million in deferred salary payments from the Washington Nationals, whom he helped win the 2019 World Series.
Judge was third at US$44.5 million, including US$4.5 million in endorsements, with Verlander fourth on US$44.3 million and Mike Trout of the Angels fifth on US$39.5 million.
Comments will be moderated. Keep comments relevant to the article. Remarks containing abusive and obscene language, personal attacks of any kind or promotion will be removed and the user banned. Final decision will be at the discretion of the Taipei Times.