South Africa grannies take to the soccer field
Wearing blue tracksuits and waving their national flag, South Africa's Vakhegula Vakhegula soccer team on Sunday jogged into the stadium to cheers ahead of their first match.
It was the first day of the Grannies International Football Tournament in Limpopo Province, and this team — like the others — was made up of women aged 55 and older. Vakhegula means "grandmothers" in Tsonga.
"At my age, I think if I was not in this sport, I should have been confined to a wheelchair," said 66-year-old striker Flora Baloi, who started playing in 2017 after developing severe arthritis.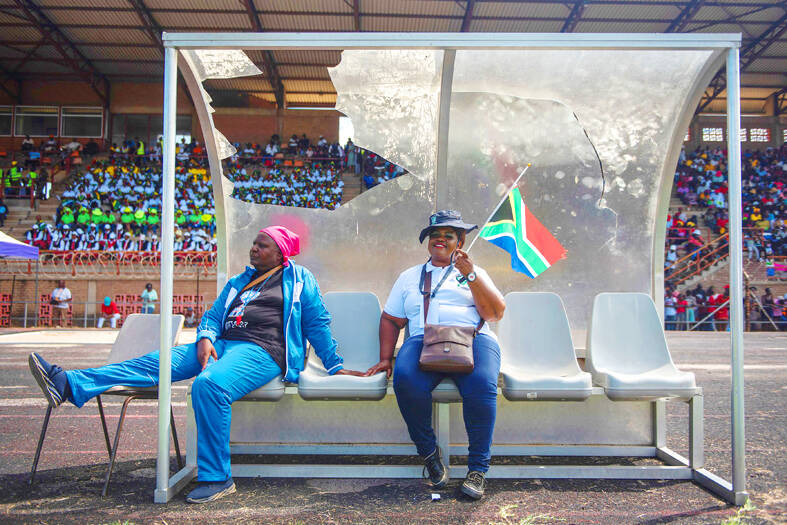 Spectators watch the Grannies International Football Tournament at Nkowankowa Stadium in Tzaneen, South Africa, on Sunday.
Photo: Reuters
Now she said she no longer needs medication, as the exercise keeps her physically and mentally fit. When not practicing with the team she likes watching soccer on TV with her husband, and spending time with her five grandsons.
The tournament, nicknamed the "Grannies Soccer World Cup," is the first of its kind hosted by Vakhegula Vakhegula. The team was formed in 2007 to improve the health of local women, and it led to the creation of other granny teams across the country.
The four-day tournament, which ends today, features at least 15 teams, from South Africa and other countries including Zambia, Zimbabwe and Mozambique.
Teams have come from as far away as France and the US.
"We love it. It means so much to us. It's a community, it makes us healthy," US player Mo Kelly, 64, said.
Comments will be moderated. Keep comments relevant to the article. Remarks containing abusive and obscene language, personal attacks of any kind or promotion will be removed and the user banned. Final decision will be at the discretion of the Taipei Times.