Indonesia's Israel stance sows soccer chaos
Uncertainty over the timing and location of the FIFA Under-20 World Cup continues two days after Indonesian authorities postponed the official draw for the May 20 to June 11 tournament because of protests over Israel's participation.
The draw, scheduled to be held in Bali on Friday, was delayed indefinitely by the Football Association of Indonesia (PSSI) amid backlash from conservative Islamic groups.
Doubt had already been cast on the draw ceremony when Bali Governor Wayan Koster called for a ban on Israel playing there because of Indonesia's diplomatic support for the Palestinian cause.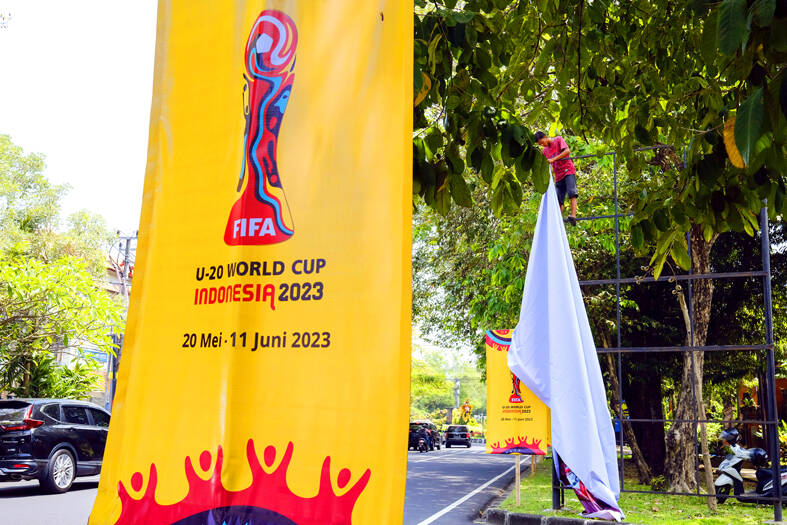 A worker removes a banner for the FIFA U-20 World Cup in Denpasar, Indonesia, on Monday.
Photo: EPA-EFE
FIFA has not commented on Indonesia's status as host or a reported offer from Argentina to stage the event.
Pressure is mounting on the PSSI and its chairman, Erick Thohir, who was planning a trip to Zurich to hold meetings with FIFA. If local authorities fail to resolve the hosting issues over Israel, Indonesia risks being suspended by FIFA and potentially missing out on Asian qualifying for the 2026 World Cup.
Thohir is a former owner of major international teams, including Italian soccer giant Inter and the NBA's Philadelphia 76ers, and has been Indonesia's minister of state-owned enterprises since 2019.
His sport and political diplomacy skills would be seriously tested. Thohir and FIFA president Gianni Infantino are also both members of the International Olympic Committee.
"Continue to be passionate about finding solutions to every challenge, for the sake of an increasingly global Indonesia," Thohir wrote in a Twitter post aimed at resolving the impasse.
Indonesian Coordinating Minister for Human Development and Cultural Affairs Muhadjir Effendy said that "we are still conducting talks" with FIFA.
"We hope we can find the answer and at least FIFA will understand Indonesia's position in this problem," Effendy, who is also acting minister of youth and sports, said after a cabinet meeting on Monday.
Effendy also said that Indonesia submitted conditions to FIFA about the presence of Israel during the tournament, but there was no common ground. He did not elaborate on the conditions.
"This is not merely a rejection or protest, but this is related to our country's constitution," he said in response to questions about the leaders of two provinces selected as tournament venues pushing back against hosting the Israeli team.
Indonesian soccer and public authorities agreed to FIFA's hosting requirements in 2019 before being selected to host the 2021 edition of the Under-20 World Cup, which was subsequently postponed because of the COVID-19 pandemic.
Even the Palestinian ambassador to Indonesia has said he has no objections to the Israeli national team playing in the tournament.
"The rejection of the Israeli national team by some people in Indonesia, including a number of regional heads and politicians is regrettable," said Hikmahanto Juwana, a professor of international law at the University of Indonesia. "As long as Indonesia has declared itself willing to be the host, Indonesia must take the risk not to reject any members from international event organizers."
Comments will be moderated. Keep comments relevant to the article. Remarks containing abusive and obscene language, personal attacks of any kind or promotion will be removed and the user banned. Final decision will be at the discretion of the Taipei Times.