Fans in Tokyo celebrate WBC win, cherry blossoms
With cherry blossoms reaching full bloom in Tokyo, Japanese sports fans erupted in jubilation yesterday, after their compatriots defeated the US to win the World Baseball Classic (WBC).
More than a hundred people gathered near Shimbashi Station in the city center to get special newspaper editions celebrating the victory. The scene quickly turned chaotic, with police officers jumping in to help hand out copies.
"I am so proud as a Japanese national," said Yuji Takeno, a 33-year-old company worker who was among those gathered in Shimbashi. "I also play baseball for leisure and it makes me want to work harder, that's how well they played."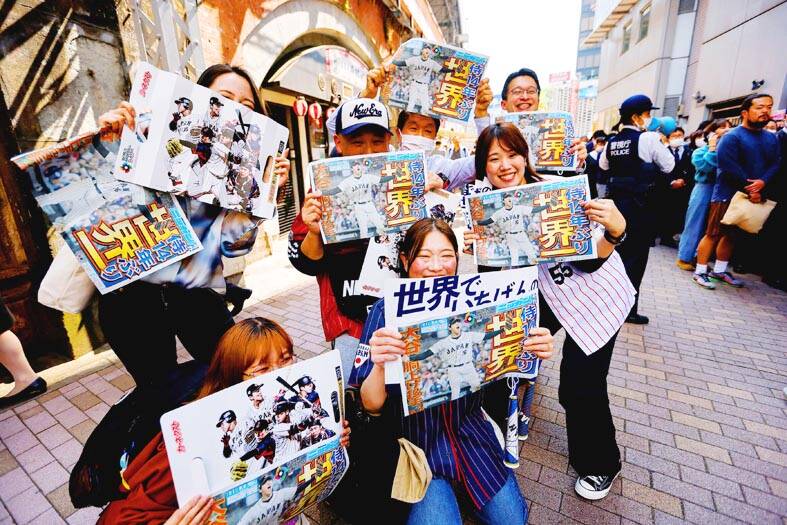 People hold up special edition newspapers, reporting Japan's victory at the World Baseball Classic final, as others line up to try to get copies in Tokyo yesterday.
Photo: Reuters
Two-way superstar Shohei Ohtani struck out his Los Angeles Angels teammate Mike Trout to seal a 3-2 victory for Japan in the WBC finale on Tuesday evening in Miami. Japan have won three of the five global tournaments.
"Thank you, Ohtani, thank you, Samurai Team Japan," shouted 29-year-old company worker Sho Ishii, who watched the game at a public viewing near Tokyo Tower.
"Nihon yusho," or "Japan victory", was the No. 1 trending topic on Twitter, with baseball-related hashtags rounding out the top 10.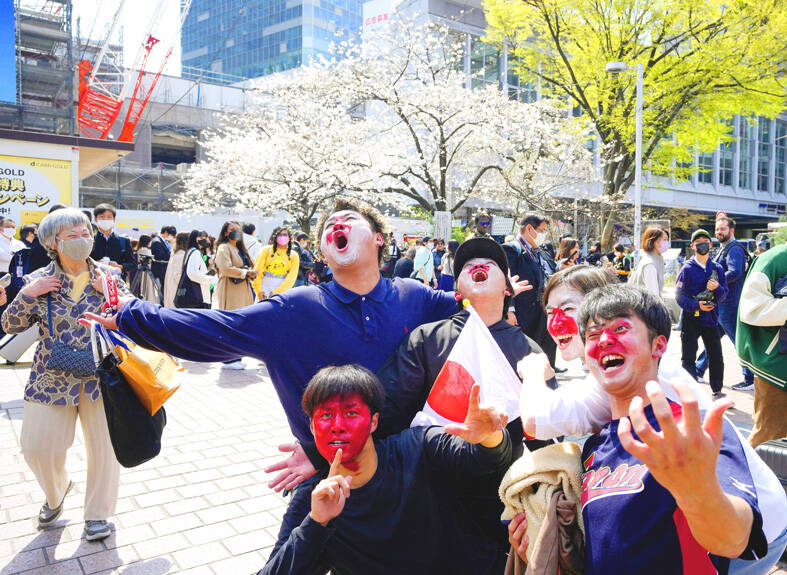 Japanese baseball fans in Tokyo yesterday celebrate Japan winning the World Baseball Classic title against the US.
Photo: EPA-EFE
With two wins and a save, Ohtani was named Most Valuable Player of the tournament, leading a dominant roster of Japanese pitchers.
Japan pitchers set a WBC record for strikeouts throughout the series, Fox Sports said.
"One could argue that Samurai Japan has the three best — or three of the best — pitchers in the world, in the charismatic Ohtani, 21-year-old fire-balling sensation Roki Sasaki and the veteran Yu Darvish," said Robert Whiting, who has written about Japanese baseball for decades.
TV viewer ratings of previous WBC games exceeded 40 percent of Japanese households, and for the finale, hundreds of fans gathered at viewing parties in the hometowns of star players, domestic media reported.
Japanese government spokesman Hirokazu Matsuno told reporters the win was "an incredible achievement that greatly excited the Japanese people."
With sublime serendipity, Japan's victory came as Tokyo cherry blossoms reached their zenith, bathing the city's parks and streets in pink and white.
Warm weather ushered in full bloom nine days sooner than usual in the capital and one of the earliest in recorded history, national broadcaster NHK said yesterday, citing the weather agency.
Comments will be moderated. Keep comments relevant to the article. Remarks containing abusive and obscene language, personal attacks of any kind or promotion will be removed and the user banned. Final decision will be at the discretion of the Taipei Times.