Ohtani fans Trout, Japan top US 3-2
ON ANOTHER LEVEL: In a pregame speech, Ohtani urged his teammates 'to throw away their admiration' for the US, because they 'came here to surpass them, to reach the top'
Shohei Ohtani and Mike Trout had dreamed of this moment, along with millions of fans throughout Japan and the US: the two biggest stars on the planet, longtime teammates, facing each other at 60 feet, 6 inches, the world title at stake.
Of course, the count went full on Tuesday night, and Ohtani got Trout to swing under a slider on the outside corner, sealing Japan's 3-2 win and their first World Baseball Classic (WBC) title since 2009.
"This is the best moment in my life," Ohtani said through a translator.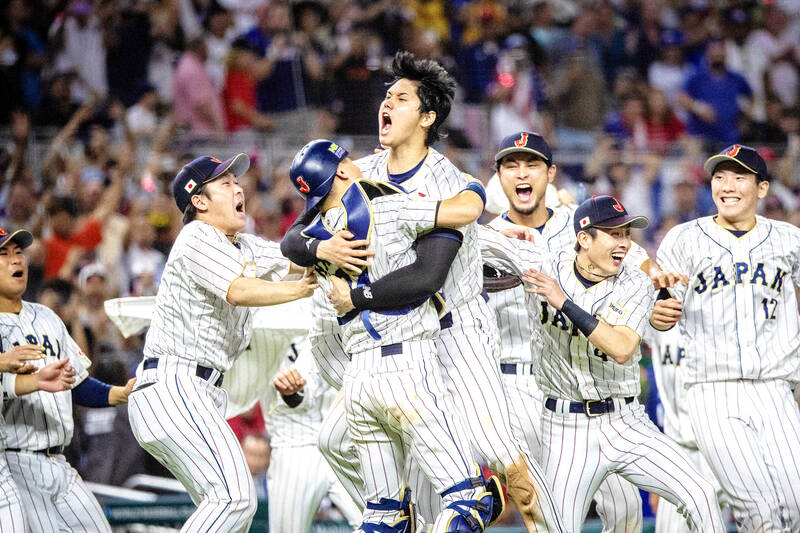 Japan's Shohei Ohtani, center, celebrates with his teammates after winning the World Baseball Classic final against the US at LoanDepot Park in Miami, Florida, on Tuesday.
Photo: EPA-EFE
Ohtani, the two-way star who has captivated fans across two continents, was voted Most Valuable Player of the WBC after batting .435 with one homer, four doubles, eight RBIs and 10 walks, while going 2-0 with a save and a 1.86 ERA on the mound, striking out 11 in 9-2/3 innings.
"I think every baseball fan wanted to see that. I've been answering questions about it for the last month and a half," said Trout, Ohtani's Los Angeles Angels teammate since 2018. "Did you think it was going to end in any other way?"
Watching the eighth and ninth innings unfold, Japan first baseman Kazuma Okamoto was in disbelief.
"I thought it was like a manga," he said through an interpreter.
US manager Mark DeRosa savored the matchup — except for the ending.
"I just would have liked to have seen Mike hit a 500-foot homer," he said.
Ohtani had given a pregame pep talk in Japan's clubhouse.
"Let's stop admiring them," he said in a Los Angeles Times translation of a video posted on the Web site Samurai Japan. "If you admire them, you can't surpass them. We came here to surpass them, to reach the top. For one day, let's throw away our admiration for them and just think about winning."
Japan joined the Dominican Republic in 2013 as the only unbeaten champions of baseball's premier national team tournament.
Samurai Japan went 7-0 and outscored opponents 56-18, reaching the final for the first time since winning the first two WBCs in 2006 and 2009. No other nation has won the title more than once.
In his third mound appearance of the tournament, Ohtani walked big league batting champion Jeff McNeil to begin the ninth, then got six-time MLB All-Star Mookie Betts to ground into a double play.
That brought up Trout, the US captain, a 10-time All-Star and a three-time MVP.
"I saw him take a big deep breath to try and control his emotions," DeRosa said. "I can't even imagine being in that moment, the two best players on the planet locking horns as teammates in that spot."
Ohtani started with a slider low, then got Trout to swing through a 100mph fastball. Another fastball sailed outside and Trout missed a 99.8mph pitch over the middle. A 101.6mph offering, the fastest of Ohtani's 15 pitches, was low and way outside.
Ohtani stepped off the mound and blew on his pitching hand. He went back to an off-speed option, a slider.
Trout grimaced after his futile swing, his 12th strikeout of a tournament in which he hit .296 with one homer and seven RBIs. Ohtani raised both arms and threw his glove, then his cap, as teammates mobbed him.
"What he's doing in the game is what probably 90 percent of the guys in that clubhouse did in Little League or in youth tournaments, and he's able to pull it off on the biggest stages," DeRosa said. "He is a unicorn to the sport. I think other guys will try it, but I don't think they're going to do it to his level."
Comments will be moderated. Keep comments relevant to the article. Remarks containing abusive and obscene language, personal attacks of any kind or promotion will be removed and the user banned. Final decision will be at the discretion of the Taipei Times.