Ohtani, Japan rally in 9th, reach WBC final
When Shohei Ohtani reached second base after hitting a leadoff double in the bottom of the ninth inning on Monday, he immediately looked up at the crowd and waved his arms, in a rare sign of emotion, as if he knew what was coming next.
Ohtani's clutch hit sparked a late rally, and moments later Munetaka Murakami delivered a walk-off, two-run double to lift Japan over Mexico 6-5 and into the World Baseball Classic final.
Two-time champions Japan were to face the defending champions the US in yesterday night's title game at 7pm in Miami.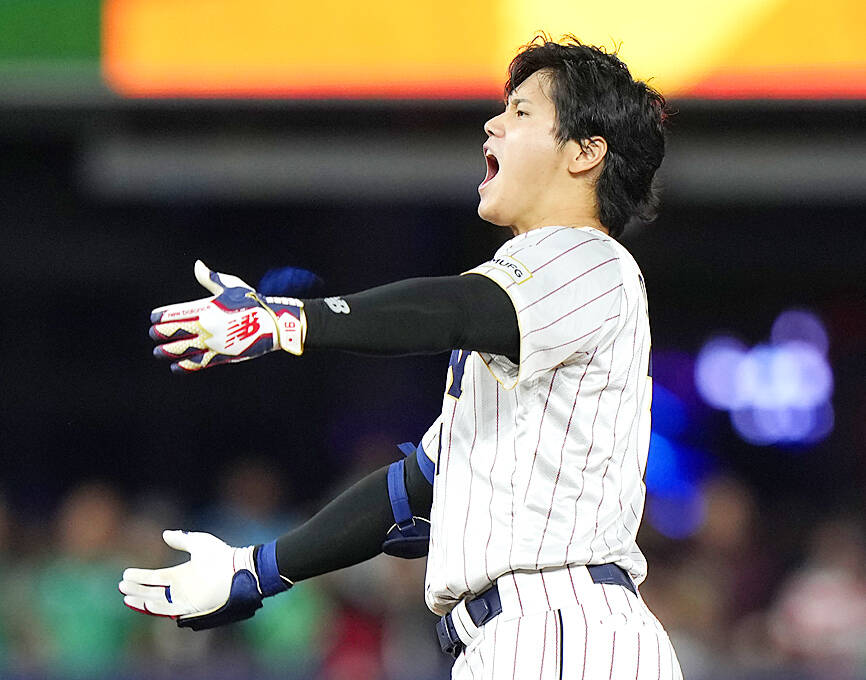 Japan's Shohei Ohtani celebrates after hitting a leadoff double during the ninth inning of their World Baseball Classic game against Mexico in Miami, Florida, on Monday.
Photo: AP
After Monday's game, Japan team members rushed the field in triumph, as Mexico's players exited with their heads bowed and hands on their hips.
"These games are really critical and the foundation of baseball," Japan manager Hideki Kuriyama said through an interpreter.
Ohtani went 2-for-4. The Los Angeles Angels star scored in the seventh when Masataka Yoshida hit a tying, three-run homer off reliever JoJo Romero.
Ohtani's double off losing pitcher Giovanny Gallegos was his fourth of the tournament. After Ohtani got the rally started, Yoshida walked to bring up Murakami.
In front of a crowd of 35,933 that chanted "Si Se Puede" — translating to "Yes We Can!" — throughout the night, left fielder Randy Arozarena had a signature performance for Mexico. He made a leaping catch in the fifth to preserve a 3-0 lead, signed a few mid-inning autographs, then doubled and scored in the eighth to make it 4-3.
"Randy was incredible today," Mexico manager Benji Gil said. "He gave us the opportunity to come back to the game after a home run that many teams facing this kind of team with so many stars, they could have given up, but, no, he started this rally. We fought. Again, we took the lead. They are warriors."
The game began as a pitching duel between Roki Sasaki and Patrick Sandoval, but Japan's offensive power proved too much for Mexico's relievers.
Sasaki struck out three in four innings in his first appearance on a global stage.
Dozens of MLB club officials were in attendance scouting Sasaki, whose entry into the majors is all but certain after he became a sensation last year in his second season with the Pacific League's Chiba Lotte Marines.
Twenty six of Sasaki's 64 pitches eclipsed 160.9kph.
In the fourth, Luis Urias launched Sasaki's 146.1kph cutter for a three-run homer to left-center field. The drive scored Rowdy Tellez and Isaac Paredes, who reached with two of the five hits Sasaki gave up.
Sandoval struck out six and allowed just four hits in four scoreless innings before he was replaced by Jose Urquidy.
Japan, which trails only Cuba (64) and the US (63) in hits during the tournament, had 10 on Monday night, including Yoshida's home run off Romero's 2-2 changeup that sailed just inside the right field foul line.
Yoshida is about to start his first season in the major leagues with the Boston Red Sox.
Over the weekend, Red Sox manager Alex Cora said Yoshida would start out as the team's cleanup hitter.
"I know my hand was a little shivering, but I know that there was a good connection," Yoshida said through a translator. "I believe in myself, and I remember I stepped into the box with a belief in myself."
Paredes gave Mexico a two-run cushion in the eighth when he singled to left field to drive in Jarren Duran, but Japan pulled within a run on a sacrifice fly by Hotaka Yamakawa that scored Takumu Nakano, who was pinch-running for Kazuma Okamoto.
Comments will be moderated. Keep comments relevant to the article. Remarks containing abusive and obscene language, personal attacks of any kind or promotion will be removed and the user banned. Final decision will be at the discretion of the Taipei Times.