US crush Cuba to reach final
'GOING CRAZY': Adam Wainwright said it was the 'wildest environment I've ever pitched in' as the fans created an electric atmosphere in Florida
Trea Turner on Sunday smashed two home runs as defending champion the US routed political rivals Cuba 14-2 to reach the World Baseball Classic final.
The US advanced to today's championship game against the winner of yesterday's other semi-final between undefeated Japan and Mexico, who defeated the US in pool play.
Japan, winner of the first two Classics in 2006 and 2009, were set to start 21-year-old right-handed ace pitcher Roki Sasaki against Mexico, first-time semi-finalists.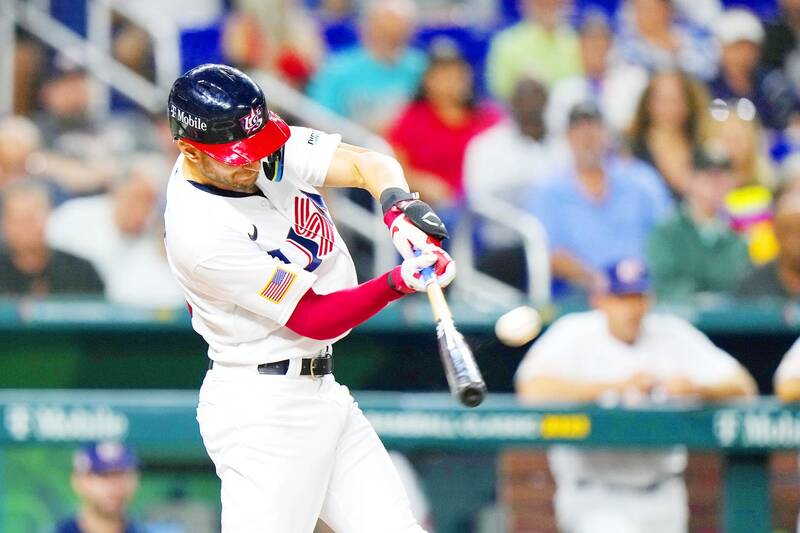 Trea Turner of the US hits a home run against Cuba in their World Baseball Classic semi-final in Miami, Florida, on Sunday.
Photo: AP
Turner and Paul Goldschmidt each drove in four runs as the US pounded out 14 hits and scored in each of the first six innings to overwhelm their rivals from the Caribbean.
"It was a great win for us," US winning pitcher Adam Wainwright said. "It's a great feeling. I'm so proud to be out there."
Cuba's Roel Santos, Yoan Moncada and Luis Robert Jr delivered infield singles to open the game, and Wainwright, a 41-year-old right-hander, then walked Alfredo Despaigne to force in a run.
"They didn't hit any balls hard," Wainwright said. "There was a lot of stuff going on. I just had to realize they weren't smacking me around. I was getting myself into situations that I didn't need to get myself into. I had to just keep making pitches. I took a big step off the mound, took a deep breath, reset and just tried to make some pitches."
The US limited the damage to a lone run and dominated from there.
"Luckily, I've got a good curve ball. I could spin the ball well," said Wainwright, who pitched four innings.
In the bottom of the first inning, Mookie Betts doubled and first baseman Goldschmidt, last year's National League Most Valuable Player for St Louis, blasted a two-run homer to left field off Roenis Elias for a 2-1 lead.
Elias, a 34-year-old southpaw, is among several players who defected from Cuba to join MLB clubs that Cuban officials allowed into the Classic squad for the first time.
Turner, who blasted a game-winning grand slam in a quarter-final win over Venezuela, smashed a solo homer in the second for a 3-1 lead.
Pete Alonso's bases-loaded single in the third plated another US run and Tim Anderson's sacrifice fly gave the hosts a 5-1 advantage.
In the fourth, Goldschmidt walked and scored on a triple by Nolan Arenado, who ran home on a wild pitch by Carlos Viera for a six-run US lead.
In the fifth, Moncada doubled, advanced on a Erisbel Arruebarrena single and scored on an Andy Ibanez single to pull Cuba within 7-2, but the US answered in the fifth when Goldschmidt smacked a two-run single.
Turner blasted a three-run homer in the sixth, his team-best fourth of the Classic, for a 12-2 US advantage.
Betts followed with a single and scored on Mike Trout's double to right field as the rout continued.
The home supporters erupted in delight, part of an electric atmosphere at the home of the Miami Marlins.
"That's the wildest environment I've ever pitched in. Fans were going crazy the entire time," Wainwright said. "It has been like that every round. It seems like every fan in the house is on their feet all the time cheering. You can barely hear yourself talk on the bench. You can barely hear yourself think on the mound. You've got to really focus."
Cedric Mullins added a solo homer in the eighth to create the final margin.
Comments will be moderated. Keep comments relevant to the article. Remarks containing abusive and obscene language, personal attacks of any kind or promotion will be removed and the user banned. Final decision will be at the discretion of the Taipei Times.