Japan fans pepper Lars Nootbaar with love
California-born Lars Nootbaar had never played for Japan before the World Baseball Classic, but he has become so popular in his adopted country that sales of pepper mills have shot up in tribute to his trademark celebration.
The 25-year-old outfielder — the first player born outside Japan to represent the country at the tournament — mimics twisting a pepper mill after each hit to show he wants to "grind out" a win for his team.
The celebration has become a smash hit during Japan's games in Tokyo, with Nootbaar's teammates jumping on the bandwagon and fans bringing pepper grinders to the stadium.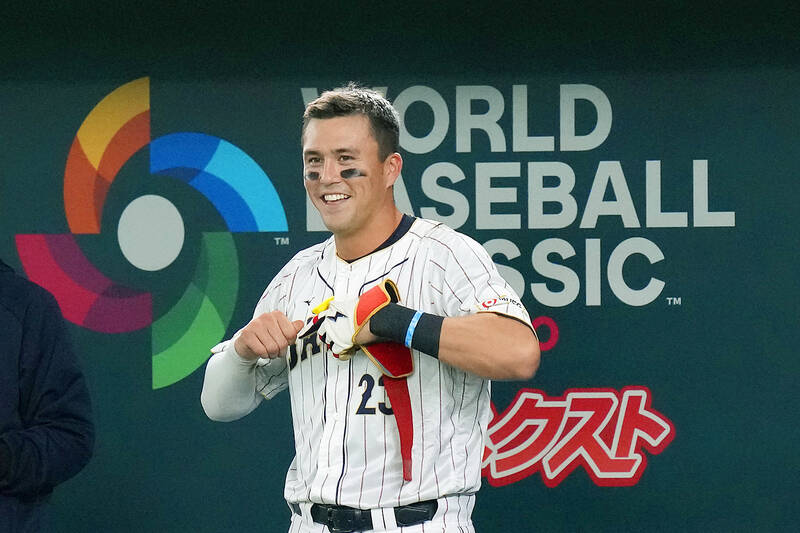 Lars Nootbaar of Japan gestures during their game against Italy at the World Baseball Classic at Tokyo Dome on Thursday.
Photo: AP
Nootbaar was born and raised in California, and speaks little Japanese, but he qualifies for them through his mother, Kumiko.
Underlining how Japanese fans have taken him to their hearts, one Tokyo ramen restaurant has been selling "Nootbaar noodles," while a cooking utensil shop said sales of pepper mills had gone up by 15 percent.
Only superstar Shohei Ohtani got louder cheers as Japan won five games out of five to reach the semi-finals in Miami, their run at home capped on Thursday with a 9-3 defeat of Italy.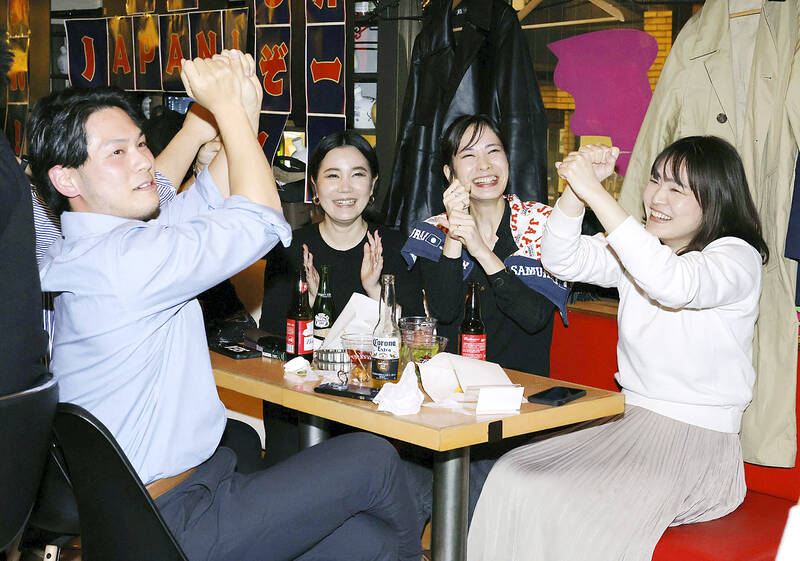 People at a sports bar in Tokyo on Thursday mimic a pepper-grinder gesture used by Lars Nootbaar of Japan.
Photo: AP
Japan on Monday are to play a semi-final against Puerto Rico or Mexico, while Cuba are to play the other semi-final against the US or Venezuela.
"I hear that pepper grinders around the country, the sales have gone up quite a bit this past week," Nootbaar, who visited Japan often as a child, said before the Italy game. "The fans have embraced me, the team has embraced me, which has been so great for me to be able to be myself. I didn't really expect it to turn out this way."
Nootbaar made his MLB debut with the St Louis Cardinals in 2021, but he was almost unknown in Japan before the World Baseball Classic.
He became a fan of the Japan team when players from the national youth side — including future New York Yankees pitcher Masahiro Tanaka — stayed with his family during a trip to California when he was nine years old.
He said it was "a dream come true" to represent Japan and he has fully repaid manager Hideki Kuriyama's faith with a series of feisty performances.
Nootbaar thrilled the Tokyo crowd with his hard-running, never-say-die attitude, getting valuable hits, stealing bases and launching himself to make spectacular catches.
The crowd serenaded him with cries of "Noooot" every time he stepped up to bat and he said it was "easy to play hard with the fans because they love the game."
"It's something I've dreamed of since I was a little kid, playing in front of these big crowds, passionate crowds in important games," he said.
Japanese TV shows have already discussed the sense of loss fans will feel now that Nootbaar and his teammates have left for Miami.
Japanese companies will almost certainly be lining up to offer Nootbaar endorsement deals and enterprising firms have started cashing in on his popularity.
"We actually had some of the young guys go buy a pepper grinder, so we'll probably have one in the dug-out today," Nootbaar said before the quarter-final. "It's been really cool to see the fans and the team enjoy that."
Additional reporting by AP
Comments will be moderated. Keep comments relevant to the article. Remarks containing abusive and obscene language, personal attacks of any kind or promotion will be removed and the user banned. Final decision will be at the discretion of the Taipei Times.