Grizzlies maul Warriors, Bucks hold off Nets rally
The Memphis Grizzlies on Thursday produced a devastating first-quarter scoring spree in a blowout 131-110 victory over the Golden State Warriors in the latest installment of their rivalry with the NBA champions.
The Grizzlies erupted for 48 points in the first period to take a stranglehold on the contest as Golden State's suspect defense was exposed once more.
Tyus Jones led the Memphis scorers with 22 points, while Desmond Bane and Jaren Jackson Jr had 21 points apiece as six Grizzlies players finished in double figures.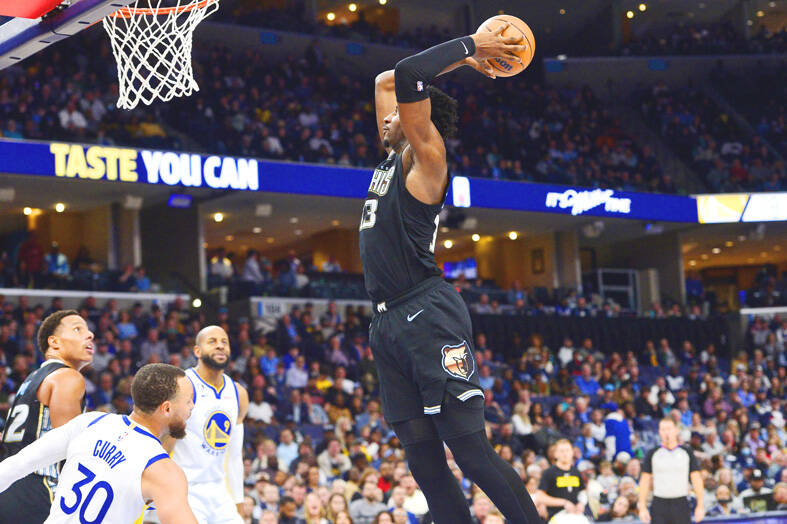 Memphis Grizzlies forward Jaren Jackson Jr, top, dunks against the Golden State Warriors in their NBA game in Memphis, Tennesee, on Thursday.
Photo: AP
The emphatic victory was a welcome piece of good news for Memphis after a challenging week that saw star point guard Ja Morant dropped by the team and put under investigation by the NBA for posting a video on social media of himself waving a handgun in a strip club.
The win also gave Memphis bragging rights over a Golden State team with whom they have developed an increasingly fractious rivalry.
The Warriors beat the Grizzlies in the Western Conference playoffs last season en route to the NBA title and the buildup to Thursday's game had been marked by public feuding between Memphis' Dillon Brooks and Golden State's Draymond Green.
The bad blood threatened to spill into the clash, with the two men getting into a tense confrontation in the second quarter which ended with them being separated by a member of the officiating crew.
Brooks stoked the controversy last week by voicing his antipathy toward Green and the Warriors, saying: "I don't like Draymond at all. I just don't like Golden State. I don't like anything to do with them."
Green later returned the fire, declaring on his podcast: "I quite frankly wouldn't like a team that beats me all the time either."
Nevertheless, it was Brooks and Memphis who had the last laugh after completing a wire-to-wire victory.
"We've had a rough couple of weeks, but we've got dogs on our team," Brooks told an on-court interviewer from broadcaster TNT. "You should give that mic to Draymond so he can keep talking about me and making me play better."
Green brushed off Brooks' verbal volley in post-game comments to reporters, dismissing once again suggestions that Memphis were serious "rivals" to the Warriors dynasty.
"Rivalries are created by, you know: 'You win, I win.' Our organization has won four championships [since 2015] and I think their organization has won zero championships," Green said. "I don't consider that a rivalry. Anybody can win a game in March. What does that mean? I have a hard time getting out of my bed in March."
Warriors coach Steve Kerr was left lamenting the first-quarter tactical gamble of starting four guards that saw his team routed.
"We've gotten off to bad starts in the last six or seven games, so we were looking for a little daylight early in the game," Kerr said. "We wanted to get some good shots early, but we didn't do that. We were impatient and took some really tough, quick shots. I think in hindsight we got a little too cute with that, but we are where we are. We took a gamble and it didn't pay off."
In Milwaukee, Wisconsin, the Bucks overcame the absence of Giannis Antetokounmpo to extend their lead at the top of the Eastern Conference with a 118-113 win over the Brooklyn Nets.
Bobby Portis led the Bucks scorers with 28 points, while Brook Lopez added 24 and Grayson Allen 19.
The Bucks jumped out to a 22-point lead early in the second quarter, but Brooklyn chipped away and got within two points with less than a minute remaining. Milwaukee held on for the victory and now lead the East by 2.5 games from the Boston Celtics with a 48-18 record.
In Sacramento, California, the Kings ground out a 122-117 win over the New York Knicks in a thrilling duel that went down to the wire.
Sacramento led 69-53 at halftime and stretched their lead to 21 points early in the third quarter.
New York rallied in the fourth to draw level, before the Kings pulled away to seal the win, with seven players finishing in double figures.
Elsewhere, the Jazz mastered the Magic 131-124, the Hornets swatted aside the Pistons 113-103 and the Pacers downed the Rockets 134-125 in overtime.
Comments will be moderated. Keep comments relevant to the article. Remarks containing abusive and obscene language, personal attacks of any kind or promotion will be removed and the user banned. Final decision will be at the discretion of the Taipei Times.