Czech firefighters, teachers not scared of Ohtani, Japan
The Czech Republic's World Baseball Classic team features full-time firefighters and teachers — but they are "not scared one bit" about facing superstar Shohei Ohtani and Japan.
The Czech Republic are appearing at the tournament for the first time and have taken a mostly amateur team of homegrown players to Tokyo for the pool stage.
They got their campaign off to a flying start yesterday with an 8-5 win over China, but face a much tougher task today when they take on two-time champions Japan, who defeated China 8-1 in their opening game on Thursday night.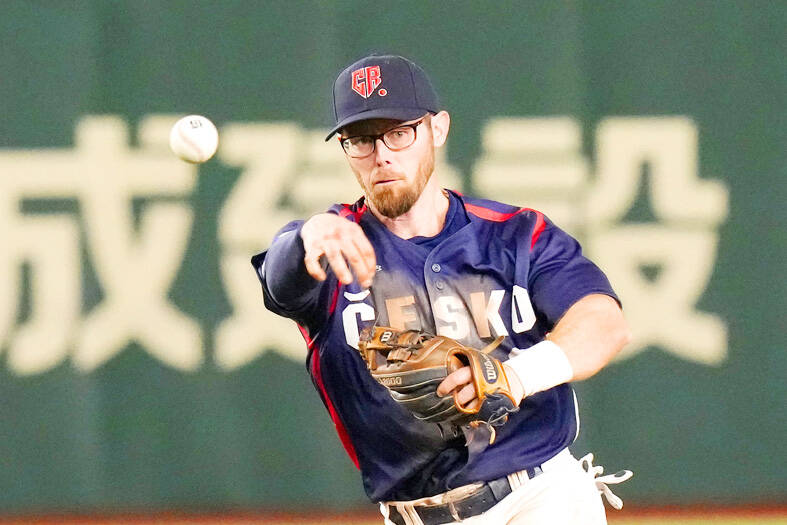 Czech Republic second baseman Eric Sogard throws to first for a double play against China in their World Baseball Classic Pool B game at the Tokyo Dome in Japan yesterday.
Photo: AP
Ohtani is one of the world's top players, and he and his teammates will enjoy the backing of more than 40,000 noisy supporters at the Tokyo Dome.
Czech captain Petr Zyma, a full-time financial trader, said it would not faze a team desperate to show the "beauty" of baseball to people back home.
"We wanted to play against Japan because I believe they're the best team in the world," said the 33-year-old, who works 40 hours a week and practices in his spare time. "They won it two times and we want to face them, enjoy it, be relaxed. It's going to be extremely difficult, but we came here to either win or learn."
Zyma says baseball is "maybe the 25th sport in terms of popularity" in the Czech Republic and games in the domestic Extraliga take place in front of tiny crowds.
There are about 7,000 registered baseball players in a nation with a population of more than 10 million.
Zyma got into the sport through his parents and says he "can't imagine life without it."
Some teams at the World Baseball Classic, such as Britain, Italy and Israel, have packed their squads with US-born players. The Czech Republic, on the other hand, have only four players born overseas and most of the team grew up playing together.
"We like to play with the guys we grew up with and I think the team spirit is really important for us," Zyma said. "We usually hang out for weekends, we travel to the mountains, we go to each other's weddings and we celebrate big events together."
One of the few US-born players the Czech Republic have drafted in is Eric Sogard, who has played for several teams in Major League Baseball.
Sogard, who has a Czech mother, has never been to the nation and has only been with the team for a matter of days.
However, he has seen enough to convince him that they can "surprise some people at this tournament."
"What I have seen so far has been very impressive, the way these guys go about their game and how they work, wanting to get better each and every day," the 36-year-old said. "The talent is there."
The Czech Republic showed what they were made of in their opening game, scoring four runs in the ninth inning to come from behind and snatch a dramatic win over China.
Their ominous next assignment is to face Ohtani and his Japan teammates, but Sogard believes anything can happen.
"I'm just excited for these guys because it's their first time on this stage and they're able to play against the best, but they are going about it with the right attitude and they're excited to see the best. They're not scared one bit," he said.
Comments will be moderated. Keep comments relevant to the article. Remarks containing abusive and obscene language, personal attacks of any kind or promotion will be removed and the user banned. Final decision will be at the discretion of the Taipei Times.