Canada Soccer, women agree deal
Canada Soccer and the women's national team have agreed on an interim funding agreement that is retroactive to last year after players threatened to boycott team activities at last month's SheBelieves Cup.
The two sides on Thursday issued a joint statement that said the terms of the agreement include "per-game incentives and results-based compensation," similar to an agreement with the men's team.
The federation is still negotiating a collective bargaining agreement with both.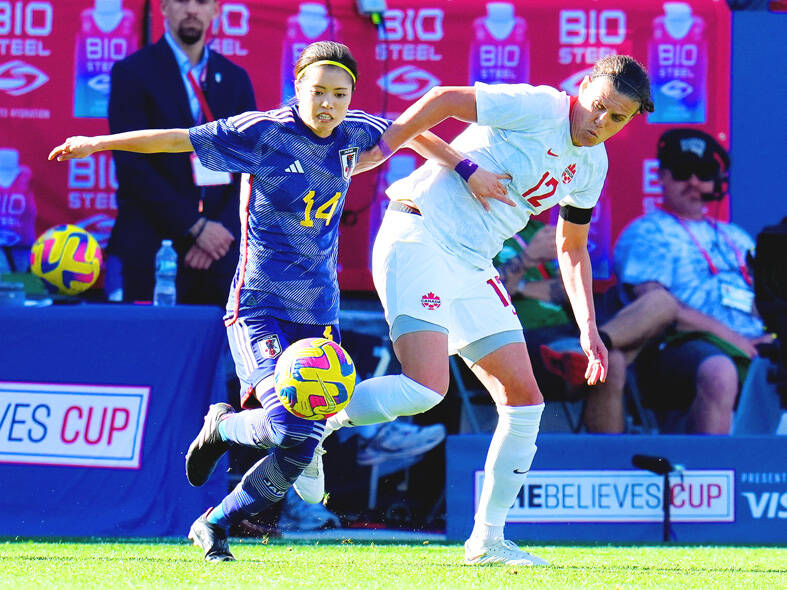 Japan's Yui Hasegawa, left, vies for the ball with Canada's Christine Sinclair in their SheBelieves Cup match in Frisco, Texas, on Feb. 22.
Photo: Chris Jones-USA Today
"This is about respect, this is about dignity, and this is about equalising the competitive environment in a world that is fundamentally unequal," Canada Soccer general secretary Earl Cochrane said in a statement.
"We have been consistent and public about the need to have fairness and equal pay be pillars of any new agreements with our players, and we are delivering on that today," the statement said.
With an agreement in place, details of the federation's funding are being finalized by legal counsel from both sides, the statement said.
The women's team last month said that the players would not take part in team activities at the SheBelieves Cup. Canada were among four teams participating in the round-robin tournament that visited three US cities.
The Canadian women, who are seeking equal pay to their male counterparts, claimed they were not compensated for last year They said they have had to cut training camp days and full camp windows, as well as trim the number of players and staff invited into camps. They were told there would be no home games scheduled before the FIFA Women's World Cup this summer.
After the players' action, Canada Soccer said that such a move amounted to an illegal strike, and the players acquiesced, but team captain Christine Sinclair said the team was playing in the SheBelieves under protest.
During the anthems before each match, players wore purple shirts that read "Enough is Enough" and then wore purple armbands during the games. The purple was a symbol for equity. US and Japanese players also wore purple armbands in solidarity.
The labor dispute between the national teams and Canada Soccer stretches back to June last year when the men's team — at the time preparing for their first FIFA World Cup in 36 years — boycotted a match against Panama in Vancouver to draw attention to the issue.
Both national teams have raised questions about Canada Soccer and its relationship to Canadian Soccer Business (CSB).
The CSB represents the federation in media and sponsorship deals and in turn it pays the federation a guaranteed sum per year.
The women want the same backing ahead of this summer's World Cup in Australia and New Zealand as the men received at their World Cup in Qatar last year. The two teams also want an explanation for why their programs are being cut this year.
Earlier this week, Nick Bontis resigned as president of Canada Soccer, acknowledging change was needed to achieve peace with the men's and women's teams.
Comments will be moderated. Keep comments relevant to the article. Remarks containing abusive and obscene language, personal attacks of any kind or promotion will be removed and the user banned. Final decision will be at the discretion of the Taipei Times.