Al-Attiyah, Benavides win Dakar Rally
'UNREAL': While Toby Price said he was disappointed in losing the motorbike title, Skyler Howes called it a dream come true to be just the fifth American to finish in the top three
Qatari driver Nasser al-Attiyah yesterday won his fifth Dakar Rally driver's title and second in a row, while Argentina's Kevin Benavides secured his second motorbike crown.
The 52-year-old won three stages and had more than an hour's advantage in the overall standings over Frenchman Sebastien Loeb, who also finished runner-up last year.
Al-Attiyah's Toyota teammate Lucas Moraes of Brazil finished third in the iconic test of endurance which reached its climax in Dammam, Saudi Arabia.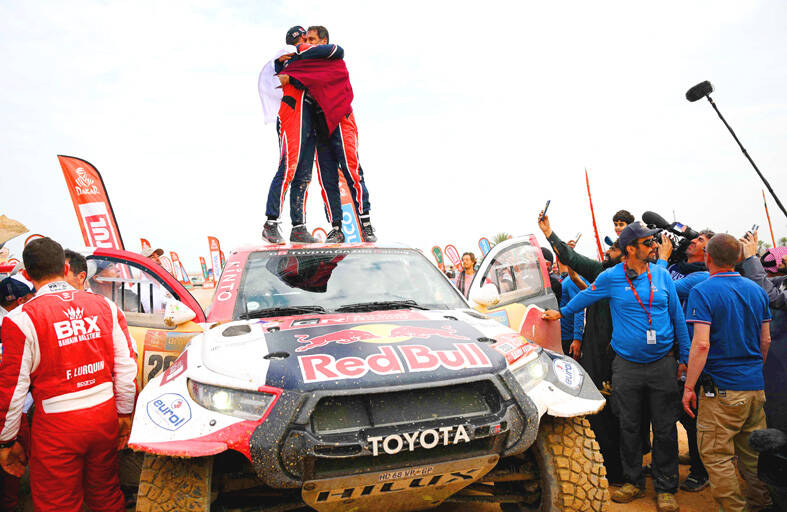 Toyota driver Nasser al-Attiyah, right, of Qatar and codriver Mathieu Baumel of France hug atop their car after winning the Dakar Rally in Dammam, Saudi Arabia, yesterday.
Photo: AFP
Al-Attiyah took the overall lead after the third stage, after building up a commanding advantage in the first week and deploying a safety-first strategy in the second half of the race.
"We just finished and I'm so happy. It was a difficult Dakar for everyone," al-Attiyah said.
"It's crazy to manage to defend my title. I'm very happy to win five times, and Mathieu [Baumel, his codriver Mathieu] four ... Sorry, Mathieu," he said. "We didn't have to attack like crazy. We managed to get through the second week and win the Dakar at the end, that's what really matters."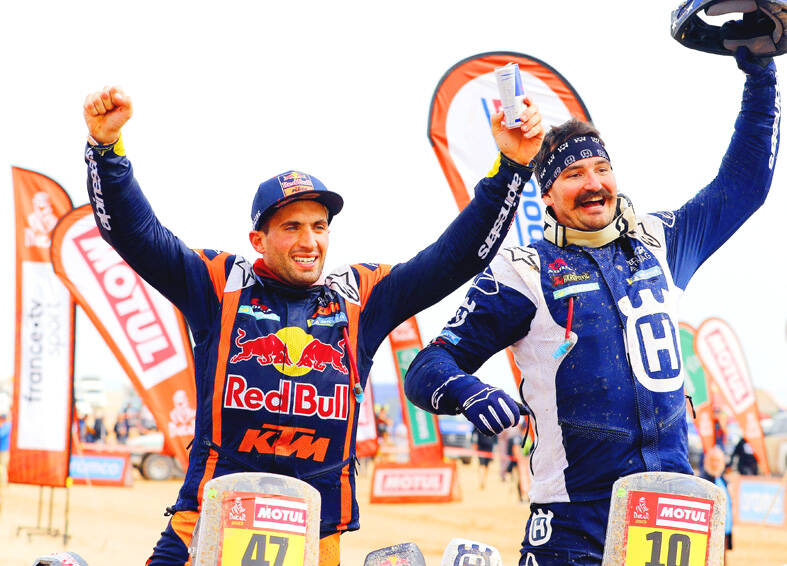 Red Bull KTM Factory Team's Kevin Benavides, left, celebrates winning the bike category with third-placed Rockstar Energy Husqvarna Factory Racing's Skyler Howes in Dammam, Saudi Arabia, yesterday.
Photo: Reuters
Loeb gave it all he could as he won a record six successive stages in the second week, but the 48-year-old Frenchman lost so much time on the first part of the race that it was a lost cause.
"After the beginning of the Rally we had we could not hope for better than this," Loeb said. "Nasser was so consistent that he was unbeatable, he produced a brilliant performance without any mistakes."
Moraes — whose codriver Timo Gottschalk was al-Attiyah's partner in his first win in 2011 — was proud as punch to be the first Brazilian to finish in the top three.
"It was important for the rally community in Brazil because it had never happened before," he said. "I'm going to celebrate with all the Brazilian photographers."
The car category might not have had a lot of suspense about it, but the motorbike title race more than made up for it with plenty of thrills and spills.
Benavides, the 2021 champion, edged out Australian Toby Price by 43 seconds, with Skyler Howes of the US finishing third.
Benavides — who celebrated his 34th birthday during the race — trailed two-time champion Price by 12 seconds entering yesterday's 14th and final stage.
He produced a sterling ride to win the stage and post a time 55 seconds faster than his 35-year-old rival.
Benavides win would be a popular one as he showed selflessness in stopping to aid a stricken rival Matthias Walkner in Saturday's penultimate stage.
"It's incredible to pull off the win at the end of this completely crazy Dakar, and with such a small gap," Benavides said. "I'm also the first to win with two different motorbike brands, and that makes me very proud."
It brought to an end a fascinating battle for supremacy in the motorbike section which had seen Howes lead for six days.
Price could not hide his disappointment despite praising Benavides for doing a "great job."
"Yeah, hard to take at the moment, but at the end of the day I'm going home in one piece and we got a Dakar trophy," he said. "It hurts a little bit."
Howes for his part was ecstatic.
"How could I be anything but happy?" said Howes, who became the fifth American to finish in the top three.
"You can always look back and say: 'Aw, man, maybe I could've saved this here and here,' but we're at the finish safely, and I'm on the podium," he said. "It's such a dream come true and an honor to share the podium with two legends like Toby and Kevin."
"It's the most unreal feeling," he added.
Several of the title contenders had bowed out along the way including last year's British winner Sam Sunderland, who got no further than the first stage.
Comments will be moderated. Keep comments relevant to the article. Remarks containing abusive and obscene language, personal attacks of any kind or promotion will be removed and the user banned. Final decision will be at the discretion of the Taipei Times.