Taiwanese players, coaches hope for better at home
The FIFA World Cup is one of the world's most-watched sports events, including in Taiwan, where many fans are staying up late to catch the games live from Qatar.
However, unlike in many other countries, Taiwanese fans have never seen their national men's team take part in a World Cup, and the women's national team have only achieved the feat once, in 1991, when Taiwan reached the quarter-finals.
Taiwan's women's team still have a chance to qualify for next year's Women's World Cup, but the men's team have never excelled internationally, ranking no higher historically than 121st in May 2018. They are currently ranked 157th.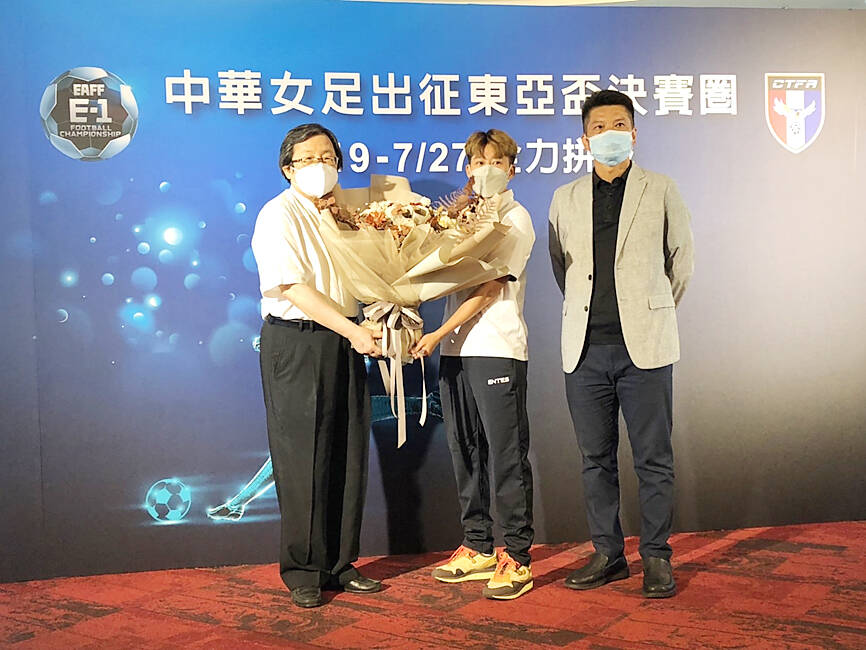 From left, then-CTFA chairman Chiou I-jen, then-Taiwan women's national team captain Chen Yen-ping and head coach Yen Shih-kai pose at a soccer event in an undated photograph.
Photo: Nian Miao-yun, Taipei Times
This lack of success at the global level is not surprising, given that baseball and basketball are far more popular and accessible in Taiwan than soccer, and offer many more opportunities for participation, recreationally and in organized groupings.
With the World Cup in progress, the Central News Agency talked to members of Taiwan's own national soccer teams for their insight on ways they think the country's domestic soccer environment can be improved to help the sport grow at home, even with the many barriers.
"First, we need to set up a professional soccer league. Baseball and basketball both have professional leagues, and you can see they are more popular and have bigger crowds at the games," said Wu Chun-ching, the captain of Taiwan's men's team.
The seven-team Taiwan Football Premier League, played annually from March to November, is a semi-professional league that lags far behind basketball's T1 League and P.League+, and baseball's CPBL in attention and interest.
Without a professional soccer league, young players are less likely to continue with the sport, said Wu, who worries that Taiwan has many young players under 12 who are really talented, but might give up the sport after junior-high school to focus on other interests.
The fastest way to give young talented players an incentive to keep playing is to have a professional league, because they can see a future in the sport after graduating, he said. "If we can help these children be willing to continue with the sport, soccer in Taiwan will only get better and better."
However, establishing a professional league would take more than just gathering the country's top teams; it would also need to be backed with physical and organizational structures and facilities, Wu said.
For example, Taiwan needs more professional soccer pitches that are suitable for competition, because many of the fields are actually practice pitches, he said.
Having more fields to play on would also benefit local sports clubs, which are limited by their access to venues to stage matches, Wu said.
Wang Hsiang-huei, captain of the national women's team, said she agreed with the need to bolster physical infrastructure, but also hoped Taiwan's soccer community would have more of an international outreach, especially with "places like Europe, where they have a deep soccer culture we can learn from."
"At the same time, we can start creating our own soccer culture," Wang said.
Wang's team are one of 10 to play a tournament in New Zealand in February to vie for the final three qualification spots for the Women's World Cup.
They have to defeat Paraguay and then the winners of a game between Papua New Guinea and Panama to secure a World Cup berth.
"This is very important for Taiwan," Wang said. "I really hope we will make use of this opportunity and qualify for the World Cup. It's not just important for women's soccer, but also great encouragement for younger generations."
Yen Shih-kai, the head coach of the women's team, said a big step forward would be to have a dedicated national training center.
"We train at any suitable location and it kind of feels like we're homeless," Yen said.
A national training center would allow players to live together as they train and save them travel time while reducing what Yen called a considerable waste of "administrative resources."
"For example, we can't always live in the same place where we train, so I have to spend a lot of time looking for places to stay [for my players] or for things like food and transportation, because the hotel will most likely not be next to the training pitch," he said.
Holding more matches at home could have a big effect on the sport's growth, he said.
"Our players need to perform well for Taiwanese fans to see," Yen said. "It's not easy for local fans to go overseas to watch our games, so to have international matches played in Taiwan is beneficial for both fans and the players."
Due to the challenges of restrictions during the COVID-19 pandemic, no international teams have visited Taiwan in close to three years, but hopefully they would play friendlies in Taiwan as the rules ease, he said.
In the meantime, the ongoing men's World Cup is keeping passion for soccer alive in Taiwan, so hopefully television, streaming platforms and the media keep providing resources for fans even when the games conclude with the final in Doha on Dec. 18, Yen said.
Comments will be moderated. Keep comments relevant to the article. Remarks containing abusive and obscene language, personal attacks of any kind or promotion will be removed and the user banned. Final decision will be at the discretion of the Taipei Times.