Jason Brickman of Aquas helps Kaohsiung students
Just over three-and-a-half months after the Kaohsiung Aquas made history by winning Taiwan's inaugural pro T1 League championship, playmaker Jason Brickman on Wednesday visited a secondary school basketball tournament in the city to teach some skills and pass on tips to the next generation.
"It was very exciting to come out here and be with the kids, be able to share my routine, my warm-up routine," said the Filipino-American, who was named Most Valuable Import player for his phenomenal performance in the T1 League in the recently completed season. "I just want to be in the community to see these kids play and interact with them."
Heralded as one of the best passing point guards in Asia, Brickman led the league with an average of 10.3 assists per game during the regular season, helping his club win the inaugural championship on June 4 with a 103-100 win over the Taichung Wagor Suns in Game 3 of the finals.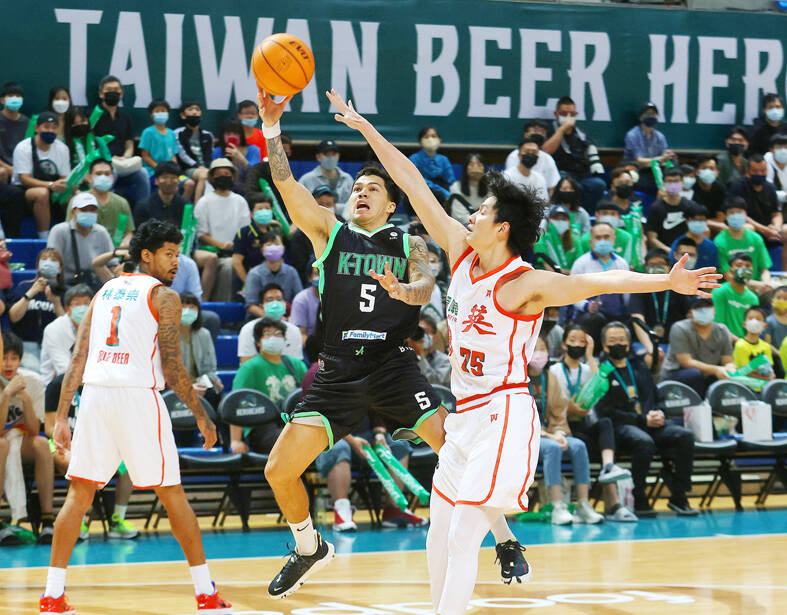 The Kaohsiung Aquas' Jason Brickman, center, controls the ball during their T1 League game against the Taiwan Beer Herobears in Taipei on May 27.
Photo: CNA
Winning over the hearts of basketball fans across Taiwan for his leadership and on-court magic, Brickman is no stranger to Taiwanese fans, as he was also part of the Mighty Sports team who represented the Philippines and swept the most recent edition of the Taiwan-hosted invitational William Jones Cup in 2019.
On Wednesday, Brickman shared his warmup routine with hundreds of students at the 57-team inter-secondary school basketball tournament's opening ceremony at the Kaohsiung Youth Sports Park's courts.
"I just think it's important, especially for guards, to have a good routine before a game to really get warmed up and get focused for the game," he said. "I think that puts your mindset towards the game and the challenges of the game, so, I just wanted to share all the things that I do and why I do those things."
After watching the students hit the courts and some of the games at the tournament, Brickman said he felt that basketball in Taiwan was growing, and that it was great to see young people enjoy the sport and have so many courts to play on.
Brickman's visit to the tournament follows a visit to the basketball club of semiconductor assembling and test manufacturer ASE in the export processing zone in Kaohsiung's Nanzih District in April to coach factory workers.
The programs aim to embrace the community so people in the city will love the team, his club said.
Comments will be moderated. Keep comments relevant to the article. Remarks containing abusive and obscene language, personal attacks of any kind or promotion will be removed and the user banned. Final decision will be at the discretion of the Taipei Times.