Guardiola says City cannot rely on gifts
Manchester City coach Pep Guardiola has challenged his players to work collectively in a bid to rediscover their fluid style of play, saying that they cannot expect Santa Claus to deliver goals as Christmas presents.
City have only scored 19 goals in 13 Premier League games this season, a marked contrast to their previous three campaigns during which they had recorded 37, 40 and 42 by the same stage.
"Our game has to come back because the goals don't come as a present from Santa Claus. They come from our performances," Guardiola told a news conference on Friday. "There is no doubt about our mentality. We have to refresh our philosophy and there are things to readjust."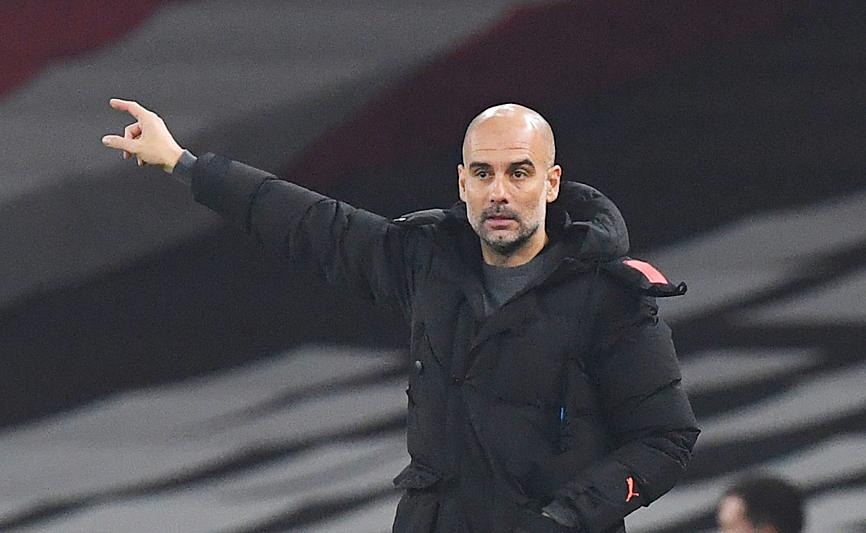 Manchester City manager Pep Guardiola reacts during their game against Arsenal in London on Tuesday.
Photo: EPA-EFE
"The challenge right now is to score more goals and we will improve our level game by game," he said.
City, eighth in the league table, were to play Newcastle United after press time last night before traveling to play Everton at Goodison Park tomorrow.
Guardiola stressed the importance of winning games during the festive period as his team trail leaders Liverpool by eight points, albeit with a game in hand.
City showed signs of returning to their best form when they secured a 4-1 win over Arsenal in the League Cup quarter-finals on Tuesday, with academy graduate Phil Foden recording a goal and an assist in the second half.
Guardiola hailed the 20-year-old as one of the most talented youngsters he has coached.
"He has incredible energy as a player, but in the final decision, for the final pass, you have to slow down a bit," Guardiola said.
However, "we will be incredibly patient with him. I know we can trust and rely on him all the time," he said.
NEWCASTLE UNITED
Reuters
Newcastle United manager Steve Bruce has rejected criticism from a section of the club's fan base that they have made no progress since he took over last year and said people should judge him at the end of the season.
While Newcastle are off to their best start to a top-flight season since 2014-2015, sitting 12th with 18 points from 13 games, Tuesday's 1-0 defeat by Championship club Brentford in the League Cup sparked a furious reaction, with some fans calling for Bruce to be sacked.
"Since I've walked through the door I've tried to take the club forward," Bruce told a news conference. "It's slow, and you have to accept that people are going to say there's been no progress. I'd beg to differ, but people have their opinions."
The former Manchester United defender, who has had management stints at a long list of English clubs, said he had gone through hard times before and had faith that his experience would see him through.
"I've been up against it before in my career. Thankfully I've been around the block a bit," he said.
"My job is about the accumulation of points over a 10-month season," he said. "If you're with a team expected to be in the bottom half of the Premier League, it's always going to be tough. There's going to be periods when you go up and down. Unfortunately, we've had a poor week. We have to accept it."
LIVERPOOL
Reuters
Liverpool manager Juergen Klopp sees no reason Mohamed Salah would want to leave the Premier League champions, but said that he would not keep the Egyptian forward at the club against his will.
Salah told Spanish newspaper AS in an interview this month that he admired Real Madrid and Barcelona, fueling talk in the British media that he was looking to move on.
"I think the only reason to leave Liverpool at the moment is the weather. What other reason could be there?" Klopp said at a news conference. "This is one of the biggest clubs in the world, we pay good money ... we have a sensational stadium with outstanding supporters."
"You cannot force people to stay, but that is it... We make changes and bring players in, and if a player wants to go then we cannot, probably not hold him back; it's just that I would not understand why somebody would want to go," Klopp said.
Salah was left on the bench for last weekend's 7-0 thrashing of Crystal Palace, but still scored two goals when he came on to help the leaders maintain their fine form.
He became Liverpool's all-time top scorer in the Champions League earlier this month in a 1-1 draw against Denmark's Midtjylland.
Klopp said Salah's comments about the Spanish sides were not an indication of his desire to leave Liverpool.
"If you ask any player in the world who is not playing for Barcelona or Madrid if he can imagine playing there one day and he said: 'No, Spanish football is not for me,' why would he say that?" Klopp said. "Mo is a very important player for me obviously, but this story around is not."
ASTON VILLA
Reuters
Aston Villa captain Jack Grealish has taken his performances to a whole new level this season, but there are still elements of his game he can improve, manager Dean Smith said.
The England midfielder, who had been linked with a move to Manchester United before committing his long-term future to Villa in September, has scored five goals and provided seven assists in the Premier League this season.
His performances have helped Villa climb to ninth on 22 points, four behind fourth-placed Everton, but having played two games less than the Merseyside club.
"He is on another level, he's playing wonderful football," Smith said at a news conference ahead of their home game against Crystal Palace, which was to start after press time last night.
Grealish was at his best against West Bromwich Albion in their 3-0 win last weekend, Smith said. "At West Brom it looked like he was playing in the playground with his mates. His performance was fantastic ... and we need to keep pushing him and squeezing even more out of him where he can. He's a joy to watch at the moment."
While he usually plays wide on the left, Grealish has been deployed in a more central role for Villa in recent weeks and Smith has been pleased with the response.
"He has done really well as a No. 10, but there are still improvements. Sometimes he picks the ball up a little bit too deep. He wants to be involved in the game all the time," Smith said.
Comments will be moderated. Keep comments relevant to the article. Remarks containing abusive and obscene language, personal attacks of any kind or promotion will be removed and the user banned. Final decision will be at the discretion of the Taipei Times.