Taiwanese star Wang signs with Hokkaido
Star baseballer Wang Po-jung is taking his game to Japan next year after signing with the Hokkaido Nippon-Ham Fighters in a massive NT$124 million (US$4.02 million) three-year deal announced yesterday.
The Lamigo Monkeys outfielder became the first player signed under a posting system worked out between baseball authorities in Taiwan and Japan.
A posting system allows teams to submit bids in an attempt to win exclusive rights to negotiate with a player.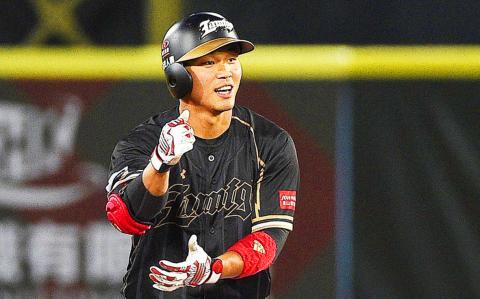 Lamigo Monkeys outfielder Wang Po-jung reacts after hitting a double against Brothers Baseball Club at the Taoyuan International Baseball Stadium on July 15.
Photo: Chen Chih-chu, Taipei Times
Wang's deal could be worth up to NT$180 million when performance bonuses are considered and it has an option for a one-year extension, according to information provided by his agent, PCG Bros Sports Management.
A posting fee of NT$55.42 million is to be paid by the Sapporo-based Fighters to the Monkeys, the information showed.
Wang has earned a reputation as a slugger over the past three seasons, posting impressive numbers.
In 2016 he hit 29 homers, 40 doubles and 105 RBIs with a 0.414 average. He followed that with 31 homers, 33 doubles and 101 RBIs, with a 0.407 average last year.
Nicknamed "Big King," Wang won the league MVP awards in both years, while the Monkeys captured back-to-back CPBL titles last year and this year.
The Lamigo Monkeys on Dec. 19 are to hold a news conference in Taipei to present details of the deal, and his new club are to unveil him to the Japanese media and fans at the Sapporo Dome on Dec. 21.
"I want to thank the Nippon-Ham Fighters for having confidence in me and to provide a stage to showcase my skills," Wang said in a statement.
"It is a great honor, but also burdens me with pressure as I become the first player for sign to play pro ball in Japan under the new posting system," Wang said. "I will continue to strive to give my best effort in the coming years."
Fighters manager Hideki Kuriyama told the Central News Agency (CNA) that Wang's performance in the CPBL stood out, as was clear to everybody, and he expected the 25-year-old to boost the Hokkaido club's outfield.
Fighters general manager Hiroshi Yoshimura called Wang the best player in the history of the CPBL, CNA reported.
The outfielder's talents would be fully unleashed by playing in Japan, Yoshimura said.
Comments will be moderated. Keep comments relevant to the article. Remarks containing abusive and obscene language, personal attacks of any kind or promotion will be removed and the user banned. Final decision will be at the discretion of the Taipei Times.