Canelo Alvarez to start 'new chapter' after suspension
Canelo Alvarez is getting his hands wrapped for training when he cocks his head and makes a kissing noise. In a stroller across the gym, his baby daughter's face lights up.
Alvarez is deep in the final weeks of work before he meets Gennady Golovkin on Sept. 15 in a middleweight boxing title rematch. It is the most compelling fight of the year and the possible culmination of a sports rivalry that has turned into a bitter personal grudge.
Alvarez's suspension earlier this year for failing two drug tests is the primary source of this animus. It is the reason the fight was postponed four months, costing both fighters untold millions, and it is the reason the Mexican champion has been out of the ring for the longest stretch in his 13-year professional boxing career.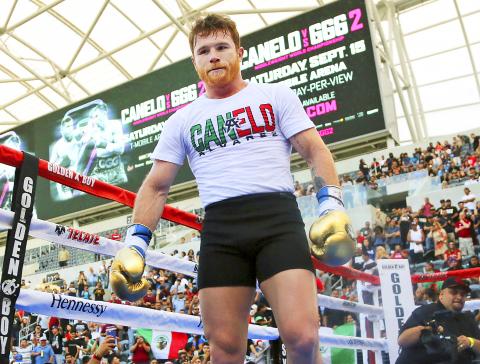 Canelo Alvarez appears at a public workout in Los Angeles on Sunday last week.
Photo: AP
However, in the tranquility of Alvarez's training gym, with only his smiling daughter and his retinue for an audience, Alvarez does not fixate on the caustic words thrown his way constantly by Golovkin's camp, or ponder the loss of any fans.
"This is my biggest fight and this is starting a new chapter, a second chapter in my career," Alvarez said. "It's going to be a big victory for me and I'm going to come out of it with a new energy."
Alvarez goes through a workout both crisp and familiar, with trainer Eddy Reynoso monitoring each move.
Chepo Reynoso, Eddy's father and the veteran boxing trainer who now manages Alvarez's career, smiles at the familial vibe.
"When so many [bad] things happen, you become immune," Chepo Reynoso said. "Venom doesn't kill you. It fortifies you."
After making what he said was an inadvertent mistake by eating tainted meat in Mexico, Alvarez is determined to reassert his supremacy and to reclaim his reputation.
He acknowledges the correctness of his punishment, but he is also eager to reach a point when he is not talking about it every day.
Suspensions end and fights must go on. The redheaded former teenage prodigy who grew to become a champion is moving forward.
"The negativity doesn't get through to me," Alvarez said. "I always focus on what I'm doing. I have to think about the fight. If [Golovkin] is thinking about me all the time, he's not thinking about the fight."
Alvarez and Golovkin last year fought to a split draw in that rarest of boxing matchups: A showdown between two elite fighters near the peak of their powers.
Golovkin, who felt he had won, still reached an apex of his late-blooming career after lobbying for years to get a fight with the Mexican superstar.
Alvarez knew the fight was close, but he clearly benefited from having a true rival and equal in the ring.
The rematch, set for May 5, was a natural for both — but then Alvarez tested positive for clenbuterol in February.
Alvarez withdrew from the bout, which was only rescheduled after months of negotiations and a reconfiguring of the financial terms. All the while, Golovkin and his trainer, Abel Sanchez, lobbed increasingly vicious verbal assaults at Canelo's camp, believing Alvarez had knowingly cheated.
Two fighters who once trained together in Big Bear were no longer friendly enough to stand together on stage at their public workout in Los Angeles last weekend. Alvarez is fed up with the criticism, feeling it goes beyond normal fight promotion theatrics.
When asked at the public workout if he would shake Golovkin's hand after their bout, Alvarez said: "For me, it's very difficult, especially after all the things that have been said, all the offensive claims. That's going to be very hard for me. I don't know."
However, while the fight promotion is dominated by verbal fireworks, Alvarez is studiously training in San Diego. Eddy Reynoso wants his fighter to throw more punches in the rematch while still avoiding a slugfest that could make both fighters vulnerable to a knockout.
"We're going to keep the defense, but be more active," Eddy Reynoso said. "He's going to throw better combinations, and he's going to think about counterpunching much better."
Alvarez also got a benefit from his lengthy absence from the ring: He was able to have knee surgery in April to remove a cyst that had annoyed him last year.
Not everything in camp is going perfectly: At a training session last month, Eddy Reynoso proudly showed off his custom-made gloves — called "No Boxing No Life" — that he intended to have Alvarez wear in the rematch. The Nevada Athletic Commission on Tuesday refused to allow the new gloves to be worn, saying they had not been adequately tested.
However, Reynoso and Alvarez are determined to step in the ring in two weeks with a clear focus. The only path to redemption, Canelo feels, is through victory.
"Actions speak louder than words," Alvarez said. "Yeah, it bothers me, but I'm going to use it to energize me and motivate me and inspire me to go harder. They're going to understand all the fuel they gave me."
Comments will be moderated. Keep comments relevant to the article. Remarks containing abusive and obscene language, personal attacks of any kind or promotion will be removed and the user banned. Final decision will be at the discretion of the Taipei Times.