Another hand of God in 'Sistine Chapel'
An Argentine club has recreated the Sistine Chapel on the ceiling of its gymnasium, with Diego Maradona as God, Lionel Messi as Adam and a host of angels that include Mario Kempes, Sergio Aguero and Gabriel Batistuta.
The mural at Club Sportivo Pereyra in Buenos Aires cost about US$20,000 and was inspired by the famous Leonardo da Vinci mural in the Vatican.
The Argentina version was paid for by donations and is designed to honor previous generations of Argentine players and inspire their heirs.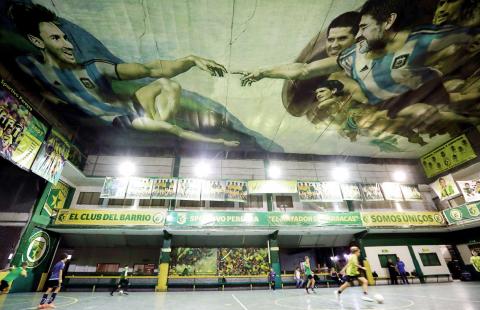 Children play soccer on Thursday as images of Lionel Messi, left, and Diego Maradona are depicted on the ceiling at Sportivo Pereyra club in Buenos Aires.
Photo: Reuters
Children play at the club for free and club president Sebastian Garcia said he hopes they can draw inspiration from seeing their heroes looking down on them.
"We were all kids and the ones that loved football wanted to be like our idols," Garcia said. "When a move doesn't come off you look to the heavens, and when you ask God for a helping hand, you have so many of them to choose from on this ceiling."
Maradona, whose inspired performances helped Argentina win the 1986 World Cup, is considered by many to be one of the greatest players of all time and is often referred to as El Dios ("the God") in his home nation.
He famously dubbed his handball goal against England in 1986 as "the Hand of God."
Comments will be moderated. Keep comments relevant to the article. Remarks containing abusive and obscene language, personal attacks of any kind or promotion will be removed and the user banned. Final decision will be at the discretion of the Taipei Times.