Stellar Chen leads Marlins to 5-0 win
PLAYING IT SAFE: Miami manager Don Mattingly pulled the Taiwanese starter in the seventh inning, citing Chen's return from a ligament tear last year and a loss of location
Taiwanese pitcher Chen Wei-yin on Tuesday had a no-hitter working through seven innings when he was lifted from the Marlins' 5-0 Major League Baseball victory over the Mariners in Seattle.
Chen was in total control, throwing 64 of his 100 pitches for strikes and flummoxing the Mariners hitters with his curveball and changeup.
He had allowed no hits with two strikeouts and two walks when Marlins manager Don Mattingly replaced him on the mound in the eighth inning with Brad Ziegler, who pitched a perfect eighth.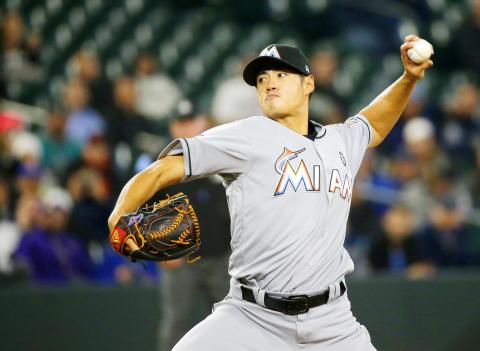 The Miami Marlins' Chen Wei-yin pitches against the Seattle Mariners in the first inning of their MLB game in Seattle, Washington, on Tuesday.
Photo: AP
The Mariners' Mitch Haniger broke up the Marlins' combined no-hitter bid with one out in the bottom of the ninth with a double to right center off closing pitcher Kyle Barraclough.
"Wei-yin was good all night," Mattingly said. "He just kind of kept them at bay, changing speeds on both sides of the plate."
It was the second time in three days that the Marlins carried a no-hitter into the late innings. On Sunday, they were four outs away from a combined no-hitter against the New York Mets.
Chen's outing was the longest by a Marlins starter this season. None of the team's other starters has recorded an out in the seventh inning, and Mattingly had no regrets about pulling him and denying him a chance to go for a complete no-hitter.
"This guy had a [ligament] tear last year, and he's coming back," Mattingly said. "He's been healthy, but I'm not going to let him go to 130 [pitches]."
After Chen walked one batter and hit another in the seventh, Mattingly said he had seen enough.
"We knew his location was leaving him, and in our minds, he's got no chance to make nine innings at that point," Mattingly said.
Nevertheless, the nearest the Mariners came to getting a hit off Chen was in the fifth inning, when Taylor Motter seized upon a low fastball, belting it to center field where Christian Yelich made the catch a few feet from the wall.
Yelich's single in the first inning had scored Dee Gordon, who led off the game with a double, as the Marlins put up four runs in the first three innings.
Tuesday's stellar performance continues what is becoming a banner season for Chen.
On April 7, his long wait for his first Major League Baseball hit ended when he singled in his 52nd big league at-bat.
Chen's zero-for-51 hitless streak, which covered 57 plate appearances, was the fourth-longest such run to start a career among players who have debuted since 1900, the Elias Sports Bureau said.
Comments will be moderated. Keep comments relevant to the article. Remarks containing abusive and obscene language, personal attacks of any kind or promotion will be removed and the user banned. Final decision will be at the discretion of the Taipei Times.