Jenny Huang's ONE world title bid ends in third
Dominating with a flurry of strikes from the get-go, atomweight world champion Angela "Unstoppable" Lee stopped Taiwan's Jenny Huang's attempt to seize the women's title in their "ONE: Warrior Kingdom" showdown at the Impact Arena in Bangkok on Saturday.
The 26-year-old Taiwanese judo black belt's unbeaten run ended as the 20-year-old Singapore-based champion peppered her with a volley of powerful kicks, elbows and straight punches that had Huang backpedaling.
By the middle of the third round, the champion had the challenger pinned on the mat as Lee unleashed a ground-and-pound assault from a back mount. The referee stopped the barrage at 3 minutes, 37 seconds of the third.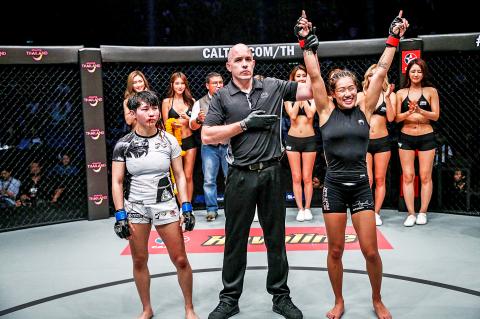 Angela Lee, right, celebrates her victory over Taiwan's Jenny Huang after their "ONE: Warrior Kingdom" bout in Bangkok on Saturday night.
Photo: ONE Championship
"Well I have had some time to work [on the striking] because I haven't fought in a while, so it feels really great," Lee said after the fight. "I have to say thank you to my opponent Jenny for being such a courageous warrior. She brought out the best in me."
"The champion Angela Lee is a well-rounded fighter, so it is an honor to have an opportunity to fight against her," Huang said in an interview before the fight.
To prepare for her showdown with Lee, Huang left her longtime gym, Martial Armour in Taipei, and relocated to China to join Tianjin Top Team, which features fellow ONE competitors Li Kaiwen, Xie Bin and Ma Jiawen.
Huang said she made the jump for two reasons.
"First, Tianjin Top Team has good training systems. I came to learn many martial arts and train with the many great pro MMA fighters. Second, it is sad about the environment in my hometown. A few people have made the MMA business like Game of Thrones. It is not easy to be a pro MMA fighter there," she said.
Huang believes the sacrifices she is making would prove worthwhile, because she wants to return to Taiwan as a world champion and, most importantly, make her family proud.
Huang said it has always been difficult to obtain her parents' approval when it came to martial arts.
As a child, she was hooked on martial arts cinema and often mimicked Jackie Chan's choreography. She attempted taekwondo and attended a pair of classes with her younger brother, but her father immediately pulled the plug.
"My father thought I should be an elegant girl, and just study and be smart," she said.
When she was 12, a friend invited her to train in judo. She honed her craft in junior high school and made the school judo team, earning her black belt along the way. That further fueled her love for martial arts and eventually led her to mixed martial arts.
She made her professional debut in May 2015 and had rattled off five consecutive victories. Nevertheless, not having her parents' approval still stings.
"My parents do not understand my MMA career," she said. "They just want me to be a normal girl. This is one of the reasons why I am training so hard. I want to prove myself to my parents and have them be proud of me. I want to be myself. I do not want someone to tell me who to be."
In the co-main event, local hero Shannon "OneShin" Wiratchai easily defeated Richard "Notorious" Corminal of the Philippines and subsequently asked for a shot at the ONE lightweight world championship belt.
The proceedings opened when northern Muay Thai champion Pongsiri "The Smiling Assassin" Mitsatit rubbed out Rabin "The Rock" Catalan of the Philippines.
In the second bout, Indonesia's Adrian "Papua Badboy" Matheis tapped out to Thai wrestling champion Kritsada "Dream Man" Kongsrichai, before Sagetdao Petpayathai overcame Kelvin Ong of Malaysia.
Thai-Japanese female atomweight prospect Rika "Tinydoll" Ishige defeated Malaysian debutant Audreylaura "Ice Comet" Boniface by a technical knockout in the first round, before Joshua Pacio of the Philippines won a split decision after an intense brawl with former ONE world champion Dejdamrong Sor Amnuaysirichoke of Thailand.
Featherweight Ma Jiawen of China beat experienced foe Yohan Mulia Legowo of Indonesia, while Yodsanan "Little Tyson" Sityodtong of Thailand earned a submission via verbal tapout over Ramon Gonzales of the Philippines.
Comments will be moderated. Keep comments relevant to the article. Remarks containing abusive and obscene language, personal attacks of any kind or promotion will be removed and the user banned. Final decision will be at the discretion of the Taipei Times.