Lamigo star Wang tops winners with six CPBL awards
Lamigo Monkeys' outfielder Wang Po-jung was the biggest winner at the year-end baseball awards event on Friday, taking home the League MVP and five other top honors.
Wang received the most votes for League MVP, beating Kao Kuo-hui of the EDA Rhinos, along with Brothers Baseball Club sluggers Lin Chih-sheng (also known as Ake Ngayaw) and Chiang Chih-hsieng.
The Lamigo star had a breakout year with prolific hitting, setting a new record of 200 hits and the league's best ever batting average of 0.414.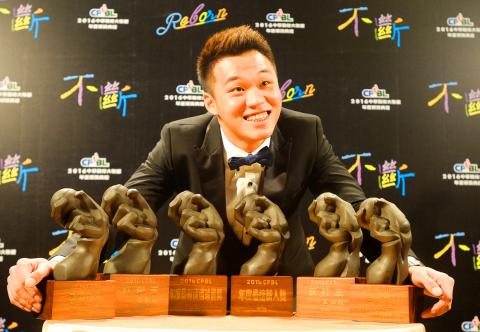 Lamigo Monkeys player Wang Po-jung grins as he stands behind the six awards he picked up at the CPBL awards ceremony in Taipei on Friday.
Photo: Lin Cheng-kung, Taipei Times
He broke the previous CPBL record of 176 hits by Wilton Veras from the Dominican Republic with the Sinon Bulls in 2009, which is difficult with the pro season only being 120 games per team.
Wang also set records for most runs (130), most hits better than a single (72) and most total bases (333).
He ranked in the top five in most offense categories, including home runs (fourth with 29 homers), RBIs (third, 105) and bases stolen (third, 24).
Wang also won the batting king title for best average, top hitter for most hits, as well as best outfielder and the Golden Glove award for his position.
With only 29 appearances last year, he was classified as a first-year player, making him the obvious choice for Rookie of the Year.
"It a surprise to me to win these six awards, it must be for breaking a few hitting records... Maybe there will be pressure on me next year to do even better, which is a good thing," Wang said at the ceremony. "When there is pressure on me, I feel compelled to improve myself."
Wang has had expressions of interest from pro baseball scouts overseas.
Wang said he would honor the remainder of his contract with Lamigo, which ends in 2018.
"My goal is to improve next year," he said. "To do this, I have to remain healthy, continue to hit consistently and stay in the starting lineup."
"Yes, my goal is to head to pro baseball in other countries, in two years time, if I get the chance," he said.
Meanwhile, Fubon Financial Holding yesterday took over the EDA Rhinos and dismissed some coaching staff.
Fubon dismissed Rhinos veterans Tsao Chun-yang and farm team head coach Tseng Chih-chen as it took charge of the ballclub.
No new names were announced and the owners said that for the time being the team is to be called "Fubon Professional Team."
Comments will be moderated. Keep comments relevant to the article. Remarks containing abusive and obscene language, personal attacks of any kind or promotion will be removed and the user banned. Final decision will be at the discretion of the Taipei Times.