Brothers beat defending champs Monkeys
The Chinatrust Brothers opened the 2015 Chinese Professional Baseball League (CPBL) season on a high note with an impressive 7-3 win over defending champions the Lamigo Monkeys on the road at the Taoyuan International Baseball Stadium last night.
The rematch of last season's Taiwan Series that saw the Primates dominate the Brothers was all Brothers in the early going, as the visitors needed only 10 at-bats against Lamigo starter Jared Lansford to plate their first run of the season when Chou Si-chi led off the top of the second with a single up the middle and scored two batters later on Jaime Pedroza lining single to shallow-left.
Chinatrust doubled their lead an inning later when team captain Lin Wei-chu led off the inning with another single off Lansford and took home two batters later on a Jim Negrych RBI double that made it 2-0.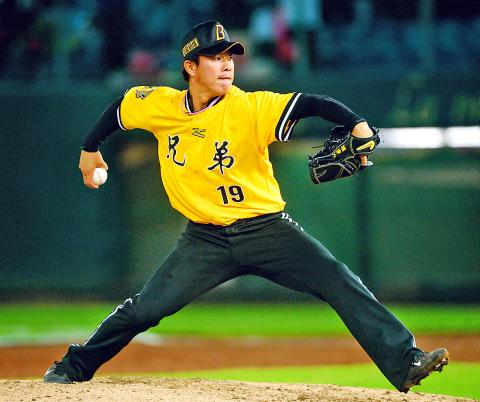 Chinatrust Brothers pitcher Cheng Kai-wen pitches in their game against the Lamigo Monkeys at the Taoyuan International Baseball Stadium yesterday.
Photo: Lin Cheng-kung, Taipei Times
Neither team scored over the next inning until the home hosts finally broke through against the stellar pitching of Chinatrust starter Cheng Kai-wen, who surrendered a leadoff single to the Monkeys' Lin Chih-sheng in the bottom of the sixth before serving up a long ball to Lin "Chubby Kid" Hung-yu for a game-tying two-run homer that evened things up at 2-all.
The home crowd only had less than an inning to celebrate their team's brief comeback, as the Brother bats went to work again by batting around the order against reliever Huang Wei-sheng, who was tagged for five runs (four runs) to claim a 7-2 advantage.
Trailing by five, the Primates managed to get one of the runs back in the bottom of the inning, but that was all the runs they could muster with the Brother bullpen doing its job with a scoreless eighth and ninth to preserve the win for Cheng.
Lin Hung-yu, right, celebrates with a Lamigo Monkeys teammate after Lin scored a two-run home run in their game against the Chinatrust Brothers at the Taoyuan International Baseball Stadium yesterday.
Photo: Lin Cheng-kung, Taipei Times
The two teams will do battle again in Taoyuan this afternoon, while the Uni-President Lions open their season against the EDA Rhinos at home at the Tainan Municipal Baseball Stadium this afternoon.
Comments will be moderated. Keep comments relevant to the article. Remarks containing abusive and obscene language, personal attacks of any kind or promotion will be removed and the user banned. Final decision will be at the discretion of the Taipei Times.