More needed from Jeremy Lin if Kobe sits: fan site
Players who normally do not get the ball will have their chance to fill in the gaps if the Los Angeles Lakers rest their leading scorer, Kobe Bryant, according to an opinion posted on the team's news and opinions Web site, Lake Show Life.
The possibility of sitting the 36-year-old all-star or resting him more has been a much talked-about issue in the NBA as Bryant's production has fallen off this season, his 37 percent shooting percentage 8 points below his career average.
The idea of sitting Bryant for a game picked up steam after Lakers coach Byron Scott said he was considering the possibility on Sunday, following the Lakers' 108-101 defeat to the Sacramento Kings.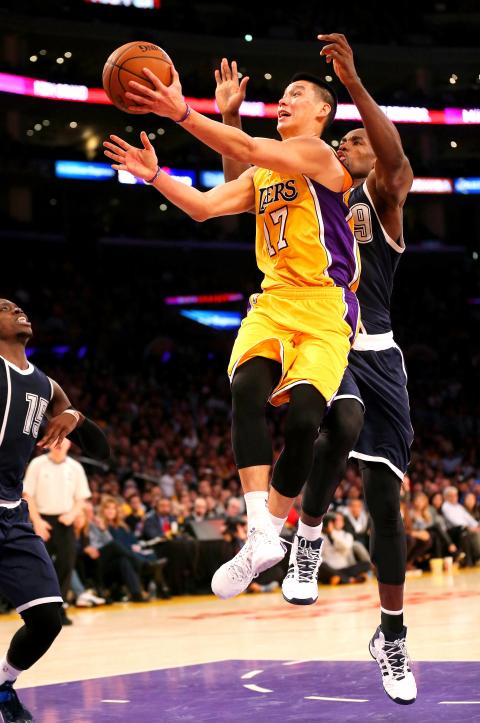 Jeremy Lin of the Los Angeles Lakers, center, goes up for a shot past Serge Ibaka of the Oklahoma City Thunder, right, on Friday at Staples Center in Los Angeles, California.
Photo: AFP
An exhausted Bryant managed to make only eight of 30 shots (26.7 percent) and had nine turnovers, and he almost seemed to agree with the idea.
"There's probably not much of an option... It might make sense," he said.
The opinion piece on Lake Show Life said "resting seems inevitable and it is not a punishment," given that Bryant has played more minutes this year than 420 NBA players.
It said that watching his teammate play from a distance will give him a better idea of where they thrive, as Kobe has pure trust in just four players: Nick Young, Jordan Hill, Ronnie Price and Wesley Johnson.
"Analyzing what the rest of his teammates are capable of will go far in helping him understand what they need from him, besides taking 22 shots a game," the piece said.
For Jeremy Lin, when he dribbles the ball up the court, he will "have to do something of consequence" without Kobe's presence, it said.
"He just can't hide at the three-point line and wait. Lin will have to create a plan to make his teammates better and then execute it," it added.
The writer said that Lin, the NBA's first Taiwanese-American player, loves to talk about ball movement, but is the main offender of dumping the ball into Kobe's hands and getting out of his way.
"Without Kobe, let's see what he really believes in," the opinion piece said.
Some fans took exception to the opinion, with one saying: "Lin doesn't just talk about ball movement, he's about the only Laker who makes it happen."
The fan pointed to the 16-6 run Lin led the Lakers on without Kobe against Oklahoma City on Friday last week that gave Los Angeles a three-point lead with seven minutes left in the fourth quarter.
"At that point, Kobe came back in the game, and we all know how that game ended [a one-point loss]," the fan said.
Comments will be moderated. Keep comments relevant to the article. Remarks containing abusive and obscene language, personal attacks of any kind or promotion will be removed and the user banned. Final decision will be at the discretion of the Taipei Times.