'Linsanity' not on agenda for Jeremy at the Lakers
Two years ago, Jeremy Lin lit up the NBA with his explosive play for the New York Knicks, but he has no desire to recreate "Linsanity" in his new career with the Los Angeles Lakers.
Instead, the 25-year-old point guard is looking forward to making "a fresh start" in Tinseltown without the weight of any self-imposed pressure as he tries to help restore the flagging fortunes of one of the NBA's leading franchises.
"I'm really excited to be a part of this organization and I'm seeing this as a new start, a fresh start," Lin said after being formally introduced to the media at the Lakers' training facility in El Segundo, California, on Thursday.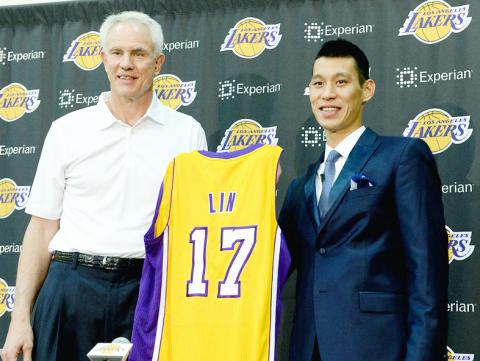 Los Angeles Lakers general manager Mitch Kupchak introduces Jeremy Lin at a press conference at the Toyota Sports Center in El Segundo, California, on Thursday.
Photo: Jayne Kamin-Oncea-USA Today
"I feel the least amount of pressure on my shoulders now than I ever have. One thing I try to do is not let my circumstances dictate the pressure as a player. I don't think I play well when I do put a lot of pressure on myself," Lin said. "I know what I want to accomplish as a player and what the right way to play is, and as long as I do that I can hold my head up high and be proud of myself."
Lin, acquired by the Lakers earlier this month along with a future first-round pick and a second-round pick next year in a trade with the Houston Rockets for the rights to Sergei Lishchuk, will never forget his spectacular spell with the Knicks.
An undrafted and overlooked Ivy League player, he burst on to the scene in his second NBA season with a 25-point, seven-assist performance off the bench against the Nets on Feb. 4, 2012, and went on to total 136 points in his next five starts.
Linsanity was born and highlighted during that sizzling run by a career-high 38-point display on a memorable Friday night against the Lakers at Madison Square Garden in New York.
However, Lin does not want to even attempt to relive "that banner season" following lessons learned in Houston, where he was traded by the Knicks to the Rockets after a season-ending knee injury cut short his time in New York.
"My first year in Houston really taught me that," said Lin, the first NBA player of Taiwanese descent who has averaged 11.9 points and 4.8 assists per game over his four seasons in the league. "I put a lot of pressure on myself to be that player. Now, my goal is I'm not trying to be a player from the past. I'm trying to make history again. It's not so much me trying to be something that happened beforehand. I'm trying to look into the future, and be a much better and bigger player than before."
Lin, who will wear No. 17 for the Lakers, joins a once-great franchise which has racked up 16 NBA championship titles, but finished last season with a dismal 27-55 record, the worst 82-game return in team history.
However, Lin is relishing the prospect of playing alongside five-time NBA champion Kobe Bryant, with whom he has exchanged several texts over the past week.
"I've had the privilege to play with a few very good players in Carmelo [Anthony], James [Harden] and now Kobe," said the point guard, who signed a two-year deal with his hometown Golden State Warriors in 2010, but was then waived before his second season. "One thing he [Bryant] told me is we have a lot of work to do. I think I'll be able to learn a lot. I'm just excited."
"[Growing up] I didn't try to emulate Kobe. His skill set is just clearly different than mine," Lin added with a broad grin. "I don't think I've ever shot a fadeaway jumper from the mid-post ever."
Lin could well take over as the starting point guard for the Lakers, with veteran Steve Nash having appeared in only 15 games last season due to nerve damage in his back, but the Harvard graduate is taking nothing for granted.
"I obviously believe that I can start for an NBA team and help that team win," Lin said. "As a competitor I would obviously love to, but that's not me coming in saying: 'I need this or I need that.' I can't wait to learn from him [Nash]."
Comments will be moderated. Keep comments relevant to the article. Remarks containing abusive and obscene language, personal attacks of any kind or promotion will be removed and the user banned. Final decision will be at the discretion of the Taipei Times.