Pacquiao facing US$50m tax bill
PLAYING POLITICS? The Filipino went on a publicity blitz, appearing on all the TV networks proclaiming his innocence and branding the tax office's actions 'harassment'
Philippine authorities demanded yesterday that boxing great Manny Pacquiao pay a US$50 million tax bill or risk having his assets seized, but the national hero vowed to take the fight to court.
The battle between one of the best boxers in history and the taxman has shocked Pacquiao's army of fans in the Philippines, emerging just days after a comeback win in the ring was hailed as a moment of hope amid the aftermath of a deadly super typhoon.
Pacquiao disclosed on Tuesday that the Philippine Bureau of Internal Revenue wanted 2.2 billion pesos (US$50.2 million) for alleged unpaid taxes in 2008 and 2009, when he was at the peak of his career and one of the world's highest-earning athletes.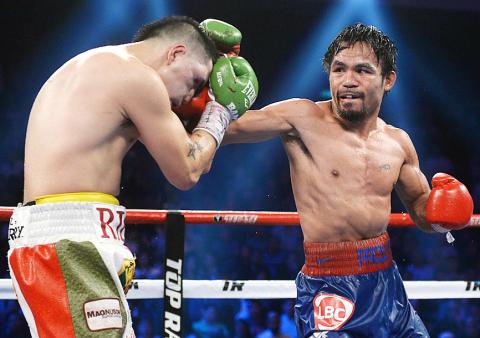 Manny Pacquiao of the Philippines, right, lands a punch on Brandon Rios of the US in their welterweight bout in Macau on Sunday.
Photo: AFP
Pacquiao, 34, insisted he had paid his taxes in the US and so did not need to do so in the Philippines because the two countries have an agreement allowing their citizens to avoid double taxation, but Philippine Tax Commissioner Kim Henares, who has spearheaded a high-profile campaign against tax evasion, stood firm yesterday, saying Pacquiao had failed for two years to provide documents proving his US payments.
"2.2 billion [pesos] is what Pacquiao owes now because of surcharges and interest," Henares said on ABS-CBN television.
Henares said the tax bill may be cut if Pacquiao does provide certified documents proving he paid the US Internal Revenue Service.
"What we want is evidence that he [Pacquiao] actually paid the tax," Henares said.
However, she said that even if Pacquiao had paid the 30 percent tax rate in the US, there would still be extra charges due in the Philippines because it has a higher rate of 32 percent.
The tax office has frozen Pacquiao's bank accounts in the Philippines, which the boxer said had left him financially paralyzed.
Henares said the tax office could eventually take the money owed by stripping Pacquiao of his assets.
She said the tax office had already placed a "lien" on a Pacquiao property, worth millions of dollars, in one of Manila's most exclusive gated communities.
A lien is a form of security which allows the tax office to take back money it is owed, via lease payments or sale of the property.
Pacquiao went on a publicity blitz on Tuesday night, appearing on all the major domestic television networks, to insist on his innocence and brand the tax office's actions "harassment."
"I am not a criminal or a thief. I am not hiding anything. I will face my problems as they come," Pacquiao said.
Pacquiao's US promoter Bob Arum also released a statement saying his Top Rank firm had paid the 30 percent taxes directly to the US Internal Revenue Service and certified paperwork to show proof would be available "very soon."
However, Pacquiao's Manila lawyer said yesterday that he would not give the tax office those documents, preferring instead to fight the issue in court.
"This is no longer within the jurisdiction of the BIR [Bureau of Internal Revenue]," lawyer Tranquil Salvador said. "The tax case is now with the court of tax appeals. We do not have to submit anything to the BIR."
A court hearing has been set for Dec. 5.
Pacquiao, a former street kid who did not finish high school, has used his sporting career to launch a successful political career — he is a second-term congressman with publicly declared ambitions of eventually becoming president.
Pacquiao, a member of the main opposition alliance to Philippine President Benigno Aquino III, hinted the case against him may be political, calling for those involved to "forget about playing politics."
At his peak Pacquiao was regarded as the best pound-for-pound fighter in the world, becoming the only man to win world titles in eight weight divisions.
He lost two fights last year, leading some to predict his career was finished, but a convincing win over Brandon Rios of the US in Macau on Sunday reignited his career, sparking talk once again of a long-awaited bout against Floyd Mayweather Jr.
Comments will be moderated. Keep comments relevant to the article. Remarks containing abusive and obscene language, personal attacks of any kind or promotion will be removed and the user banned. Final decision will be at the discretion of the Taipei Times.