Turkish duo barred from Europe over match fixing
Turkish clubs Fenerbahce and Besiktas were both excluded from European competition next season because of their roles in a massive domestic match-fixing scandal, UEFA announced on Tuesday.
UEFA's disciplinary Commission ruled that Fenerbahce, Europa League semi-finalists last season, were barred from the Champions League, while Besiktas cannot compete in the Europa League.
European soccer's governing body can bar any club that has been involved, either directly or indirectly, in match fixing.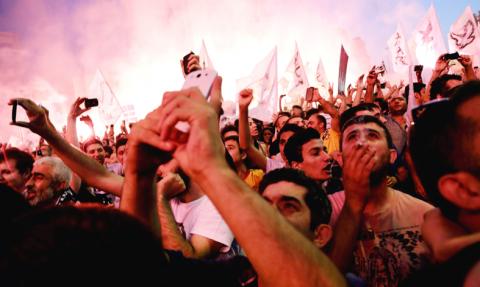 Turkish soccer club Fenerbahce fans light flares at an anti-government rally in Istanbul, Turkey, on June 8.
Photo: EPA
Both clubs announced they would appeal the decision.
"Fenerbahce will not have the right to compete in the next three European competitions they qualify for, which includes the 2013/14 Champions League," UEFA said in a statement. "They will be on probation for five years regarding the third year of the ban."
Fenerbahce, who would have contested the third preliminary round after finishing second in the Turkish league, issued a statement saying they would appeal.
"Our club will be filing an appeal to UEFA's Appeals Committee," it said on its Web site.
Besiktas, who would have contested the playoffs for the Europa League group stage, were, according to sources within the club cited by the Dogan news agency, preparing a dossier through their lawyers to present to UEFA yesterday.
Turkish soccer was rocked by a huge corruption scandal in 2011 that resulted in Fenerbahce president Aziz Yildirim being sentenced to six years and three months in prison in July last year, but he was released after having been detained for a year when he appealed the conviction.
He was just one of more than 90 executives, officials and players convicted over the scandal, which involved several matches in the 2010-2011 league season and includes the game that saw Fenerbahce clinch the title — a 4-3 win over Sivasspor on the last day of the campaign.
The two clubs had already been punished by the Turkish Football Federation, with Fenerbahce being prevented from competing in the 2011-2012 Champions League and Beisktas were stripped of their 2011 Turkish Cup victory.
UEFA were more lenient with Romanian side Steaua Bucharest, whose president, Gigi Becali, already serving a prison sentence for corruption, was sentenced to a further three years earlier this month for having offered bribes to players from a rival team, Universitatea Cluj, in 2008.
"The Control and Disciplinary Body also carefully analyzed the situation of FC Steaua Bucharest and, taking into account certain mitigating circumstances, the following sanction has been imposed: FC Steaua Bucharest is not eligible to participate in one UEFA club competition for which the club would otherwise qualify. This sanction is deferred for a probationary period of five years," UEFA said.
Comments will be moderated. Keep comments relevant to the article. Remarks containing abusive and obscene language, personal attacks of any kind or promotion will be removed and the user banned. Final decision will be at the discretion of the Taipei Times.