Hsieh advances in women's doubles
EYEING THE TITLE: The women's doubles is Taiwan's best chance of glory, as Hsieh Su-wei and Peng Shuai of China defeated the world No. 1 pairing last month
Taiwan's Hsieh Su-wei and her partner Peng Shuai of China defeated Irina Falconi of the US and Bosnia's Mervana Jugic-Salkic 7-5, 6-2 at Roland Garros in Paris yesterday to advance to the second round of the French Open women's doubles tournament.
Seeded eighth, Hsieh and Peng won the 73-minute encounter in straight sets, despite only getting 55 percent of their first serves in, compared with their opponents' 72 percent. However, they won 65 percent of their first-serve points and took six of eight break-point chances to comfortably go through to the second round, where they face Georgia's Oksana Kalashnikova and Alicja Rosolska of Poland.
In the men's singles, Rafael Nadal came from behind for the second match in a row, surviving another shaky start to beat Martin Klizan 4-6, 6-3, 6-3, 6-3.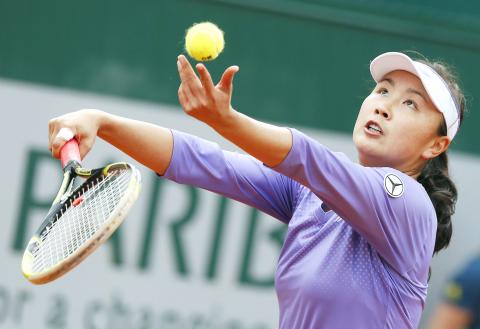 China's Peng Shuai serves to Petra Kvitova of the Czech Republic in their French Open women's singles second-round match at Roland Garros in Paris, France, on Thursday. Peng lost the match 6-4, 6-3.
Photo: AFP
Entering the tournament, seven-time champion Nadal had lost only 14 sets in 53 matches at the French Open. Now he has lost the opening set in each of the first two rounds. Last year, Nadal dropped one set in the entire tournament en route to a record seventh Roland Garros title.
Nadal, forced to wait a day because of rain, lost his serve four times and needed nearly three hours to reach the third round. When Klizan's final shot sailed out, Nadal gave the cheering crowd a relieved thumbs-up and managed a weak smile.
"I started a bit too defensive," he said. "I improved a little bit during the match."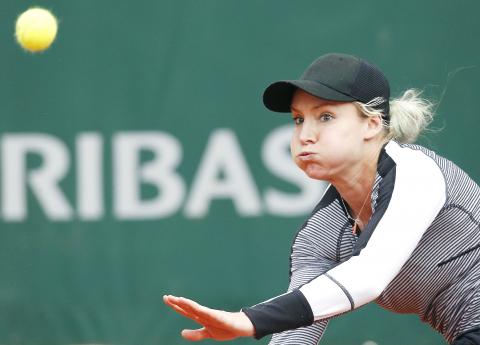 Bethanie Mattek-Sands of the US returns to China's Li Na in their French Open women's singles second-round match at Roland Garros in Paris, France, on Thursday.
Photo: AFP
Nadal also lost the first set of his opening match against Daniel Brands and was down 3-0 in the second-set tiebreaker before he rallied.
The Spaniard, now 54-1 at the French Open, is seeking to become first man to win eight titles at the same Grand Slam event. Since returning in February from a seven-month layoff because of knee trouble, he is 38-2, reaching the finals at all eight tournaments he has entered and winning six.
In the women's draw, Serena Williams advanced to the fourth round by beating Sorana Cirstea 6-0, 6-2, while defending champion Maria Sharapova moved into the third round by finishing off a rain-interrupted 6-2, 6-4 victory over 19-year-old Eugenie Bouchard.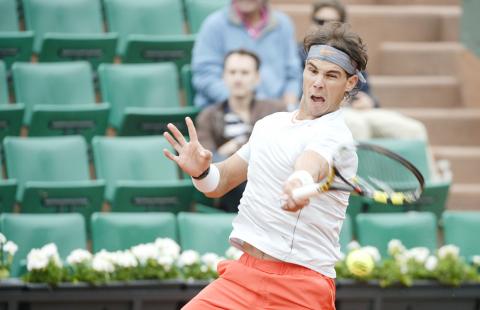 Spain's Rafael Nadal returns to Martin Klizan of Slovakia in their French Open men's singles second-round match at Roland Garros in Paris, France, yesterday.
Photo: EPA
The match was suspended on Thursday night with Sharapova up a break in the second set at 4-2 and she was relieved to finish in 15 minutes.
"It was such a long day yesterday and obviously it's always difficult to have to come back," Sharapova said.
Williams swung hard, as always, but committed only 16 unforced errors against Cirstea and extended her career-best winning streak to 27 matches.
"I play very aggressive," Williams said. "That's important for me, because I want to keep on winning here."
No. 12 seed Maria Kirilenko defeated wild-card Ashleigh Barty 6-3, 6-1, while 13th seed Marion Bartoli of France delighted a partisan crowd by beating qualifier Mariana Duque-Marino 7-6 (7/5), 7-5.
In other men's play, No. 12 Tommy Haas became the first 35-year-old since 2007 to reach the third round, beating 20-year-old American qualifier Jack Sock 7-6 (7/3), 6-2, 7-5.
Haas next plays 19th seed John Isner, who overcame a two-set deficit for the first time in his career to win an all-American match against Ryan Harrison 5-7, 6-7 (7/9), 6-3, 6-1, 8-6.
Fourth seed David Ferrer reached the fourth round by beating fellow Spaniard Feliciano Lopez 6-1, 7-5, 6-4, while seventh seed Richard Gasquet of France swept qualifier Michal Przysiezny 6-3, 6-3, 6-0.
There were moments, as recently as last year, when a body that would not stay healthy and on-court results prompted Bethanie Mattek-Sands to wonder whether it was simply time to call it a career after more than a decade as a professional tennis player.
"She was ready to quit," her husband, Justin Sands, recalled. "She was like" 'I'm done. I can't do it. I don't want to come back.'"
Instead, Mattek-Sands "stuck it out," in her words, making some significant changes — to her diet after discovering a host of food allergies, to her point-to-point focus, and at age 28, in her 27th Grand Slam tournament, Mattek-Sands earned her most significant victory to date, a 5-7, 6-3, 6-2 upset of 2011 champion Li Na on Thursday.
"I know how I can play and, you know, there were times when I just physically couldn't do it and I think that's really frustrating," world No. 67 Mattek-Sands said.
There was hip surgery less than a week after her wedding in late 2008, a torn shoulder in 2011, a broken right big toe last year. Her ranking plummeted from a best of 30th to outside the top 200. She found herself playing in the sport's minor leagues and going through qualifying just to get into tournaments.
Now?
"She can take more enjoyment out of it, out of playing," her coach Adam Altschuler said. "We've got to go do it the day after this and the day after that, but it's great for her to show the world she's this good."
By beating the sixth seed to earn her fourth career win in 25 tries against top-10 players, Mattek-Sands helped give the US its largest group of women in the third round at the clay-court Grand Slam tournament since six made it in 2004.
The five US women left, out of the 15 in the main draw, are the most this far at any Grand Slam tournament since the half-dozen at Wimbledon in 2005.
"We have a lot of talented, young kids," Mattek-Sands said, then added with a wink and a smile: "Obviously, older kids, too."
The other Americans to make the third round on Thursday were No. 17 Sloane Stephens and world No. 54 Jamie Hampton.
"Other than Serena [Williams], we're all a work in progress. A couple years ago we were not even here, and so we've definitely taken a step forward and we're still progressing, and still trying to make that push," said Hampton, who beat qualifier Anna Karolina Schmiedlova of Slovakia 7-5, 6-2. "Whenever you have a big group like that, there are going to be a few that are going to rise."
Up next for the 23-year-old Hampton is No. 7 seed Petra Kvitova, the 2011 Wimbledon champion.
Meanwhile, the 20-year-old Stephens faces world No. 92 Marina Erakovic, who beat 16th seed Dominika Cibulkova 6-2, 2-6, 6-4 to become the first woman from New Zealand to reach the French Open third round.
Stephens, like other players on a wet afternoon, weathered two rain delays during a 6-1, 6-3 win over Vania King of the US.
"You literally have nothing to do," Stephens said. "Should I eat? Do cartwheels?"
Last year's runner-up to Nadal in the men's draw, Novak Djokovic, gestured at the dark, threatening sky between points, as if to admonish the clouds for even considering halting play before he could finish a 6-2, 6-0, 6-2 victory over world No. 83 Guido Pella of Argentina.
"The most important thing for a player in these interruptions and rain delays is not to get frustrated mentally, because it's a very fine line... Your intensity is there and suddenly they call it off," said Djokovic, who is ranked and seeded No. 1 as he bids to complete a career Grand Slam. "So it's not easy warming up, cooling off, getting tape, putting off the tape, taking a shower or not taking a shower. It's unpredictable."
Coming out of a rain delay already down a set, but ahead 4-3 in the second, Mattek-Sands reeled off seven consecutive games against Li, the only Chinese player to win a Grand Slam singles title and twice the Australian Open runner-up.
Down 5-0 in the third set, Li made one last stand, taking two games in a row, but Mattek-Sands steeled herself and served out the match on her second attempt, raising both arms overhead after a forehand by Li hit the top of the net and did not make it over.
Mattek-Sands lost before the third round in 24 of her previous 26 Grand Slam appearances, the exceptions being a fourth-round run at Wimbledon in 2008 and a third-round showing at the French Open in 2011.
One difference nowadays is she travels with a list of about two dozen items she avoids eating because of allergies, including gluten and dairy, but also pineapple, peaches, tomatoes and garlic.
There is also this: After preparing for matches by listening to music, Mattek-Sands focuses from shot to shot and sticks to her tactics better than before.
Mattek-Sands has often gained more attention for her fashion choices than her forehand. The metallic gold Wonder Woman ensemble. The argyle cowboy hat. The leopard-print shorts. The eye-black patches.
The knee-high black compression socks she wore on Thursday are to help circulation, not start conversation, Mattek-Sands said.
"I haven't worn anything too crazy on court for a few years now," she said, sporting a plain black hoodie at her press conference. "I feel like my racket has been doing a lot of the talking."
Comments will be moderated. Keep comments relevant to the article. Remarks containing abusive and obscene language, personal attacks of any kind or promotion will be removed and the user banned. Final decision will be at the discretion of the Taipei Times.