INTERVIEW: Tennis player Hsieh Su-wei has year to remember
ON THE BALL: In an exclusive interview with the 'Taipei Times,' Taiwanese tennis star Hsieh Su-wei talks about her tennis year, tournaments, traveling and stinky tofu
As 2012 draws to a close, Taiwan's Hsieh Su-wei can look back on a year in which she won her first two WTA tournaments, represented her country at the Olympic Games and saw her ranking shoot from 172 to a career-high 25, making her the highest-ranked Taiwanese tennis player ever in singles. Only China's Li Na is ranked higher in Asia; even US star Venus Williams is only one place ahead of Hsieh in the WTA rankings.
To round the season off, Hsieh played in the prestigious Qatar Airways Tournament of Champions in Sofia early last month. Losing her first match at the round-robin event to former world No. 1 Caroline Wozniacki, she was then defeated by Italy's Roberta Vinci in straight sets, but bounced back to end her season on a high by beating experienced Slovak Daniela Hantuchova.
Speaking from Melbourne, Australia, where she is preparing for next season, Hsieh said she was delighted to be the first Taiwanese player to compete in the event.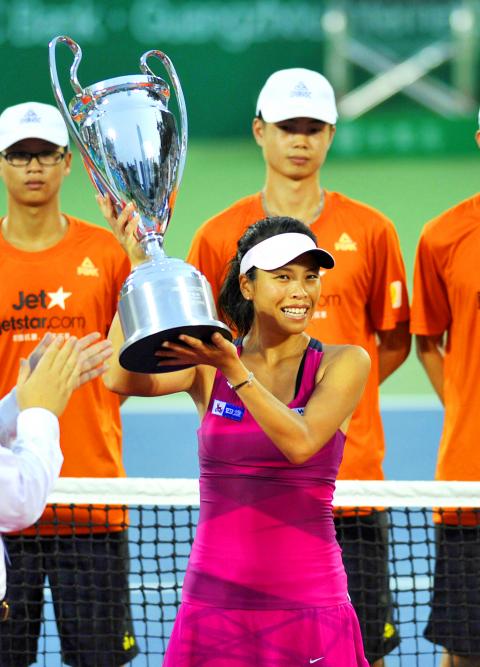 Taiwan's Hsieh Su-wei lifts the trophy after beating Briton Laura Robson in the WTA Guangzhou Open final in Guangzhou, in China's Guangdong Province, on Sept. 22.
Photo: AFP
"I was very happy and excited to get into this tournament and to win the last match against Hantuchova to finish the year," she said.
Hsieh sees her coach, Australian doubles legend Paul McNamee, as a key factor in her meteoric rise over the past year or so.
"I started working with Paul last year during Wimbledon," Hsieh said. "I think I changed a lot of my game, including mentally, and I think the main key is I have a great coach."
McNamee sees Hsieh as one of the top three volleyers in the women's game and has encouraged her to come to the net more, but is happy to let her express herself on court.
"It was important she just felt she could be herself," McNamee said during a break in Hsieh's current training program in Melbourne.
"She didn't have to change who she was, she's a free spirit and you can't put that in a box," he said. "It's very important that you let that fly."
However, one thing he was keen for her to do was to play more singles and not restrict herself to being a doubles specialist.
Hsieh has been on the circuit for more than a decade, and although she had enjoyed some singles success — most notably, reaching the fourth round of the Australian Open in 2008 — she was concentrating on doubles before teaming up with McNamee last year.
"She didn't really want to play much singles when I started working with her, but I could see she had so much talent it was a waste," McNamee said.
He persuaded a reluctant Hsieh to play singles in an ITF tournament in Uzbekistan in July last year and, having reached the final there, she went on to win a tournament in Beijing the following week. It was to prove a turning point that has seen the 26-year-old climb from No. 361 in the world, where she found herself at the end of 2010, to her current lofty ranking position.
"My job was to make her feel like she belonged in the big league and I think she believes it now," McNamee said.
"She can hit forehands and backhands in both directions [with equal proficiency], which is very unusual," he added. "Her opponent never quite knows what shot Su-wei is going to play."
Russian star Maria Sharapova has found Hsieh's unpredictability difficult to deal with over the years, as she explained after her third-round victory over her at this year's Wimbledon.
"I faced her many times in the juniors and she used to be a nightmare for me, because she used to slice and dropshot on clay," Sharapova said. "I was like: 'Where did she learn how to play tennis like that?' Uses both hands, switches rackets. We had real battles in the juniors."
Despite her recent singles success, Hsieh is not neglecting doubles and is to team up with China's Peng Shuai next year.
"We've known each other for more than 12 years," Hsieh said. "We're good friends, so I think we will enjoy doubles next year and try to win a Grand Slam together."
"We understand how we [both] play and how to get out of problems if we have trouble on the court," she said. "We understand each other a lot and this is an important key in doubles, so that will help us a lot."
McNamee — who won the doubles title at Wimbledon in 1980 and 1982, and at the Australian Open in 1979 and 1983 — believes Hsieh is destined to go far in the format he mastered so well.
"I'd love to see [Hsieh and Peng] in the final of a Grand Slam," he said. "I believe in Su-wei's career she definitely has the capability of winning a Grand Slam in doubles."
Hsieh was born in Hsinchu and spent her early childhood there before moving to Kaohsiung and then to Taipei, where she now lives.
However, her life on the tennis circuit means that she spends less than three months of the year in Taiwan.
As well as missing family and friends, Hsieh has a yearning for Taiwanese food when she is away.
"I miss the food from the night market, especially chou doufu [stinky tofu]," she said.
Apart from Taipei, her favorite city of the many she has visited over the course of her career is Tokyo, which has a lot of attractions for Hsieh.
"The food, the culture, the buildings are pretty nice and the shopping is also good … and they have a Disneyland!" she said.
After completing pre-season training in Melbourne, Hsieh will have a brief trip home for Christmas, before heading for Shenzhen, where she is competing in a new WTA tournament. She then travels to Tasmania for the Moorilla Hobart International before playing in the first Grand Slam of the year, the Australian Open.
"I'm traveling almost every week. Hotels are my home … and the tennis court," she said.
Despite having spent more than 10 years on the grueling professional circuit, Hsieh has no plans to hang up her racket anytime soon.
"If my coach doesn't fire me I'll continue to play for a couple more years!" she joked.
Publication Notes
Vital statistics
‧ Born: Jan. 4, 1986, in Hsinchu ‧ Turned pro: 2001 ‧ WTA singles titles: 2 ‧ WTA doubles titles: 9 ‧ Career-high singles ranking: 25 (December 2012) ‧ Career-high doubles ranking: 9 (October 2009) Source: WTA
Comments will be moderated. Keep comments relevant to the article. Remarks containing abusive and obscene language, personal attacks of any kind or promotion will be removed and the user banned. Final decision will be at the discretion of the Taipei Times.