London 2012 Olympics: South Korea's Ki wins archery gold
South Korean Ki Bo-bae triumphed in a nerve-wracking single arrow shoot-off against Mexican Aida Roman to win the women's individual archery gold medal at the London Games on Thursday.
Ki, who also won a team gold earlier in the week, continued South Korea's remarkable dominance of Olympic archery, giving the country a 14th women's gold medal out of a possible 15 since the 1984 Los Angeles Games.
It is unlikely any of those previous Korean gold medal winners were put under as much pressure as the 24-year-old Ki was on Thursday.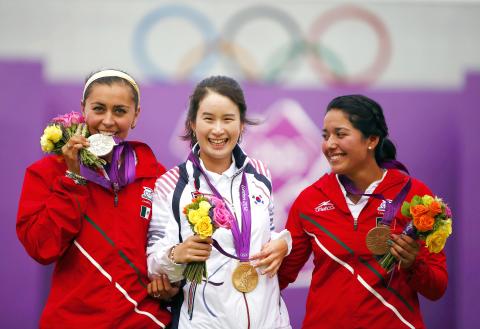 Gold medalist Ki Bo-bae, center, silver medalist Aida Roman, left, and bronze medalist Mariana Avitia pose after the victory ceremony for the women's individual archery event on Thursday at Lord's in London.
Photo: Reuters
With the scores tied after five sets, Ki and Roman had one extra arrow to decide the fate of the gold.
Top-ranked Ki brought gasps from the crowd when she leaked her shot outside the bulls-eye for an eight, leaving Roman with the task of finding a nine or a 10 to win.
The Mexican loosed her arrow to the target 70m away and could scarcely believe it when she too landed in the red rings for an eight. When officials confirmed Ki's arrow was closer to the center of the target, the South Koreans erupted in celebration.
"Actually, I didn't see Aida's arrow because I was praying so hard," Ki said, failing to stop her voice from cracking at a media conference.
Ki has struggled for consistency over the past 18 months and said her joy was tempered by her teammates, Lee Sung-jin and Choi Hyeon-ju, failing to win a medal.
"The main feeling is that I never thought I'd be this lucky. Last year at the world championships it was like I was starting archery all over again and I really felt sorry to my seniors," she said. "Now I can stand proud in front of those Korean archers who came before me."
Roman was disappointed to miss out on the gold, but proud that she and teammate Mariana Avitia, who won bronze, had given Mexico their first-ever medals in Olympic archery.
Avitia beat American Khatuna Lorig to win the bronze before the dramatic finale.
"The president of Mexico [Felipe Calderon] called me and he was very happy," Roman said. "Of course he asked me about that eight, but he said all of Mexico was very happy."
Roman and Avitia were placed in the unfortunate situation of having to face each other in the semi-final, but in the end they were just happy to be returning with medals after their tilt at the team title floundered.
Silver medalist Roman said shooting against her teammate had actually made her more relaxed.
"Uppermost in my mind was that we are a team, whether we compete in the team event or as individuals, that's why we support each other," Roman said. "It's not a case of one of us being better than the other one ... sometimes it turns out better for you, sometimes it turns out worse."
The 18-year-old Avitia said she finally understood what Olympians felt when they stepped onto the podium to have a medal hung around their necks.
"I used to watch on television medals being given out at the Games — Athens, Beijing — and I often wondered what those people were actually feeling," she said. "Now I myself am experiencing that same feeling and it's a great thrill."
Comments will be moderated. Keep comments relevant to the article. Remarks containing abusive and obscene language, personal attacks of any kind or promotion will be removed and the user banned. Final decision will be at the discretion of the Taipei Times.