NFL: Don't blame Brady, blame the bunch
The 24-year-old quarterback beamed from the podium as the crowd cheered and confetti fluttered.
He clutched the top of his head with both hands and shook it from side to side, as if in disbelief.
Tom Brady had just won his first Super Bowl.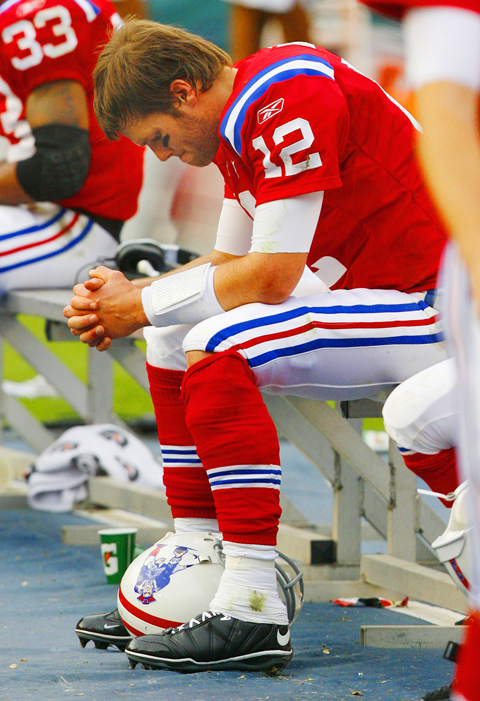 New England Patriots quarterback Tom Brady sits on the bench after throwing an interception in the final minute against the Miami Dolphins in Miami, Florida, last Sunday.
PHOTO: REUTERS
Two more Super Bowls and eight seasons later, he lay face down on a different field. His hands were in nearly the same position, atop his helmet, after his last-chance pass was intercepted last Sunday.
Tom Brady had just lost for the third time in four games.
How did the cover-boy quarterback with the dimpled chin and the rifle arm go from the peak to the pits? He takes some of the blame for the New England Patriots' problems.
'WE' NOT 'I'
"I hate to talk about myself because it's not about what I do. It's about what we need to do," he said, before adding, "Obviously, I need to play better."
Brady has thrown balls over receivers' heads and at their feet.
His knack for carrying the team to fourth-quarter comebacks is missing. His frustration is evident on his face.
But there are plenty of reasons why the Patriots have a 7-5 record and are in a tight battle for a playoff berth.
The play-calling has been questionable. There is no reliable wide receiver behind Randy Moss and Wes Welker. Tight ends have caught just 22 passes in the last 10 games. The running game is inconsistent.
With former offensive coordinator Josh McDaniels leaving after last season to coach the Denver Broncos, Brady and quarterbacks coach Bill O'Brien, who calls plays, haven't clicked.
The Patriots lost 22-21 to the Miami Dolphins last Sunday on a field goal with 1:02 left despite Brady's 352 yards passing.
"So why is it Tom Brady? Why isn't it [coach Bill] Belichick who's not doing a good job?" asked New Orleans cornerback Mike McKenzie, who intercepted Brady in a 38-17 Saints win in the Patriots' previous game.
"You can't have a great season every year," McKenzie said.
Still, Brady is second in the league in yards passing, throwing for more than 300 yards in six of his last seven games, tied for sixth in touchdown passes and eighth in completion percentage.
He threw two interceptions against Miami in the fourth quarter, but Moss didn't challenge cornerback Vontae Davis on the first one in the end zone and linebacker Cameron Wake eluded right tackle Nick Kaczur and hit Brady as he unloaded the pass right to linebacker Channing Crowder with 35 seconds left.
"When you're 7-5, you don't have a lot of good feelings about much, especially with some of the teams that I've been on and the kind of expectations that we have," Brady said. "I have to play my best football."
A LOVELY LADY
If he doesn't, it won't be for lack of effort. Even after his wife, supermodel Gisele Bundchen, gave birth to their son on Tuesday, Brady was eager to return to his teammates.
"As a captain and a leader of this team, the last thing they need from me is to be really not focused on the job at hand," he said.
Most observers believe Brady's left knee seems fine after offseason surgery on the injury that ended last season in the opener. Lately, he's had finger and rib injuries, but he still completed two passes for 58 yards and one for 81 last Sunday.
New York Jets cornerback Lito Sheppard believed the only change about Brady was the talent around him.
"They have basically two guys in the passing game that get the ball, where before it was four or five guys and they didn't have that go-to guy," he said. "I think that has kind of made them as a team more predictable."
"The defense helped him out a lot in the past," Sheppard said. "They made key drives when they needed to and I think they still do that this year, but I think the lack of big plays on the defense has been the biggest difference in that team right now."
So don't write off Brady yet. The Patriots certainly aren't, not with only rookie free agent Brian Hoyer backing him up and no sense of urgency to groom a successor.
Brady may never match his NFL record of 50 touchdown passes in 2007 when he was the league's MVP and the Patriots went 18-0 before losing the Super Bowl to the New York Giants.
But give Brady a third wide receiver, better plays to run and another year removed from knee surgery to eliminate any caution that may remain and then see what happens.
"When you look through time and all your great quarterbacks, your Hall of Fame quarterbacks, there is a pretty good supporting cast along with them," said Carolina Panthers coach John Fox, who will face the Patriots today. "He's as good as there is in the business and has been for some time."
Comments will be moderated. Keep comments relevant to the article. Remarks containing abusive and obscene language, personal attacks of any kind or promotion will be removed and the user banned. Final decision will be at the discretion of the Taipei Times.