Dibaba deals blow to Ethiopian hopes
WORLD CHAMPIONSHIPS Tirunesh Dibaba did not show up for the 5,000m heats, while Dayron Robles might have to break his promise to Fidel Castro
Ethiopian world medal hopes were dealt a further blow yesterday when Olympic champion and world record holder Tirunesh Dibaba pulled out of the women's 5,000m at the World Athletics Championships.
Cuba's Olympic champion and world record holder Dayron Robles was also left uncertain for the semi-finals of the 110m hurdles after battling through his heat with an injured left lead leg to eventually clock the slowest time of all qualifiers.
Dibaba, a two-time world champion in the 5,000m (2003 and 2005) who is also the Olympic 10,000m champion, had already pulled out of the longer race last weekend after suffering from an ankle injury all season.

From left, Stanislavs Olijars of Latvia, Evgeniy Borisov of Russia, Park Tae-kyong of South Korea, Alexander John of Germany, Ahmad Hazer of Lebanon, Maksim Lynsha of Belarus and Ryan Brathwaite of Barbados clear the first hurdle in the fourth heat of the men's 110m hurdles at the World Athletics Championships at the Olympic stadium in Berlin yesterday.
PHOTO: REUTERS
Turkey's Ethiopian-born double Olympic silver medalist Elvan Abeylegesse, who pulled up during the 10,000m race, also failed to start the 5,000m.
It was instead Dibaba's arch-­rival and compatriot Meseret Defar, the reigning world champion, who set the fastest qualifying time, winning her heat in 15 minutes, 15.45 seconds.
"I pushed the pace because I've been a little bit sick and I wanted to see how my body would respond," Defar said. "I feel okay. I'm pleased I qualified because I really want to win the final."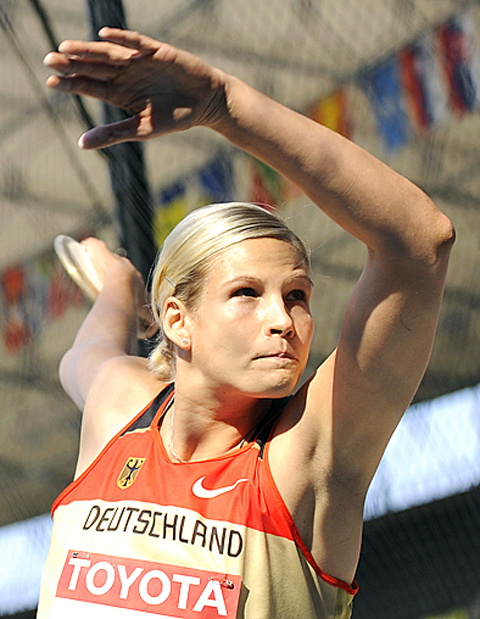 Germany's Nadine Muller competes in the women's discus throw qualifying event at the World Athletics Championships in Berlin yesterday.
PHOTO: AFP
She will be accompanied in Saturday's final by a trio of teammates — Sentayeju Ejigu, Meselech Melkamu and Genzebe Dibaba.
Kenyans Vivian Cheruiyot, Sylvia Kibet and Iness Chenonge also looked comfortable while progressing at a sun-baked Olympic Stadium.
There looked like being an upset brewing in the 110m hurdles when Robles found himself in sixth place at the halfway mark of his heat.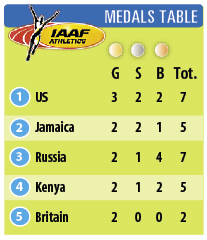 Robles, sporting a bandaged left thigh under his singlet, fairly labored over the first five hurdles with his lead left leg failing to snap out over the hurdle.
But he somehow managed to find the reserves to pull through the field and sneak into third in 13.67 seconds.
"I feel pain in my left thigh," Robles said. "I don't know what's going on. I thought it was only a small problem, but now I know that I really have a problem."
"I cannot say that I'll continue to run or not. I'll talk with the physiotherapist and doctor, and we'll see," he said. "I promised Fidel Castro to bring home the gold medal for him and I want to keep my promise. I am a warrior and I will fight."
There was also not a good start to the day for Robles' fellow Cuban Leonel Suarez in the decathlon, which saw Jamaica's reigning.
American Trey Hardee ran a very decent 10.45 seconds, long jumped a best of 7.83m and recorded a best shot put of 15.33m to lead the overall standings after three events on 2,814 points.
Suarez, the Olympic bronze medalist and firm pre-event favorite for the 10-sport, two-day event in the absence of American Olympic champion Bryan Clay, only managed 11.13 seconds in the 100m, 7.24m in the long jump and 15.20m in the shot, sitting 14th out of the 38 starting competitors.
There was earlier heartbreak for reigning world silver medalist Maurice Smith of Jamaica who pulled up during the 100m with what looked like a hamstring injury.
In qualification for the women's discus throw, Olympic champion Stephanie Brown Trafton failed to hit the minimum standard of 61.50m, managing a best of 61.23m but progressing as one of the top 12 finishers.
"This will hopefully stimulate me to my best in the final because I consider myself as an underdog," the American said.
The opening heats of the women's 200m were canceled because of the low number of entrants and those entered were to go straight into the quarter-finals in the evening session later yesterday.
Comments will be moderated. Keep comments relevant to the article. Remarks containing abusive and obscene language, personal attacks of any kind or promotion will be removed and the user banned. Final decision will be at the discretion of the Taipei Times.