Phelps wins fifth gold at Rome meet
HEFTY HAUL Michael Phelps was honored as the outstanding male swimmer of the championships, while Italy's Federica Pellegrini received the female award
Even coming off his longest layoff and the embarrassment of being photographed inhaling from a marijuana pipe, Michael Phelps turned in another remarkable performance over the eight days of the swimming world championships at the Foro Italico.
The American completed it on Sunday night by helping the US set the 43rd world record of the fastest meet in history in the 400m medley relay.
He may not have matched his record eight golds of the Beijing Olympics, but his five golds and a silver showed Phelps has plenty of fire, even when there's really nothing left to prove.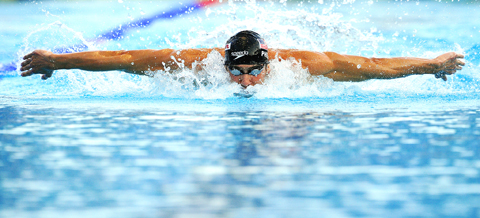 Michael Phelps of the US competes in the men's 4x100m medley relay swimming final at the world championships in Rome on Sunday.
PHOTO: REUTERS
"I never want to look back on my career and ask, 'What if?"' he said.
No worries there. When Phelps is back in top condition, it's hard to imagine anyone standing in the way of anything he puts his mind to.
"An incredible talent, an incredible background and probably the greatest mental toughness I've ever witnessed in an athlete," raved Mark Schubert, general manager of USA Swimming, who was especially impressed with Phelps' thrilling win over Serbia's Milorad Cavic in a 100m butterfly showdown that featured plenty of smack talk beforehand.
An unidentified fan is apprehended by security personnel as she tries to embrace US swimmer Michael Phelps, left, after the men's 4x100m medley relay final at the world championships at the Foro Italico in Rome on Sunday.
PHOTO: EPA
Coach Bob Bowman said Phelps would get two weeks off before he's back in the pool, even though his next meet isn't likely to be until December when the US faces an all-star team from Britain, France and Russia.
Everything is pointing toward the 2012 Olympics, which Phelps insists will be his farewell to the sport he has dominated.
"I think Michael will be the first to tell you his preparation wasn't the same here as it was in Beijing," Schubert said. "But the mental toughness, you really can't compare it with anyone."
Swimming the butterfly leg, Phelps helped the US pull away from Germany and Australia to win in 3 minutes, 27.28 seconds. That easily broke the mark of 3:29.34 set by the Americans at last summer's Olympics, another relay team that included Phelps.
"That relay brings out the best in me," Phelps said. "It doesn't matter how much energy I have, it's all going to go into every race. That's one of the things that I enjoy most — stepping out onto the blocks no matter what kind of shape I'm in."
Phelps took six months off after his Beijing triumph, drew a three-month suspension from competition after the infamous pipe photo — and he was still honored as the outstanding male swimmer of the championships.
Italy's Federica Pellegrini received the female award at the final major meet for high-tech bodysuits, which are being banned officially on Jan. 1 and likely before that in US.
We aren't likely to see these sort of times for years, maybe decades.
"It certainly made it fun with all the records," Schubert said. "But I'm looking forward to it going back to normal."
He'd certainly like to see the US put a little more distance on the rest of the world. The other countries are catching up — fast.
The US had its worst showing at these every-other-year championships since 1994, when the meet also was held at Rome. The US showing — 10 golds, six silvers, six bronzes — was its lowest total since that team from 15 years ago managed only 21 medals overall.
"The world is becoming so much more competitive," said American Aaron Peirsol, who learned that the hard way when he shockingly failed to qualify for the 100 backstroke final. "That can only be a beneficial thing for swimming. Competition raises the level of everybody."
At the last worlds in Melbourne, the Americans piled up 36 medals — 20 golds, 13 silvers and three bronzes. That provided the spark heading into last year's Beijing Olympics, where the US actually won even more golds (21) with fewer events, part of a 31-medal haul that left no doubt which country was on top.
The Americans still led at Rome, but with a much smaller margin.
Australia was only six behind in the medal standings with three golds, four silvers and nine bronzes (and that was a disappointing performance for the team from Down Under).
China won 10 medals, signaling a rise that everyone expected for Beijing but maybe was a year behind schedule. Germany captured nine medals, and Britain claimed seven — an encouraging performance by a country that will undoubtedly be looking to improve even more heading its home Olympics, the 2012 London Games.
The US men were expected to carry the load on a team loaded with females still in their teens, and that turned out to be the case as the males won eight golds, the females only two.
Still, the men weren't quite as impressive as everyone projected.
There was Peirsol's shocker. Phelps lost to Germany's Paul Biedermann in the 200m freestyle. The sprinters didn't manage a medal in the 50m or 100m free.
"I know the men's team, we got off to a pretty flat start," Peirsol said. "Once we settled into the meet, we started kind of raising our level. We had no choice. The meet was incredibly fast. The rest of the world was ready to step up."
Publication Notes
Taiwan's swimmers
SUNDAY, AUG. 2
Men's 400m individual medley
Heat 4
Chien Jui-ting placed 43/63
time: 4:31.99 (eliminated)
Pan Kai-wen placed 50/63
time: 4:41.92 (eliminated)
Women's 400m individual medley
Heat 2
Chen Ting placed 38/45
time: 5:02.97 (eliminated)
Ting Sheng-yo placed 41/45
time: 5:07.73 (eliminated)
Comments will be moderated. Keep comments relevant to the article. Remarks containing abusive and obscene language, personal attacks of any kind or promotion will be removed and the user banned. Final decision will be at the discretion of the Taipei Times.