Taiwan suffers big losses in squash and air sports
WOODEN SPOON: Pan Kuei-yeh and Huang Cheng-yao were outclassed by two of the world's top players, while in the frisbee, Taiwan's team finished last
Home representation didn't last long on the first day of the World Games squash competition at Kaohsiung's Martial Arts Stadium yesterday.
In the women's tournament, No. 2 seed Natalie Grinham of the Netherlands thrashed Taiwan's Pan Kuei-yeh 11-1, 11-1, 11-1 in their first round encounter.
In the men's competition later in the day, Huang Cheng-yao also lost in three sets against James Willstrop of the UK. But at least Huang put up more resistance than Pan, engaging the No. 2 seed in a series of exciting rallies that got the crowd behind him.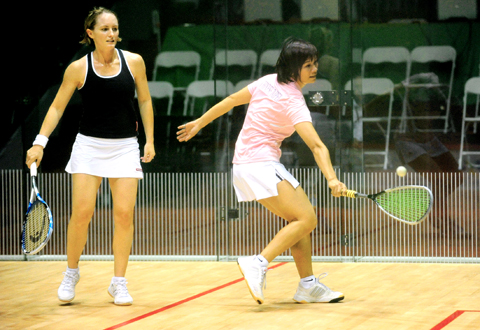 Taiwan's Pan Kuei-yeh, right, hits a backhand volley in her game against Natalie Grinham of the Netherlands in the first round of squash competition in Kaohsiung yesterday.
PHOTO: CHANG CHUNG-I, TAIPEI TIMES
Huang fought hard early on in the first set before losing 11-4 before taking five points in losing the second set. Huang briefly led in the third before Willstrop's class began to tell, with the Briton eventually wrapping up the set 11-7 to take the match.
In the final day of the air sports, Taiwan's sole competitor, paratrooper Pan I-lung, finished last in the accuracy landing final.
Pan scored 12cm, 3cm, 10cm, 4cm, 2cm and 11cm in his six jumps at the Metropolitan Park for a cumulative total of 42cm, way behind gold medal winner German Stefan Weisner's winning total of 9cm.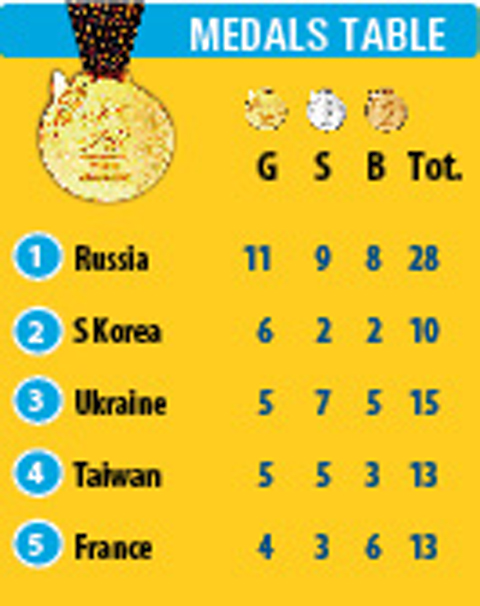 In the other disciplines, Canada's Jason Moledzki took gold in the canopy piloting, while the US won in the canopy formation. The US also won gold in the formation skydiving while France secured first place in the freeflying.
Meanwhile, in the Frisbee, a large crowd of cheering fans at the Main Stadium couldn't prevent Taiwan from falling to an embarrassing 13-0 defeat at the hands of the UK in their final preliminary match.
Taiwan had a chance for revenge in the afternoon when they faced the same opponents in the fifth-sixth place play off, but slipped to another defeat. The 13-6 loss made it six defeats in six matches and a last place finish.
Russian gymnast Anna Korobeynik competes in the tumbling women's qualification competition at the World Games in Kaohsiung yesterday.
PHOTO : AFP
Ranked 18th in the world in Ultimate Frisbee, Taiwan were always going to struggle against the top five nations in the world, but coach Lin Ming-tsong was happy with the team's efforts, saying that their performances in the first four matches were pretty good and that the team members had given it their best shot.
The US went on to take the gold medal after beating Japan 13-6 in the final, while Australia beat Canada 13-8 to claim bronze.
World Games 2009 Kaohsiung Organizing Committee (KOC) managing director Liu Shyh-fang said ticket sales, which were rather slack before the Games began, have picked up since the spectacular opening ceremony was broadcast. Some events have seen long lines of people waiting to buy tickets.
Tickets for Sunday's closing ceremony were sold out last week. In response to strong demand, the KOC is making 1,000 additional tickets for the closing ceremony available through the iBon booking system starting today. Booking terminals can be found at 7-Eleven convenience stores nationwide.
KOC Culture and Tourism Department CEO Lai Jui-lung (賴瑞隆) said extra seats would be made available by rearranging equipment to be used during performances.
Ticket sales for the opening and closing ceremonies, including the 1,000 newly available tickets, will add up to 31,500 altogether.
The closing ceremony will be held in a carnival atmosphere, with live performances from veteran rockers Wu Bai (伍佰), Bobby Chen (陳昇) and other stars.
ADDITIONAL REPORTING BY STAFF WRITER
Publication Notes
Yesterday's medalists and finalists
TUESDAY, July 21Air Sports
Air Sports
Canopy Formation
Gold: United States
Silver: Russia
Bronze: Australia
Landing Accuracy
Gold: Stefan Wiesner (Germany)
Silver: Robert Juris (Slovakia)
Bronze: Liubov Ekshikeeva (Russia)
Canopy Piloting
Gold: Jason Moledzki (Canada)
Silver: Nicholas Batsch (US)
Bronze: Marat Leiras (Brazil)
Freeflying
Gold: France
Silver: Norway
Bronze: Great Britain
Formation Skydiving
Gold: United States
Silver: Russia
Bronze: France
Flying Disc
Gold: United States
Silver: Japan
Bronze: Australia
Gymnastics Acrobatic
Men's Pairs
Gold: Mikola Cherbak/Sergei Popov (Ukraine)
Silver: Alexei Dudchenko/Konstantin Pilipchuk (Russia)
Bronze: Douglas Fordyce/Edward Upcott (Great Britain)
Women's Group
Gold: Russia
Silver: Great Britain
Bronze: Ukraine
Gymnastics Trampoline
Women's Tumbling
Gold: Anna Korobeynikova (Russia)
Silver: Anzhelika Soldatkina (Russia)
Bronze: Emily Smith (Canada)
Gymnastics Trampoline
Men's Tumbling
Gold: Andrey Krylov (Russia)
Silver: Michael Barnes (Great Britain)
Bronze: Viktor Kyforenko (Ukraine)
Jujitsu
Men's Fighting 69kg
Gold: Julien Boussuge (France)
Silver: Mathias Brix Willard (Denmark)
Bronze: Fedor Serov (Russia)
Men's Fighting 85kg
Gold: Andreas Kuhl (Germany)
Silver: Dmitry Nobolsin (Russia)
Bronze: Matthias Gastgeb (Austria)
Women's Fighting 62kg
Gold: Sabrina Hatzky (Germany)
Silver: Yang Hsien-tzu (Taiwan)
Bronze: Yulia Berezikova (Russia)
Men's Duo
Gold: Switzerland
Silver: Germany
Bronze: France
Women's Duo
Gold: Austria
Silver: Italy
Bronze: France
Korfball
Gold: Netherlands
Silver: Belgium
Bronze: Taiwan
Comments will be moderated. Keep comments relevant to the article. Remarks containing abusive and obscene language, personal attacks of any kind or promotion will be removed and the user banned. Final decision will be at the discretion of the Taipei Times.