SBL: Yulon's walkout could result in ban from SBL
NO PAY, NO PLAY SBL officials told the team that they had to cough up NT$600,000 by Friday or face being banned from competition for two years
Questionable calls by officials led the Yulon Luxgens to forfeit their game against the Dacin Tigers when the team walked out with only 19 seconds left on the clock, with Yulon's coach hinting that they might sit out for the remainder of the season.
With the Luxgens trailing by three on Sunday, center Tseng Wen-ding's follow-through on a shot attempt after he had been fouled by the Tigers' Chang Chih-fong was ruled unsportsmanlike conduct by the baseline official.
The normally soft-spoken Luxgens skipper Chang Hsueh-lei stormed onto the court and eventually led his crew in the walk-out.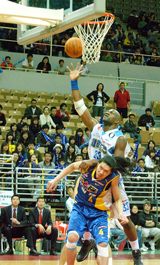 Byron Allen of the Dacin Tigers drives for a layup over Tseng Wen-ding of the Yulon Luxgens during their game in Taipei on Sunday. The Luxgens forfeited the game with 19 seconds remaining after disputes with officials.
PHOTO: WANG MIN-WEI, TAIPEI TIMES
"If they [the Tigers] wanted it [title] so badly, we'll let them have it," Chang said after the game.
He also hinted at withdrawing his team for the rest of the season unless they receive an acceptable explanation from the league.
The Luxgens were also called for unsportsmanlike conduct earlier in the game when Chen Chih-chung was tagged for swinging his elbows at the Tigers' Lin Yi-hui.
With the regular season title on the line and only a game separating the league-leading Tigers and the second-place Luxgens, the showdown between the squads was a dogfight from the tip-off, with neither team able to hold leads of more than eight points.
After the Luxgens fought back to within three, they had a chance to tie the game when Tseng was fouled while driving to the basket.
Instead, the premature departure by the Luxgens automatically resulted in a 20-0 loss and a fine of NT$600,000 (US$18,000).
At a press conference called by the league yesterday afternoon, officials said the Luxgens would have until noon on Friday to pay the fine or risk forfeiting their eligibility to compete in the SBL for two years.
The league also said it would use a foreign officiating crew assigned by the International Basketball Federation (FIBA) for the upcoming playoffs so that the quality of officiating "would not be an issue" for any of the four postseason contenders.
Comments will be moderated. Keep comments relevant to the article. Remarks containing abusive and obscene language, personal attacks of any kind or promotion will be removed and the user banned. Final decision will be at the discretion of the Taipei Times.