Freddy Kanoute goal seals Copa del Rey for Sevilla
An early goal by Frederic Kanoute of Mali gave UEFA Cup winners Sevilla a 1-0 win over Getafe in the final of Spain's Copa del Rey at the Santiago Bernabeu Stadium on Saturday.
Former Tottenham Hotspur striker Kanoute scored in the 11th minute on a very warm night by pouncing on a poor backpass by Getafe central defender Ruben Pulido.
The win allowed Sevilla, with 102 years of history, to add a third cup to their trophy room this season having taken the European Supercup 3-0 against FC Barcelona, and been the first club in more than 20 years to retain the UEFA Cup when they beat Espanyol 3-1 on penalties.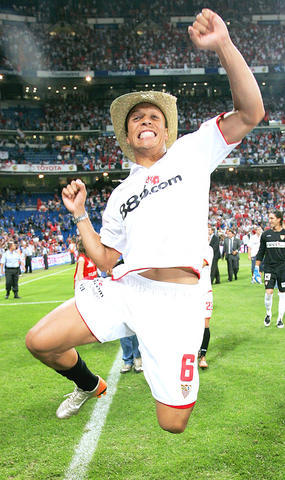 Sevilla's Adriano Correia of Brazil celebrates after Sevilla beat Getafe 1-0 in the Copa del Rey final at the Santiago Bernabeu stadium in Madrid on Saturday.
PHOTO: AP
Upstarts Getafe, barely 61-years-old, with a much smaller budget and who ascended to the Primera Liga only three seasons ago, had aimed to showcase coach Bernd Schuster's tactical expertise which has reportedly linked him with Real Madrid next season.
Due to their greater age in the league, Sevilla played as the host team at the Bernabeu, using Real Madrid's dressing room.
first chance
The first chance of the match came when Getafe forward Daniel Guiza managed to clear Sevilla's defense only to have his shot stopped by goalkeeper Andres Palop in the seventh minute.
Guiza was Getafe's top scorer in the competition with 17 goals, six in the knockout final stages.
Sevilla played a Copa del Rey final for the first time since 1962 when they lost 2-1 to Real Madrid. Before that Sevilla had won 3-0 against Sabadell in 1934, 6-2 against Racing de Ferrol in 1939 and 4-1 against Celta Vigo in 1948.
Sevilla midfielder Renato right-footed teammate Luis Fabiano's cross hard but Getafe goalkeeper Luis Garcia stopped it in the 26th minute.
Kanoute had a shot saved by Garcia in the 51st.
Getafe midfielder Nacho Perez shot high over the crossbar in the 54th.
sent off
Match-winner Kanoute was ejected in the 90th after retaliating against Getafe midfielder Francisco Casquero by kicking him in the right ankle.
In February, Sevilla coach Juande Ramos was knocked unconscious by a bottle hurled by a spectator during a Copa del Rey quarter-final against crosstown rivals Real Betis.
Under Ramos, Sevilla finished third in the Spanish league, their best result there in 37 years.
Comments will be moderated. Keep comments relevant to the article. Remarks containing abusive and obscene language, personal attacks of any kind or promotion will be removed and the user banned. Final decision will be at the discretion of the Taipei Times.