Federer fights past fan-favorite Blake
HEART BREAKER Swiss champ Roger Federer had to beat not only James Blake, but also the large, partisan crowd that rallied behind the New York state native
Roger Federer had to fight to maintain his flawless record over James Blake, struggling to beat the American crowd favorite for the fifth time with a 7-6 (9-7), 6-0, 6-7 (9-11), 6-4 win to advance into the final four of the US Open.
Federer, fighting 20,000-plus fans heavily in the corner of New York state-born Blake, was derailed on Thursday as he served for victory in the third-set tiebreaker as well as in the fourth set while up a double break.
Blake struggled to gain a modicum of satisfaction as he lifted his career first set off the Swiss.
James Blake, left, shakes hands with Roger Federer after Federer defeated Blake in their quarter-final match on the 11th day of the 2006 US Open tennis tournament in Flushing Meadows, New York, on Thursday.
PHOTO: EPA
But the Federer style and power came to the fore at the end to get the job done as the world number one moved into a semi-final against seventh seed Nikolay Davydenko.
unknown
The anonymous grinder called on all of his reserves to struggle through a comeback, becoming the second Russian into the final four with a 4-6, 6-7 (3-7), 6-3, 6-4, 6-4 win over German Tommy Haas.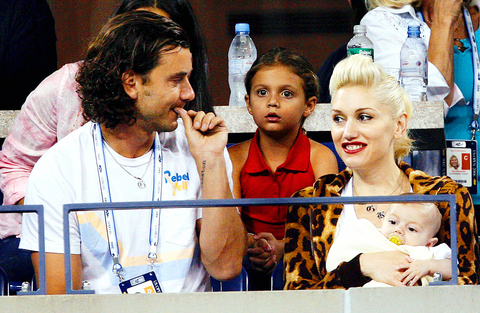 Rock star couple Gavin Rossdale and Gwen Stefani watch the game between Roger Federer and James Blake in Flushing Meadows, New York, on Thursday.
PHOTO: EPA
Federer flirted with a minor disaster in a tumultuous opening set that lasted more than an hour as Blake forced the Swiss to save three set points.
That mission accomplished, Federer put on a master class with a love second set and a break off Blake for 5-3 in the third.
But the American found a way to rally for a break-back and leveled at 5-all as the struggle for survival that characterized the encounter began to play out.
PHOTO: EPA
Blake fought like a wildcat to claw back, saving a Federer match point as the Swiss served for victory in the tiebreaker. Federer finally came through in four sets, thanks to seven breaks, 59 winners and a dose of courage.
The Swiss has now beaten 27-straight American opponents while Blake, a quarter-finalist last year, dropped to 1-8 against No. 1 players.
"It was tough from both sides," said Federer, who is 29-4 at the Open and last lost at the event in the 2003 round of 16. "We played good tennis and it was great, even if the crowd was tough on me."
"It was tough serving for the match," he added. "It took awhile today. There were some momentum shifts. It suddenly became a very difficult match. I expected a struggle, and that's what I got."
Blake admitted that the cheering masses were on his side: "Roger was playing against the whole crowd, and he did a great job."
"Against anyone else in the world, I like my chances here, but Roger stepped up his game at the right time. The second [love] set was a good old-fashioned beating. I'm proud that I stepped it up even when I was down a break in the third. I never felt out of the match," he said.
russian revival
Davydenko, who this year has taken off only one week in July from the nearly year-round tennis grind, joined compatriot and Davis Cup teammate Mikhail Youzhny in the final four.
"I could have lost in three sets," the winner said. "Haas played very well. He was serving great. I had no chance to break him early the match."
On Wednesday, Youzhny stunned second seed Rafael Nadal while Davydenko recovered from a two-set deficit after performing identical heroics in the fourth round of the Australian Open.
Bidding for his third final four at a major, Haas paid the physical toll in a third-straight five-set test.
Haas had lost seven-straight five-set matches coming into New York, but the 28-year-old began reversing his luck as he put out Robby Ginepri and Safin by going the distance.
"In the fifth set, for me, it was probably more physical than anything," the German said. "My body didn't feel as good any more."
"I couldn't really do the small steps to get to the balls. I was making too many unforced errors, and I couldn't cover the court as well as I did the first three, four sets," he said.
"I started thinking a bit too much," he added.
Comments will be moderated. Keep comments relevant to the article. Remarks containing abusive and obscene language, personal attacks of any kind or promotion will be removed and the user banned. Final decision will be at the discretion of the Taipei Times.