Messier takes notice of Crosby
PRO HOCKEY Retired legend Mark Messier said that rookie Sidney Crosby is likely to become one of the NHL's best players
Down on the ice, the rookie center Sidney Crosby, skating in explosive bursts, seemed to be everywhere. The first period between the Rangers and the Penguins wasn't 10 minutes old Monday night, but peering from on high in a Madison Square Garden luxury suite, Mark Messier had already seen why the 18-year-old Crosby is a marquee phenom.
"He's got power in his skating, which gives him the quickness and the power," Messier said. "It all stems from the power in your legs."
Did Crosby remind him of Wayne Gretzky or himself when they were about the same age with the Edmonton Oilers a quarter of a century ago?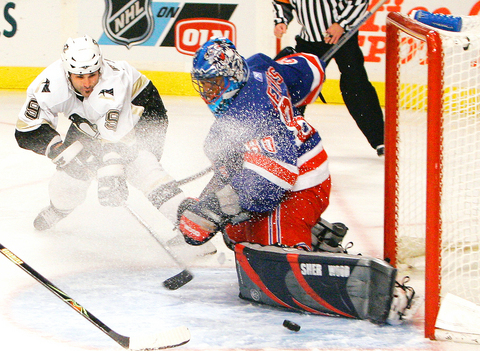 Rico Fata, left, of the Penguins, shoots on goal as goalie Kevin Weekes of the Rangers blocks during first period action at Madison Square Garden in New York on Monday.
PHOTO: AP
"Very few great players have looked like the other great players," Messier said. "Go back from Mario Lemieux to Wayne to Guy Lafleur to Bobby Orr to Jean Beliveau to Bobby Hull to Gordie Howe to Maurice Richard, they've all been different.
"He's the same way. He's got his own game, his own style, and as he develops, he'll create more of a style. It's not who he looks like, it's who he is."
Just as it wasn't who Mark Messier looked like as a center, it was who he was as the captain of the Rangers team that won the Stanley Cup in 1994.
Just as it could be who Mark Messier eventually is, as a general manager or coach in the National Hockey League, probably with the Rangers.
"The lockout last season made my transition easier," he said, referring to his lifestyle adjustment after having stopped playing 18 months ago, "but I have a strong feeling I am going to be involved in hockey in some capacity, and I'd love to do it here."
As the general manager or as the coach?
"It would be really gratifying both ways, and winning," he said. "It's a natural thing to want to be involved, but it's got to be with the right team in the right city."
No team and no city would be more right for him than the Rangers and New York.
Nobody seems to know when Glen Sather's contract as the Rangers' president and general manager expires; he's in his fifth season. But if these Rangers, who entered Tuesday in first place in the Atlantic Division and begin a six-game road trip in Florida Wednesday night, make the playoffs, and the franchise finally appears on the way up after having missed the playoffs for seven straight seasons, Sather may decide to retire.
If the Rangers needed a new president and general manager, Messier would be an obvious hire for James L. Dolan, the Cablevision chairman and Garden emperor who covets marquee names.
Messier mentioned that "once a month or so" he talks with Sather, who was also his general manager in Edmonton. And Monday night, Dolan stopped by to chat with Messier for several minutes. When Dolan departed, he told Messier that he would stay in touch. Almost on cue, the Garden video screens showed Messier, as lean as ever in a dark suit and his shaved head shining. When the crowd erupted in cheers, he smiled and waved, and the crowd cheered louder.
Messier will always be the unforgettable Ranger, the captain of the 1994 team that, after a 54-year Stanley Cup famine, silenced all those chants of 1940 in hostile rinks.
Messier had come up from his home in Hilton Head, Sout Carolina, for Tuesday's announcement of his fantasy Leadership Camp, opening March 3 at the Rangers' training center in Greenburgh, New York, and concluding March 7 with a Captain's Cup game at the Garden. The camp will be limited to 72 players, ages 21 and over. The cost is US$11,111, a portion benefiting the Tomorrows Children's Fund at the Hackensack University Medical Center in New Jersey, where the Mark Messier Skyway will be dedicated Dec. 9.
"It's a glass walkway between the in-patient and out-patient children's center there," Messier said. "All of my trophies and memorabilia also will be on display. "
Messier himself will be on display at the Garden on Jan. 12, when the Rangers retire his No. 11 before a game with the Oilers, with whom he won five Stanley Cups.
As for the Rangers, even though they lost Monday night, 3-2, he talked about how "they're getting good goaltending," referring to Kevin Weekes and Henrik Lundqvist, "and they've got one of the best players in the world," meaning Jaromir Jagr.
"With all the new rules," he said, "goaltending is even more important than before, and I think the new rules are good."
Messier agreed that "the game had gotten a little too bogged down, even for the purist fans."
"It was hard to see who the real stars were," he continued.
"If you're able to use your talent now, you're able to beat somebody instead of being hooked. Give them room to skate. What makes hockey great is the speed, the creativity, the grace, balance and power."
He added how, with more ice in the offensive zone, penalty-killers had to "stay tight," because if they were strung out, there would be holes everywhere.
Mark Messier may not realize it, but he's already sounding like a general manager.
Joni Pitkanen scored the tying goal with 23.4 seconds left and added the winner 1:55 into overtime to give the Philadelphia Flyers a 4-3 victory over the Boston Bruins on Tuesday night.
The Flyers won their fourth straight and seventh in a row at home, overcoming a two-goal deficit in the final 3:35 of regulation on goals by Pitkanen and Simon Gagne. Sergei Samsonov, Shawn McEachern and Joe Thornton scored for the Bruins, who haven't lost in regulation in nine games since Oct. 20.
With goalie Robert Esche on the bench and an extra skater on the ice, Pitkanen took a long pass from Peter Forsberg, streaked down the left side and wristed a shot into the far corner under the crossbar to tie it at 3. In overtime, Pitkanen took a pass from behind the net and tucked it past goalie Hannu Toivonen to win it.
Mike Knuble also scored for Philadelphia, which played without captain Keith Primeau and top defenseman Eric Desjardins. Both players have concussions.
Maple Leafs 6, Capitals 4
At Toronto, Alexei Ponikarovsky, Bryan McCabe, Mats Sundin and Carlo Colaiacovo scored in the third period for the Maple Leafs.
Alexander Ovechkin scored twice for the Capitals. He also had two goals in Washington's 5-4 victory over Toronto on Sunday.
Chad Kilger and Jeff O'Neill added goals for the Maple Leafs. Matt Pettinger and Ben Clymer also scored for Washington.
Canadiens 3, Lightning 2
At Montreal, Jose Theodore stopped 32 shots and Richard Zednik scored midway through the third period, leading the Canadiens to their fifth straight victory.
Defensemen Andrei Markov and Craig Rivet added power-play goals for Eastern Conference-leading Montreal. Tim Taylor and Vinny Prospal scored for Tampa Bay, which lost its fourth in a row.
Islanders 4, Devils 1
At East Rutherford, New Jersey, Rick DiPietro made 25 saves and Shawn Bates had a goal and an assist to help New York end a two-game losing streak.
Mattias Weinhandl, Oleg Kvasha and Jason Blake also scored for the Islanders. Vladimir Malakhov scored for the Devils, who dropped their fourth straight.
Predators 3, Oilers 2
At Nashville, Tennessee, Scott Hartnell scored with 22.5 seconds left and Tomas Vokoun stopped 31 shots for the Predators.
Nashville scored all three goals in the third period, including two in the final 1:55, to snap a five-game winless skid.
Kimmo Timonen and Martin Erat also scored for the Predators.
Comments will be moderated. Keep comments relevant to the article. Remarks containing abusive and obscene language, personal attacks of any kind or promotion will be removed and the user banned. Final decision will be at the discretion of the Taipei Times.