Slovakia, Argentina about to face off
PRO TENNIS TOUR Argentina qualified for the final Thursday when Germany's Tommy Haas retired hurt from his singles match and Germany later defaulted what would have been the deciding doubles match
Daniela Hantuchova beat Michaella Krajicek of the Netherlands 6-4, 6-2 Friday and Dominik Hrbaty won his match when Peter Wessels retired hurt, allowing Slovakia to advance to the Hopman Cup team tennis final. \nSlovakia, which won the Hopman Cup in 1998, will face Argentina in today's final. \nHaas on Friday pulled out of next week's Sydney International, hoping that the rest will enable him to play in the Australian Open beginning Jan. 17. \nHrbaty led the first set 5-2, and was leading 40-15 in the eight game when Wessels, who had injured a chest muscle earlier in the tournament, had to retire. The walkover in the mixed doubles left Slovakia with a 3-0 win over the Netherlands. \nIn the other match Friday, the defending champion US beat Australia 2-1. \nAlicia Molik opened with a 6-2, 6-3 win over Meghann Shaughnessy before James Blake tied it with a 6-3, 6-4 win over Paul Baccanello. The Americans clinched the match with a 6-7 (6), 7-5, 10-7 (super tiebreaker) win in mixed doubles. \nBaccanello was a replacement for Mark Philippoussis, whose groin injury forced him out of the tournament on Thursday. Australia was not eligible to advance to the final because of the injury replacement. \nThe US and Slovakia each finished with 2-1 records, but Slovakia beat the Americans on Thursday and had a better winning percentage of sets played. \nSlovakia lost the final last year to the US. The Slovaks advanced to the 2004 final when Molik had to withdraw from the Australian team with a foot injury. \n"This time it is so much different," Hantuchova said Friday. "I feel like this time the final is really deserved from my side. \n"I helped Dominik to get there, I think we played well in all our singles matches and it's just nice to be in the final again." \nHantuchova will face Gisela Dulko of Argentina in the final Saturday, the first time the two have met. Hrbaty will then meet French Open finalist Guillermo Coria ahead of the mixed doubles. \nDulko has lost all three of her singles matches at this year's event, including straight-set losses to Russia's Anastasia Myskina and Italian Francesca Schiavone. \nBut she narrowly lost a three-set match against Germany's Anna-Lena Groenefeld and feels her confidence is good ahead of the final. \n"I played really good in the first set [against Groenefeld] and then I lost a bit of confidence in the second and third sets," Dulko said. \nHrbaty and Coria have met four times, with each player having won twice. \n"I like his game because it's not that fast," Hrbaty said. "He doesn't hit as many winners, he's not a big server, so I think there's going to be a lot of rallies which I enjoy." \nSweden's Joachim Johansson beat countryman Thomas Enqvist 6-3, 4-6, 6-1 Friday to advance to the semifinals of the Australian men's hardcourt tennis championships. \nJohansson will face Olivier Rochus of Belgium, who beat third-seeded Nicolas Kiefer of Germany 6-7 (4), 7-6 (6), 7-5 in another quarterfinal Friday at Memorial Drive. \nFourth-seeded Juan Ignacio Chela of Argentina defeated Austrian Jurgen Melzer 7-6 (3), 5-7, 6-2 and will face the winner of Friday's later quarterfinal between top-seeded Lleyton Hewitt and American Taylor Dent. \nJohansson took a 4-1 lead in the deciding set and broke Enqvist in the next game before finishing off the match with ace. \n"I felt like I was striking the ball much better," Johansson said. "I broke him four times and he only broke me once. I felt that was the key to get up in the set early." \nThe Rochus-Kiefer match ended controversially when a bad line call went against Kiefer late in the third set. The German player exchanged angry words with the umpire and linesman, and moments later lost the match and stormed off the court. \nRochus said his opponent had been on the wrong end of a poor call. \n"I think it was clearly out," Rochus said. \nAustralian Samantha Stosur advanced to her first WTA final with a 6-4, 2-6, 6-1 win Friday over fifth-seeded Silvia Farina Elia of Italy at the Australian women's hardcourt tennis championships. \nStosur saved one break point at 1-1 in the final set, then won five consecutive games to take the match. It was her third win over a seeded player this week, having beaten fourth-seeded Karolina Sprem of Croatia and eighth-seeded Bulgarian Magdalena Maleeva earlier. \nFarina Elia was scheduled to face top-seeded Nadia Petrova in the quarterfinals before the Russian withdrew because of a back injury, giving the Italian player a walkover to the semifinal. \nStosur will play second-seeded Patty Schnyder of Switzerland, who beat Russian-born Tatiana Golovin of France 3-6, 6-4, 6-3 in the other semifinal Friday. \nTop-seeded Amy Frazier of the US beat Russia's Tatiana Panova 7-6 (4), 3-6, 6-2 Friday to reach the semifinals of the ASB Women's Tennis Classic. \nFrazier, 31, dropped a set for the first time in the tournament before earning a semifinal place against fourth-seeded Shinobu Asagoe of Japan. \nSingles, quarterfinals and doubles semifinals were moved indoors Friday as tournament organizers made up a backlog of matches caused by two days of rain. \nNo matches were completed Thursday and organizers made the decision to go indoors for the first time in the tournament's history. \nAsagoe led Janette Husarova of Slovakia 5-2 in the first set when Husarova retired with an abdominal strain. The Japanese player won her second-round match when her opponent, American Shenay Perry, was forced to retire with a knee injury. \nFifth-seeded Marion Bartoli of France came from a set down to beat second-seeded Janette Jankovic of Serbia 3-6, 7-6 (6), 6-1. Bartoli also made the semifinals at Auckland in 2004. \nRoger Federer beat No. 7 seed Feliciano Lopez of Spain 6-1, 6-2 to reach the semifinals of the US$1 million Qatar Open, his third straight-set victory in four days. \nThe top-ranked Swiss, who extended his unbeaten streak to 20 matches dating back to August, needed only 53 minutes to dispatch Lopez. \nHe raced through the first set in 22 minutes, serving six aces and capitalizing on his opponent's injured ankle. \n"I think I played better than I did [against Greg Rusedski on Wednesday]," Federer said. "I was able to put pressure on Lopez from the very beginning. He tried to change tactics after I broke him in the first set, but I kept on serving well to keep him on the back foot." \nFederer broke Lopez twice more in the second set, advancing past the quarterfinals where he was beaten last year by American Jan-Michael Gambil. \n"I am delighted with the way I am playing right now," Federer said. "Everything I try is coming off. I guess when you keep playing well, anything you try comes off. For me personally, it was a very entertaining match though the fans might think differently." \nIn Friday's semifinals, Federer -- who has not lost since the second round of the Athens Olympics, will meet No. 8 Nikolay Davydenko of Russia. Davydenko rallied from a set down to upset third seed Sebastien Grosjean of France 2-6, 6-3, 6-2 in their quarterfinal. \nAfter being completely outplayed in the first set, Davydenko broke Grosjean three times each in the second and third sets. \nDavydenko served only two aces and prevailed in in two hours. \n"I made a lot of mistakes in the match today," Davydenko said. "I think the windy conditions forced me to make mistakes. I hope I don't repeat such mistakes against Federer. We have played three times and I have lost all those matches against him." \nIn the other semifinal on Friday, last year's losing finalist Ivan Ljubicic of Croatia will play 2002 French Open champion Albert Costa of Spain. \nNo. 6 seed Ljubicic advanced by beating Spanish teen Rafael Nadal 6-2, 6-7 (3-7), 6-3 while Costa was leading Fabrice Santoro 6-2, 3-0 when the Frenchman retired because of fatigue. \nPaul-Henri Mathieu of France shocked fifth-seeded Dane Kenneth Carlsen 6-3, 7-5 Thursday to enter the quarterfinals of the ATP Tour's Chennai Open, while Belgium's Kristof Vliegen saved two match points to oust sixth-seeded Lu Yen-hsun of Taiwan 1-6, 7-5, 7-6 (6). \nSecond-seeded Paradorn Srichaphan of Thailand, title winner here in 2003, secured his place in the quarterfinals by outplaying France's Nicolas Devilder 6-3, 6-2. \nReturning to the tournament where he suffered an injury that kept him out of competitive tennis for seven months, Mathieu dropped service just once to eliminate Carlsen. \nMathieu, ranked 123rd in the world, had been forced to concede an opening round match to Carlsen in the 2004 Chennai Open after suffering an on-court injury in the second set. \nMathieu, 22, broke the 84th-ranked Carlsen in the sixth game to clinch the opening set. He dropped service in the sixth game of the second set, but broke back in the seventh and 11th games before serving out the match. \n"It was a small consolation for the disappointing way in which I bowed out from this event last year, but the seven-month absence after fracturing my wrist was a big setback," Mathieu said. \nHe noted he was forced to take a four-month break after pulling an abdominal muscle three years ago. "I'm hoping the injuries are behind me now," he said. \nMathieu moves into a quarterfinal encounter against top-seeded defending champion Carlos Moya of Spain, whom he defeated when they last met in the Davis Cup semifinal four months ago. \nSpain won the semifinal despite Moya's loss, and went on to clinch the Davis Cup title. \nMathieu said he would "have to serve better than today to give Moya a good match." \nVliegen, 22, rallied from the brink of defeat, saving two match points in the second set where he bounced back from 2-5 down against Lu, placed 87th on the ATP roster. \nLu became the sixth seeded player to be eliminated.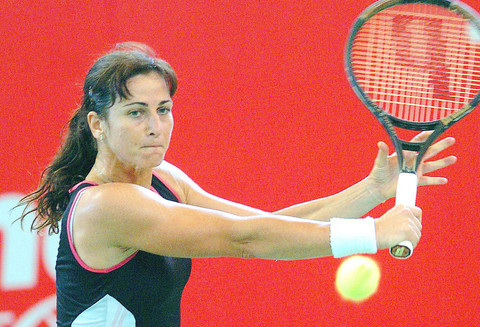 Silvia Farina Elia of Italy plays a backhand return to Australian Samantha Stosur during their semifinal match at at the Royal Pines, Gold Coast, Australia on Friday.
PHOTO: EPA
Comments will be moderated. Keep comments relevant to the article. Remarks containing abusive and obscene language, personal attacks of any kind or promotion will be removed and the user banned. Final decision will be at the discretion of the Taipei Times.