Newsmakers: Taichung Major Chang goes it alone
Chang Wen-ying has gone from giving plastic surgery to a man fleeing the KMT to building a successful political career for herself. `Taipei Times' staff reporter Joyce Huang finds Chang now facing a new challenge
Chang Wen-ying (張溫鷹) was just a dentist, but she nipped and tucked former DPP Chairman Shih Ming-teh's (施明德) chin and double-fold eyelids when he was on the run during the 1979 Formosan Democratic Movement. \nChang, the incumbent Taichung Mayor seeking re-election without the DPP's blessing, looked back at her 51 years and said that she never thought about pursuing a career in politics. But many democratic activists long ago anticipated her political prospects. \n"It took great courage for her to give a facelift to someone like me, who was then the KMT's most wanted man," Shih said. He described himself as then being "a walking dead man that even ignorant children were afraid of." \nShih attributed Chang's courage to her sense of justice and their patient-doctor relationship. \nOperating on Shih brought Chang a two-year jail term on charges of concealing a fugitive. The incarceration, however, led to her heightened sense of political awareness. \nReleased from prison, Chang became politically active, took charge of the then yet-to-be-founded opposition DPP's organizing work in the greater Taichung area, and ran for a National Assembly seat in 1986. \nThough Chang was defeated as a political freshman, her political reputation flourished thereafter and attracted a great deal of enthusiastic support. \n"Among all female politicians, Chang excelled over the others in her eloquence, outspokenness and political viewpoints," said former DPP legislator Liu Wen-ching (劉文慶), once one of Chang's closest colleagues in the DPP's New Tide Faction (新潮流系). \nLiu said that Chang's campaign publications -- when she ran as a DPP candidate for a seat on the 1989 Taiwan Provincial Consultative Council -- deeply impressed many voters with their political appeal. \nWith last-minute support from then-Taichung Mayor Chen Tuan-tang (陳端堂), who was a KMT member, Chang eventually won the seat. \nAt 41, Chang married Chen's divorced son -- Chen Wen-hsien (陳文憲), which not only lit up Chang's personal life but also reinforced her political influence within the local factions his family had built for years. \nAfter serving two-terms as a Taiwan Provincial Consultative Councilor, Chang aimed for something higher -- the 1997 Taichung Mayoral race. \n"Because of her in-laws' political influence, Chang won the mayoral election," said Hsu Jung-shu (許榮淑), a member of the DPP's central standing committee. She added that the party had only a third of the political support necessary to win Chang's mayorship. \nHsu attributed Chang's success to her hard-working personality, while Liu said Chang's patience and kindness had won her the trust of the citizens of Taichung. \nChang's hard work once earned her the nickname of the "silent duck that paddles its way upstream without tiring." \n"She's like a mother. Such a character tends to attract voters who don't have clear party allegiances," Liu said, echoing Hsu's views. \nChang's relationship with the DPP -- especially the New Tide faction -- gradually deteriorated. According to Hsu, the faction blamed Chang, during her heyday, for not fully supporting its legislative candidates in Taichung, including Hung Chi-chang (洪奇昌) and Michael Tsai (蔡明憲), who is currently the party's mayoral candidate and Chang's opponent. \n"The faction is too anxious to replace Chang," Hsu said, adding that it has always been an unwritten tradition within the party to fully support its members' re-election as heads of local governments. \nBut that did not happen to Chang, who lost badly to Tsai in the party's April primary elections. \nMany party heavyweights attributed Chang's failure to her controversial husband, who was dubbed "the underground mayor" and is accused of meddling in the Taichung City Government' affairs. \nBut Hsu disagreed. "Chang has become a female politician with few flaws. \nHer husband has, therefore, become an easy target to find fault with," Hsu said, adding that it was not fair to criticize Chang for whatever her husband, as an individual, had done. \nHsu said that Chen Wen-hsien this time had become an obstacle to Chang's re-election, although Chang would not agree and has chosen to stand by her husband. \nAs tough as the battle ahead may be, Chang has chosen to be a warrior and fight to further realize her political ideals. \nHer apparent cooperation with the People First Party is also considered a betrayal of the DPP and its traditional supporters and has attracted severe criticism. \nPutting the criticism aside, Chang is set on proving that she is not only a strong mayor, but that she is also determined to make Taichung a better place for "many moms and kids."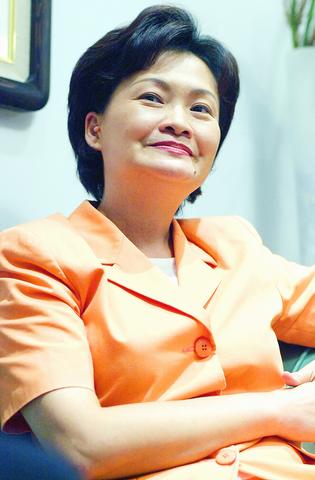 Taichung Mayor Chang Wen-ying is seeking re-election without the DPP's blessing. She says she wants to make Taichung a better place for ``moms and kids.''
PHOTO: CHEN CHENG-CHANG, TAIPEI TIMES
Comments will be moderated. Keep comments relevant to the article. Remarks containing abusive and obscene language, personal attacks of any kind or promotion will be removed and the user banned. Final decision will be at the discretion of the Taipei Times.