Thao becomes 10th indigenous tribe
FORMAL RECOGNITION Though the Executive Yuan approved the tribe's designation last month, the president made it official at a ceremony yesterday
President Chen Shui-bian (陳水扁) yesterday proclaimed the Thao (劭族) Taiwan's 10th major Aboriginal tribe. \nThe president said that with their distinctive traits and cultural features, and unequivocal tribe identification, the Thao people were worthy of being designated a major indigenous tribe. \nThe Thao tribe, which has settled for several generations in Tehuashe (德化社), a village near Sun Moon Lake in Nantou County, has only 281 members. \nThe Executive Yuan last month approved the tribe's designation as the nation's 10th major tribe, while President Chen made it formal at a grand ceremony yesterday. \n"Taiwan is a beautiful nation rich in culture. The exchanges and integration among the nation's various cultures has allowed a kind of dynamism to flourish here," Chen said. \nChen said the Thao people have become more united since the devastating 921 earthquake in 1999 and that yesterday's proclamation was in part a reply to their calls to be regarded as a new indigenous tribe. \nThe president said the proclamation also marked a new beginning in the way the government will address the concerns of Aboriginal tribes. \nOn June 19 last year, hundreds of Thao people returned to their homeland of Kuanghua Island (光華島), located near the center of Sun Moon Lake. \nHistorical documents show that the KMT is principally responsible for the near extinction of the Thao by forcing its people to leave their ancestral lands to live in another community for the past 30 years. \nHowever, former premier Vincent Siew (蕭萬長) under the old KMT administration, promised DPP Aboriginal lawmaker Payen Talu (巴燕達魯) on Nov. 17, 1999 that the government would grant the Thao a plot of state-owned land. \nDuring yesterday's ceremony, Chen helped unveil a big wooden carving showing members of the Thao tribe pursuing white deer. \nHe then presided over a mass wedding ceremony of 27 Aboriginal couples and offered them Aboriginal works of art as wedding gifts. \nThe Thao have joined the list of major indigenous peoples in Taiwan, which consists of the Atayal (泰雅), Saisiyat (賽夏), Bunun (布農), Tsou (鄒), Paiwan (排灣), Rukai (魯凱), Puyuma (卑南), Amis (阿美), and Yamis (雅美) tribes. \nIn 1998, the number of indigenous people in Taiwan was just over than 396,000. \nThe Amis is the largest group, accounting for over one-third of the nation's indigenous population, followed by the Atayal and Paiwan. \nThe Yamis, with less than 4,500 members, was the smallest of the major indigenous groups before the Thao tribe was included.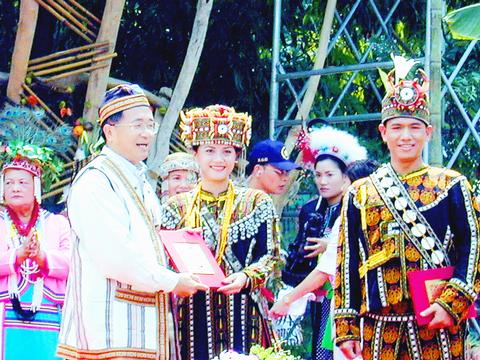 One of the 27 couples from the Thao tribe, participating in a mass wedding ceremony yesterday, receive marriage certificates from President Chen Shui-bian.
PHOTO: YU WEN-YU, TAIPEI TIMES
Comments will be moderated. Keep comments relevant to the article. Remarks containing abusive and obscene language, personal attacks of any kind or promotion will be removed and the user banned. Final decision will be at the discretion of the Taipei Times.