Tzeng gives nod to Hanyu Pinyin
ROMANIZATION The Mandarin Promotion Council is angry that Tongyong Pinyin has been overlooked and two of its members threatened to resign over the issue
Minister of Education Ovid Tzeng (曾志朗) yesterday announced he would suggest to the Executive Yuan that the Hanyu Pinyin system (漢語拼音) be adopted as the standardized system of Romanizing Mandarin.
However, Tzeng's decision was criticized by Chiang Wen-yu (江文瑜) and Yu Bor-chuan (余伯泉), members of the Mandarin Promotion Council, who support the use of Tongyong Pinyin (通用拼音). They said that Tzeng was in violation of the agreement made by the council.
Tzeng did not respect the opinion of the professionals -- given that he did not consult any of the council's members before announcing his decision yesterday, they said.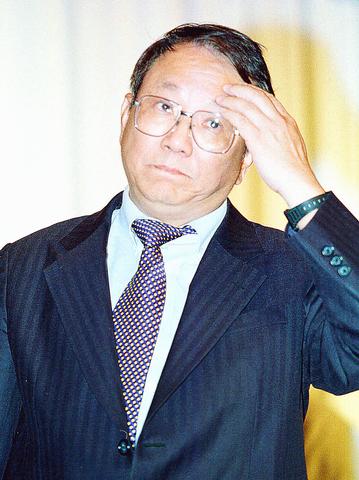 PHOTO: LIN CHENG-KUNG, TAIPEI TIMES
They said they would resign from their posts if Tzeng insisted on his decision.
Tzeng's decision has put a halt to the prolonged debate over which Romanization system Taiwan is to use, as tension between supporters of Hanyu and Tongyong shows no signs of easing.
Contention has centered on supporters of the Hanyu system who claim it is an internationally accepted system, while promoters of Tongyong, a system created by a group of Taiwanese linguists, say that it is a more suitable system for Taiwan's children to learn their mother tongues.
The two systems are 85 percent similar.
During a press conference held yesterday at the Ministry of Education, Tzeng said his decision was made in accordance with the conclusion reached on July 26 last year by the Executive Yuan's Educational Reform Committee, which recommended Hanyu be used as the official way of Romanizing Mandarin in Taiwan on the grounds that it is the best method to fulfil the needs of an increasingly globalized and computerized economy.
Tzeng said that the stance of the Executive Yuan hadn't changed since that time.
The education minister continued to explain the reasons for his selecting Hanyu over Tongyong.
"I appreciate the Mandarin Promotion Council's hard work on this matter, given its determination to preserve our native languages," Tzeng said. "However, their decision is in defiance of the agreement made by the Executive Yuan last year. Besides, there has been no tangible evidence to prove Tongyong is a favorable system in the learning of native languages ? Tongyong is not fully developed at the moment, so its practicability remains unknown."
On the other hand, Hanyu, acknowledged by the UN in 1986, is a tool developed as a result of years of research.
It has proven to be a stable system and is the most prevalent Mandarin Romanization system in use today, Tzeng said, adding that to choose a system corresponding to international usage should be of critical concern because it is Taiwan's national goal to re-enter the UN.
Tzeng conceded that no system was perfect, however, he said he did not see any complete compatibility between the two systems in the short term. Therefore he would suggest using Hanyu as a foundation, but making slight adjustments based on the spirit of Tongyong.
He said problematic morphemes in the Hanyu system such as "X," "Q" and "Z" should be improved after more research.
When asked by the media about the system to be adopted by elementary school students to learn native languages when the program begins next year, Tzeng said that he would be recommending the adoption of the traditional Mandarin Phonetic Symbols (注音符號) used in Taiwan (also known as "bopomofo") which would be supplemented by notation that would be needed in specific cases.
He also decided that Academia Sinica would be charged with looking into this question in a year's time.
Comments will be moderated. Keep comments relevant to the article. Remarks containing abusive and obscene language, personal attacks of any kind or promotion will be removed and the user banned. Final decision will be at the discretion of the Taipei Times.