Protesters say Lien was misused
KMT SIEGE Repeated pleas from officials have failed to halt anti-Lee demonstrations outside the party's offices
Protests calling for President Lee Teng-hui's (李登輝) immediate resignation as KMT chairman continued outside the party headquarters in Taipei for a third night last night, though reduced in size.
Yesterday's protests were marked by sporadic incidents of violence and the use of water cannons once again by police trying to disperse the remaining crowd of several hundred.
While protesters said they could accept the results of Saturday's elections, they blamed Lee for the result, claiming he had used Lien Chan (連戰) to limit independent James Soong's (宋楚瑜) chances of winning and purposely helped DPP candidate Chen Shui-bian (陳水扁) to win.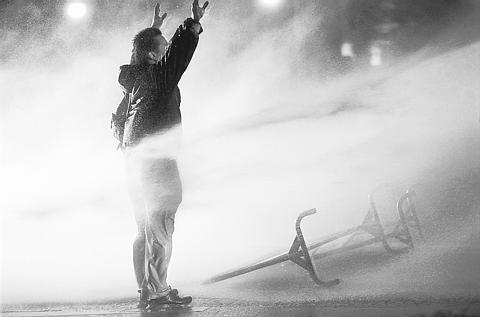 A demonstrator in front of the KMT headquarters building in Taipei stands defiant while being blasted by water canons yesterday.
PHOTO:CHEN CHENG-CHANG, TAIPEI TIMES
"Lien Chan was used, he was double crossed," said Jack Chang, a KMT member who voted for Soong.
"By making us choose between Lien and Soong, Lee gave us a very difficult decision," said Cathy Chiu, an education researcher. "This let Chen Shui-bian win," Chiu added.
Chang said the only reason why Soong was subject to so many attacks during the election was because, "Lee hates him."
Although the number of protesters had dwindled from a few thousand late Sunday night to several hundred yesterday, there were repeated clashes with police as they stepped up their efforts to disperse the crowd, using water cannons and large flanks of shield-wielding officers
However, as of late yesterday night, police were still unable to get protesters to leave. Pleas by the Taipei City government and police continued to prove fruitless.
Even Taipei Mayor Ma Ying-jeou (馬英九), who tried Sunday night and again early yesterday morning to convince the protesters to leave, succeeded only in being egged.
Local media reported yesterday that Mei Chang-kun (梅長錕), former head of the Central Film Corporation, had thrown the egg which hit Ma. He apologized for hitting Ma, but insisted the egg was aimed at someone else.
Although President Lee's spokesman said Sunday that Lee would step down from his party post in September, protesters said they would accept nothing less than Lee's immediate resignation and would not leave until that happened.
Graffiti scrawled outside of the Chiang Kai Shek memorial read, "If Lee steps down in September all of the party assets will be stolen."
The KMT headquarters' walls were caked with eggs and with graffiti reading "Step down Lee Teng-hui" and "Lee is a traitor and thief."
One protester, Phillip Yang, said he would try and kill Lee if he got a chance. "It's not that difficult to build a bomb, I can do it," he said, adding, "Lee is a liar."
The protests and pressure appeared to be paving the way for Soong's return to the party. However, Liu Song-fan (劉松籓), a key member of Soong's campaign team and a legislator, denied any connection between Soong and the protest.
On Saturday night and Sunday day many protesters were waving Soong's campaign flags. But by Sunday evening all of the protesters had switched to ROC flags and by yesterday many were wearing Lien caps and vests. However, the majority of protesters said they had voted for Soong.
Soong said he had no plans to return to the KMT and seek any position or party resources. Soong said that his new party would register sometime within the next two weeks.
He called on those who were protesting to exercise restraint.
In a meeting with Buddhist Master Sheng Yan (聖嚴) yesterday morning, President Chen called on protesters to use communication instead of protests to work out their problems.
Comments will be moderated. Keep comments relevant to the article. Remarks containing abusive and obscene language, personal attacks of any kind or promotion will be removed and the user banned. Final decision will be at the discretion of the Taipei Times.