Angry Soong supporters besiege KMT headquarters
DEMONSTRATION Furious at their leader's defeat in the election, Soong supporters went on a rampage and demanded the resignation of President Lee Teng-hui
Thousands of angry supporters of failed independent candidate James Soong (宋楚瑜) staged a marathon protest in central Taipei yesterday -- lasting until after midnight -- in a bid to demand the resignation of President Lee Teng-hui (李登輝) from his post as KMT chairman .
With an estimated crowd of 3,000 people besieging KMT headquarters last night, Taipei Mayor Ma Ying-jeou announced late last night he would go immediately to Lee's residence to tell him of the crowds' demands.
Earlier in the day, several luxury sedans used by high-level KMT officials were blocked and smashed by protesters as they attempted to approach the KMT's headquarters at the intersection of Jenai and Chungshan South roads.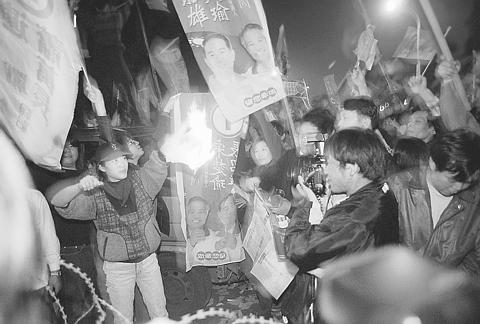 Supporters of James Soong demonstrate outside President Lee Teng-hui's mansion in the small hours of yesterday morning.
PHOTO: GEORGE TSORNG, TAIPEI TIMES
Hsu Li-teh (徐立德), a presidential adviser and Lien Chan's chief campaign advisor, was dragged out of his car and hit by the mob, many shouting, "Lee Teng-hui, step down!"
Riot police resorted to using water cannons several times throughout the day in an attempt to disperse the crowd, causing sporadic clashes and minor injures among the crowd.
By press time, the streets around the KMT headquarters were still occupied with thousands of demonstrators.
The protest was a continuation of activities that began late Saturday night at KMT headquarters after the election result was formally announced.
The protesters then moved to President Lee Teng-hui's Taipei residence around midnight.
Protesters said the spontaneous gathering arose because of their anger at being "fooled" by Lee Teng-hui. "Were it not for Lee Teng-hui, Lien would not have so few votes. He is obviously supporting Chen [Shui-bian]," said one protester.
"Lee step down! Lee step down!" shouted the crowd. Several agitated protesters argued and clashed with police. But volunteers speaking into microphones urged their case. "We are not a mob, we are just expressing the fact [Chen's victory] was unfair!" one shouted.
As the crowd waited in front of Lee's residence in the early hours of yesterday morning, volunteers took turns to deliver speeches -- also blaming the defeat of James Soong on Ma Ying-jeou (馬英九) and former Control Yuan President Chen Li-an (陳履安).
Both men had supported Lien Chan in the campaign.
Although the protest died down for a while, more people began gathering at noon yesterday, when crowds heard the KMT had called an emergency meeting of its Central Standing Committee.
When party officials approached the headquarter's Jenai Road entrance, crowds began to strike their cars with flag poles and air horns. Some even used hammers to hit the rear windows of the cars. Soon, windows were smashed and some protesters used poles to attack people inside the vehicles.
The 70-year-old Hsu Li-teh was dragged from his car and hit several times, falling to the ground.
Legislative speaker Wang Chin-pyng (王金平), was also chased by angry protesters, although he was able to escape being struck.
"Lee sold out the KMT and sold out the country! He destroyed the party, because he intended Chen to win!" yelled Wang Yueh-chu (王月珠), a 40-year old Soong supporter who said she had supported the KMT since she was ten years old.
"It's so unfair! Some media were biased when reporting Soong's news," said another protester, Wang Tsuai-feng (王翠鳳).
Late in the afternoon, when the KMT meeting was concluding, police again turned on water cannons to disperse the crowd, which was trying to block Lee Teng-hui and other party officials' cars from leaving the building.
The water cleared the crowd on Hsinyi Road, the building's exit, and opened a path for Lee and others officials' cars to pass.
Riot police also arrested several protesters who threw eggs and stones at police.
Several elderly protesters also complained of being hit over the head by police batons.
Lee's departure from the area did little to budge the crowd, however, as more and more demonstrators arrived on the scene.
Ma Ying-jeou appeared late last night to give them an explanation of the KMT's and Soong's defeat.
"I understand your insecurity and grievances. I promise to deliver your message to chairman Lee, and to advise him to seriously consider quitting [the party chairmanship] immediately," Ma told the crowd.
Ma also promised to ask the KMT's Central Standing Committee to quit collectively and seek reform of the party.
Comments will be moderated. Keep comments relevant to the article. Remarks containing abusive and obscene language, personal attacks of any kind or promotion will be removed and the user banned. Final decision will be at the discretion of the Taipei Times.