Aboriginal trade may cross the oceans
BUILDING BRIDGES A visit by a Canadian Aboriginal delegation brings with it the possibility of economic cooperation with their counterparts in Taiwan
For many Taiwanese Aborigines, making a living boils down to a choice between being a farmer, a traditional dancer or a construction worker. A high unemployment rate, coupled with other economic disadvantages faced by many Aborigines, has stigmatized many Aboriginal regions. For most Aborigines, the idea of owning their own business is a far-fetched fantasy.
For some, however, the situation is a bit brighter. An alternative, Aborigine to Aborigine foreign trade partnership might instill a new vitality to the local Aboriginal economy, according to Canadian and Taiwan officials.
Last week, a Canadian Aboriginal delegation visited Taiwan, bringing with it the idea of building a bridge to an economic partnership with their counterparts in Taiwan.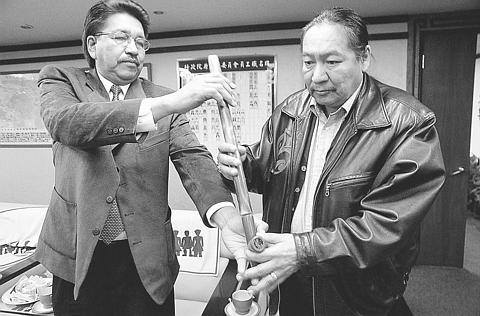 In a traditional ceremony held on Jan. 17, Walter Mackay, an economic and business development adviser of the Chiefs of Ontario, left, passes a pipe to Elijah Harper, Commissioner of the Indian Claims Commission, right, during a visit to Taipei.
PHOTO: CHEN CHENG-CHANG, TAIPEI TIMES
"Management expertise, investments and a variety of products are the areas we are looking at," said Walter MacKay, an economic development adviser in Ontario.
"For a number of Canadian Aboriginal products and businesses, there is a market for both sides to relate to, through the very nature of being Aboriginal," he said.
Mackay is former vice-chief of the Assembly of First Nations, a national body representing Canada's population of 700,000 Aborigines.
According to MacKay, First Nations people are now a growing economic force in Canada. Aboriginal Canadians own enterprises in fields as diverse as food manufacturing, transportation, public construction and mining.
Building bridges
In 1998, the Canadian Trade Office in Taipei signed a Memorandum of Understanding with Taiwan's Cabinet-level Council of Aboriginal Affairs (CAA, 原住民委員會) on cultural and economic exchanges.
The memorandum was originally meant to foster the organization of a Canadian Aboriginal Festival in Taiwan that year, as well as a series of exhibitions that were held in 1999. This year, the Canadian delegates said, the memorandum will expand into a second phase aimed at building more economic and non-government organization (NGO) links between the two sides.
"We have established a very strong relationship with Aboriginal people here. The next part is secondary from an Aboriginal viewpoint -- that is, we can start on business now," said Mackay.
Also included in the week-long Canadian mission were James Richardson, national director of Aboriginal banking at the Business Development Bank of Canada and Elijah Harper, commissioner of the Indian Claims Commission. The group met with local Aboriginal officials in Taichung and Pingtung.
The Canadians said one common problem facing Aboriginal people who plan to start businesses is securing bank loans.
"The Canadian Aboriginal banking experience has had the same problem. What we can do is to offer solutions," said Richardson.
According to Richardson, loans to Aboriginal people can be facilitated with the involvement of NGOs to provide guarantees to banks, as well as to bring expertise to business management.
The focus of Canada's First Nations' economic activity is on environmentally-conscious businesses -- the so-called "green products," said the delegates.
"We have a special relationship with nature and we don't want to cause damage to Mother Earth," said Harper.
He said companies run by First Nations, for example, have produced a strain of wild rice that grows naturally, without chemical or environmental side effects. When a hydraulic power project was underway in a reservation area, they worked on developing eco-friendly construction skills. "We call it green power," said Harper.
There is also a First Nations Coffee business, which imports its ingredients from Mexico for processing in Canada.
"Here [in Taiwan] we see people grow tea in the mountains and we could also produce and market First Nations Tea," said Mackay.
He also stressed, however, that Canada's First Nations people "don't want to come here looking for cheap labor." Mackay said reciprocity is the foundation of such cooperation: "They (Taiwan's Aborigines) must benefit from every effort that we do."
OFFICIAL SUPPORT
Meeting with the Canadian delegates, local Aboriginal officials welcomed the idea of economic exchanges.
"Although it is early to talk about joint venture projects, we would be happy to see such cooperation happen in the future," said Sun Ta-chuan (孫大川), CAA vice-chairman.
But unlike Canadian Aboriginal groups, Taiwanese Aborigines do not have any sort of treaty relations or rights with the government regarding political and territorial autonomy. Taiwan's Aborigines are therefore not entitled to engage in mining operations on their land or develop foreign trade like First Nations can.
This, said local Aboriginal officials, is a key obstacle to boosting Taiwan's Aboriginal economy.
"Their economic capacity is stronger than ours," admitted Kun Wen-Chi (孔文吉), chairman of the Taipei City Council of Aboriginal Affairs.
At the same time, Sun said the government does not exclude the possibility of getting behind economic cooperation efforts with Aborigines from other countries.
In fact, he said, economically linking cross-national Aboriginal groups is becoming a global trend.
Participants at a pre-APEC summit meeting last year on the issue of developing global Aboriginal women's trade called for building Aboriginal trade markets.
A FEW SMALL STEPS
According to Sun, handicrafts and tourism may be the first areas of economic cooperation between the Taiwanese and Canadians. This year, both the Council and the Canadian Trade Office are co-sponsoring an Aboriginal business fair in Taichung, a sister city to Winnipeg, Manitoba.
Weaving products, sculpture and music are growing businesses among Taiwanese Aborigines. Still, the scale of such commerce is small. Most such businesses -- around 500 of them, according to CAA statistics -- consist only of small-sized workshops.
In recent years, Aborigines have begun to develop mountain vegetable farms in Taiwan's central regions. But such development might face a number of challenges after Taiwan joins the WTO, Sun said.
"What we are working on is to transform our Aboriginal cultural heritage into economically valued activities," said Sun.
One answer has been found in Tanahiku Village (山美村), located on Alishan, where a tour-guide business that focuses on ecological preservation in the area has started to develop, Sun said.
In Pingtung plans are afoot to open traditional Aboriginal slate houses (石板屋) in Wutai Village as tourist hotels, he said.
Another potential obstacle to cross-border development is the role of the CAA. The council is a consulting and coordinating government unit, rather than a policy-making or implementation body in the Cabinet. This means that many decisions on future economic relations with Canadian Aborigines will be depend on the Ministry of Economic Affairs.
This brings back the old question of whether or not the CAA has a leading role in Aboriginal affairs.
"We will serve as a bridge between the governmental units and Aboriginal businesses," Sun said.
As James Richardson puts it, both Taiwanese and Canadian Aborigines are "becoming a part of a rich diverse economy, rather than a drain on the economy."
Comments will be moderated. Keep comments relevant to the article. Remarks containing abusive and obscene language, personal attacks of any kind or promotion will be removed and the user banned. Final decision will be at the discretion of the Taipei Times.