Writer appointed cultural head
RISING TO THE TASK Lung Ying-tai, fresh from Germany with a new position in the Taipei City government, is trying to balance the demands of public life with her mandate to influence the Chinese-speaking world
At a media gathering to launch her new book yesterday, Lung Ying-tai (龍應台) said transforming herself from a writer and social critic to director of the Taipei City Government's new Bureau of Culture was no small task, but she hopes her undertakings will influence the Chinese-language community worldwide.
Lung, who calls her absence from from Taiwan since 1987 "exile," returned from her base in Germany just last Thursday. Today, she takes her post as head of the culture bureau, now under the auspices of a preparatory committee.
One day before her new assignment, however, Lung said she wanted to retain her role as a writer and interact with her readers.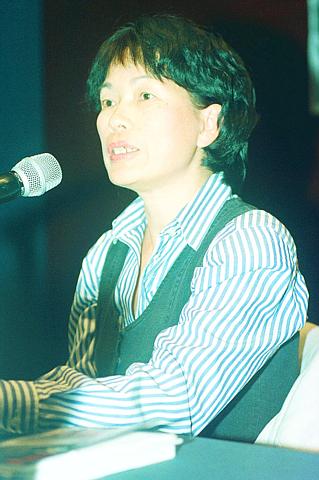 Lung Ying-tai at yesterday's launch of her new book, "A Century of Reflections." Lung has been appointed head of the city's new cultural office.
PHOTO: DAI LI-AN, LIBERTY TIMES
But the occasion yesterday perhaps gave her a taste of the future. Although she prefers to think of herself as an expert in "avoiding cameras and reporters," she was welcomed by just that -- a roomful of journalists -- together with her "readers."
"Sitting here, I have already started to adapt myself to my new role," Lung said.
"As a writer, I try to avoid TV coverage as much as I can because I am afraid of being recognized when I walk down the street. But as the director of the Bureau of Culture, I cannot do this. I have to articulate my concepts through the media so as to make myself understood," said Lung.
One of her colleagues offered her some words of caution at yesterday's event. Writer Yang Chao (楊照), who was invited to speak to the audience with Lung about her new book, warned of a "transformation" after taking her new post.
"Maybe three and a half years from now, she will be like [early 20th century writer and social critic] Lu Xun (魯迅) and become despondent after seeing the dark side of human nature," he said.
Lung, renowned for her sharp observations on social phenomena as well as her idealism, returned his comments with a smile.
"Perhaps from tomorrow [meaning today], I'll start attending the `cram school on darkness' ... In history, although idealistic, passionate people have ended up frustrated, I still appreciate a sort of human glory [in these precedents]; it's something I am willing to pursue," she said.
"Taipei nowadays sits at the center of the Chinese-language community worldwide, not at its margin. If the cultural projects in the city go well [after I lead the bureau], then my influence on the Chinese-language community will no longer be through my writings but through other means," she said.
Meanwhile, Lung said even her readers in China have shown concerns over the fact that a KMT-run city government is willing to recruit a writer like her -- someone famous for her criticism of the KMT -- as a civil servant.
The city's plan to establish the bureau had been aborted by partisan disputes in the city council under former mayor Chen Shui-bian (陳水扁).
The dispute was finally settled when Mayor Ma Ying-jeou (馬英九) beat Chen last December. The council decision passed a resolution to establish the bureau in July.
The bureau, which will begin operations in November, will be Taiwan's first cultural bureau at the local government level.
Comments will be moderated. Keep comments relevant to the article. Remarks containing abusive and obscene language, personal attacks of any kind or promotion will be removed and the user banned. Final decision will be at the discretion of the Taipei Times.