ENGLISH DIGEST 實用英語
U15: Perfect cooking every time with Sous Vide 料理新革命:舒肥完美烹飪法
Have you ever tried cooking a meal only to end up with burned food? Well, with sous vide cooking, you can avoid such disasters and guarantee your food is cooked to perfection.
Sous vide, a French term meaning "under vacuum," involves sealing food in an airtight bag and then cooking it in a temperature-controlled water bath for an extended period. This method allows you to produce consistent and predictable results every time. The secret lies in the precise temperature control achieved through water as a medium, ensuring even and gradual cooking. Meanwhile, the vacuum-sealed bags preserve the food's flavor, texture, and nutritional value.
One of the primary advantages of sous vide is its accuracy. Traditional cooking methods, such as grilling or frying, often involve guesswork, which can result in overcooked or undercooked meals. With sous vide, you can set the exact temperature you desire to remove this risk. Convenience is another tremendous benefit of sous vide. Simply set the temperature, immerse your vacuum-sealed ingredients, and let the magic happen while you attend to other tasks. Sous vide virtually eliminates the need for supervision, providing ample opportunity for you to multitask.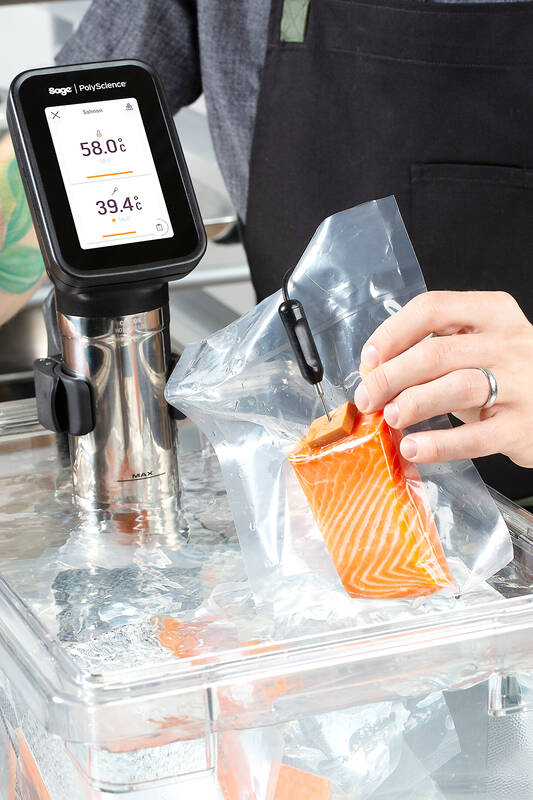 Photo courtesy of Wikimedia commons / 照片:維基共享資源提供
When cooking sous vide, however, it's crucial to be aware of the "danger zone" between 4.4°C and 54.4°C. This is the temperature range at which bacteria can multiply rapidly or are unlikely to be killed, potentially spoiling the food. To ensure food safety, it's recommended that you maintain the cooking temperature above the danger zone and comply with proper food handling guidelines.
Sous vide is an excellent option for home cooks and professional chefs alike. Just give it a try! Not only can you sharpen your culinary skills, but you'll also feel satisfied with results that will turn your taste buds into little fireworks of joy.
你是否曾嘗試烹煮一頓餐點,最終卻弄出燒焦的食物?嗯,透過舒肥烹飪法,你可以避免這樣的災難,並確保食物煮到完美。Sous vide(舒肥)是一個法文術語,意為「真空烹調」,這個烹飪法的過程包含將食物密封在密封袋中,然後在溫度受到控制的水浴槽中長時間烹煮。這種方法讓你每次都能產生一致而可預測的結果。祕密在於透過以水作為介質來實現精確的溫度控制,確保食物能均勻和逐步到位的烹煮。同時,真空密封袋保留了食物的風味、質地和營養價值。
 舒肥其中一個主要的優點是其準確性。傳統的烹調方式,如用烤肉架烤或煎炸,往往包含需要推測的成分,這可能導致飯菜過熟或未熟。透過舒肥烹飪法,你可以設定你想要的確切溫度,從而消除這種風險。舒肥的另一項巨大優勢是便利性。只需設定溫度,浸泡真空密封的食材,隨後你就可以在處理其他事務的同時,讓奇蹟發生。舒肥烹飪法幾乎免去了監督的需要,為你提供充分的機會同時處理多項事務。
 然而,以舒肥烹飪法進行烹調時,注意4.4°C至54.4°C之間的「危險區域」是非常重要的。這是細菌可快速繁殖或不太可能被消滅的溫度範圍,可能會讓食物變質。為確保食品安全,建議你將烹調溫度保持在高於危險區域之上,並遵循正確的食品處理準則。
舒肥烹飪法是在家下廚的人和專業廚師的絕佳選擇。快試試看吧!你不僅可以提升烹飪技巧,而且也會對成果感到滿意,讓你的味蕾在如同煙火表演一般精彩的美食饗宴中綻放開來。
MORE INFORMATION
sous vide n. 舒肥(真空低溫烹調法)
guesswork n. 猜測;推測
immerse vt. 浸泡;沉浸
multitask vi. 同時做多件事;(電腦)多工處理
culinary adj. 烹飪的;廚藝的
taste buds n. pl. 味蕾
KEY VOCABULARY
1. perfection n. 完美;完善
The dancer's graceful movements and precise technique demonstrated perfection on stage.
那名舞者優雅的動作和精確的技巧在舞台上盡顯完美。
2. vacuum n. 真空;吸塵器
vacuum-sealed adj. 真空密封的
The scientist conducted experiments in a vacuum chamber to observe the behavior of gases.
那名科學家在真空室中進行實驗,觀察氣體的行為。
3. airtight adj. 密封的;不透氣的
The container has an airtight seal to keep the food fresh for a longer time.
這個容器有個密封條,可以使食物保持更長時間的新鮮。
4. consistent adj. 一致的;始終如一的
The team's consistent efforts and teamwork led them to victory in the competition.
那支球隊始終如一的努力和團結合作使他們在比賽中取得了勝利。
5. texture n. 質地;紋理
The fabric has a soft texture, making it comfortable to wear.
這種布料有著柔軟的質地,使其穿著舒適。
6. grill vt. 燒烤;審問
Brent likes to grill fish with lemon and herbs for a fresh and flavorful taste.
布倫特喜歡用檸檬和香草來烤魚,使其味道新鮮而美味。
7. tremendous adj. 巨大的;極大的
The concert was a tremendous success, with the audience cheering loudly.
這場演唱會取得了巨大的成功,觀眾歡呼不已。
8. chef n. 廚師;主廚
The chef's attention to detail and commitment to quality make their dishes exceptional.
這名主廚對細節的關注和對品質的承諾使他的菜餚非常出色。
9. sharpen vt. 改善;加強
Engaging in debates can sharpen your critical thinking and communication skills.
參與辯論可以提高你的批判性思維能力和溝通技巧。
學習音檔: https://magazine.english4u.net/Magdata/menu/sz6py
《空中美語》雜誌APP免費下載: https://www.english4u.net/apps/index.aspx
免費收聽當月《空中美語》雜誌課文朗讀及解析 !
文章由AMC空中美語授權使用: https://www.english4u.net
Comments will be moderated. Keep comments relevant to the article. Remarks containing abusive and obscene language, personal attacks of any kind or promotion will be removed and the user banned. Final decision will be at the discretion of the Taipei Times.