SPEAK UP: Nearly 10 billion fewer snow crabs 近百億隻雪蟹大滅絕
A: Do you like to eat snow crabs, also known as matsuba crabs in Taiwan?
B: I sure do, but the news says the number of snow crabs has fallen by nearly 10 billion in recent years!
A: What's the problem?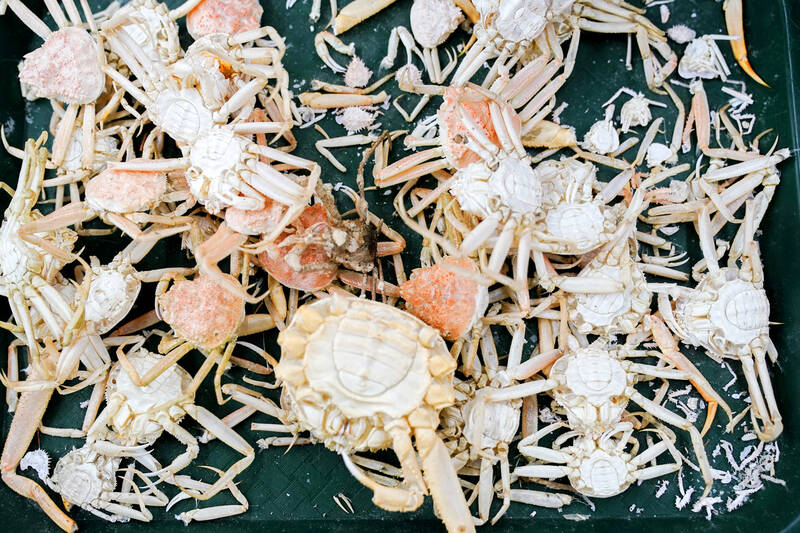 Photo: AP 照片:美聯社
B: Water temperatures keep rising, and this is unfavorable to cold-water species like snow crabs.
A: People should really pay greater attention to climate change, or we may never enjoy snow crabs again.
A: 你喜歡吃雪蟹,也就是台灣俗稱的松葉蟹嗎?
B: 我喜歡啊,但新聞說近年來雪蟹已大減近百億隻!
A: 怎麼會這樣?
B: 因為海水溫度越來越高,對冷水物種的生存不利。
A: 人類真的該重視氣候變遷,不然就吃不到雪蟹了。
(By Eddy Chang, Taipei Times/台北時報張聖恩)
Publication Notes
Language Tip 語文小提示
snow crab (matsuba crab) An edible spider crab of the North Pacific whose scientific name is Chionoecetes opilio. It is commercially important as a frozen seafood product.
Comments will be moderated. Keep comments relevant to the article. Remarks containing abusive and obscene language, personal attacks of any kind or promotion will be removed and the user banned. Final decision will be at the discretion of the Taipei Times.