ENGLISH DIGEST 實用英語
Experience Korea's Cultural Riches through Mask Dance 神秘面具舞 體驗韓國的傳統文化
Have you ever wondered about the colorful and expressive masks you've seen in photos of Korean festivals? Let us introduce you to the fascinating world of Talchum, Korea's traditional mask dance! This lively art form blends storytelling, music, and dance, offering a glimpse into Korean history and culture.
Originating in the Three Kingdoms period, Talchum was initially a simple ritual for establishing a connection with the gods. Performers wore elaborately designed masks crafted from wood or paper, as they danced to the rhythm of traditional percussion instruments and conveyed their wishes to the gods. Over time, Talchum evolved into a social satire during the Joseon era. Hidden behind their masks, performers were free to express opinions on social issues. In this way, Talchum mirrored the common people's resentment toward the upper classes and Korea's social system.
The contemporary mask dance preserves its satirical components. The masks represent various characters, such as nobles, scholars, and ordinary people, each with unique facial expressions and personalities. A diverse range of themes feature in the performances, including criticism of monks who neglect their principles and the conflict between a married couple. Through humor and exaggerated movements, Talchum delivers powerful messages that resonate with audiences of all ages.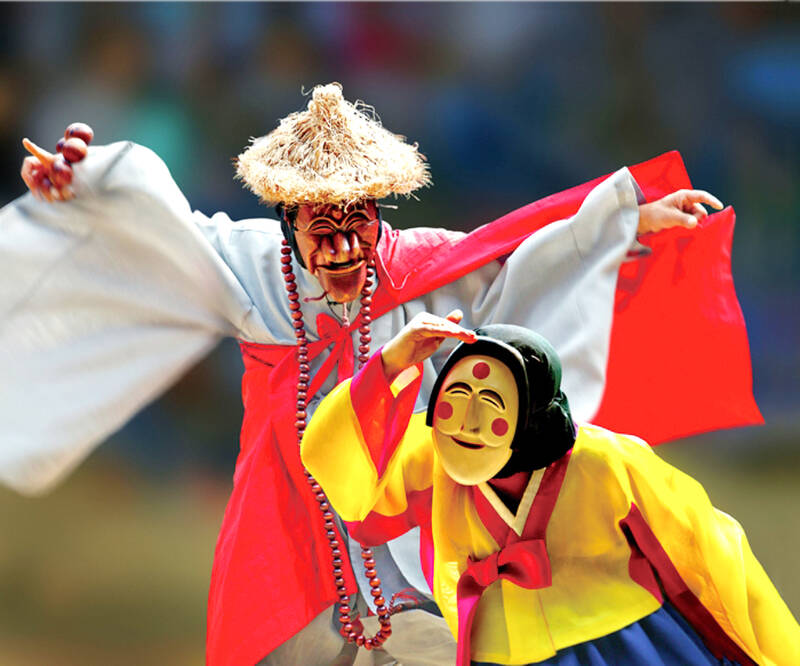 Photo courtesy of Wikimedia Commons / 照片:維基共享資源提供
Talchum has been passed down through generations and is still widely enjoyed today. So, if you visit Korea, why not enjoy this beautiful aspect of the culture? Don't just stand on the sidelines; let the rhythmic beats and dynamic movements of Talchum sweep you off your feet!
你是否曾對於在韓國節慶的照片中所見色彩繽紛且表情豐富的面具感到好奇?讓我們向你介紹韓國傳統面具舞蹈──Talchum(假面舞)的迷人世界!這種活力四射的藝術形式融合了故事、音樂和舞蹈,讓你一窺韓國的歷史和文化。
假面舞起源於三國時期,最初是一種與神靈建立聯繫的簡單儀式。表演者戴著精心設計的木頭或紙製的面具,隨著傳統打擊樂器的節奏舞動,向神靈表達他們的祈願。隨著時間的推移,假面舞在朝鮮時代演變成一種社會諷刺手段。表演者隱藏在面具後面,可以自由地表達對社會問題的意見。藉由這種方式,假面舞反映了庶民對上層階級和韓國社會體系的不滿。
現代的面具舞保留其諷刺元素。面具代表了各種角色,如貴族、學者和平民,每個角色都有獨特的臉部表情和個性。表演中呈現各種主題,包含對忽視自身原則僧侶的批評和夫妻之間的衝突。藉由幽默和誇張的動作,假面舞傳達出與各年齡層觀眾共鳴的強烈訊息。
假面舞世代相傳,至今仍然廣受喜愛。所以,如果你遊覽韓國,何不享受一下這個文化美麗的一面?別只是站在一旁,讓假面舞的節奏和動感的舞蹈使你神魂顛倒!
MORE INFORMATION
originate v. 起源;開創
percussion n. 打擊樂器
satire n. 諷刺;諷刺作品
Joseon era 朝鮮時代
resentment n. 憤慨;怨恨
satirical adj. 諷刺的
resonate vi. 產生共鳴;瀰漫(某種特質)
KEY VOCABULARY
1. glimpse n. 一瞥;短暫的感受
I caught a glimpse of the beautiful sunset before it disappeared behind the mountains.
我在太陽消失在山後之前瞥見了美麗的日落。
2. elaborately adv. 精巧地;精心製作地
Cathy decorated the wedding venue elaborately with flowers and elegant decorations.
凱西用花朵和優雅的裝飾精心佈置婚禮場地。
3. rhythm n. 節奏;律動;規律 / rhythmic adj. 有節奏的;有規律的
The music has a catchy rhythm that makes me want to dance.
這首歌有著動聽易記的節奏,讓我想隨之舞動。
4. evolve v. 逐漸發展;演變
Technology has evolved rapidly, transforming the way we live and work.
科技迅速發展,改變了我們的生活和工作方式。
5. contemporary adj. 當代的;同時期的
Contemporary literature often reflects the social issues and concerns of the present time.
當代文學時常反映出當今的社會議題和關注點。
6. noble n. 貴族
In the medieval period, the nobles had certain privileges not available to commoners.
在中世紀時期,貴族享有一些平民無法獲得的特權。
7. criticism n. 批評;評論
Constructive criticism is helpful for personal growth and improvement in various areas.
建設性的批評有助於個人成長和各種領域的改進。
8. dynamic adj. 充滿活力的;思維活躍的
The dynamic performance of the band energized the crowd and got everyone dancing.
這個樂團充滿活力的演出激發了觀眾的熱情,大家紛紛跳起舞來。
9. exaggerate v. 誇大;誇張
Nathan tends to exaggerate his achievements to impress others.
納森習慣誇大自己的成就來讓人留下深刻印象。
學習音檔: https://magazine.english4u.net/Magdata/menu/sz6py
《空中美語》雜誌APP免費下載: https://www.english4u.net/apps/index.aspx
免費收聽當月《空中美語》雜誌課文朗讀及解析 !
文章由AMC空中美語授權使用: https://www.english4u.net
Comments will be moderated. Keep comments relevant to the article. Remarks containing abusive and obscene language, personal attacks of any kind or promotion will be removed and the user banned. Final decision will be at the discretion of the Taipei Times.