UAW strikes target Detroit Three automakers 美國汽車業大罷工 劍指底特律三巨頭
The United Auto Workers (UAW) union on Sept. 15 launched strikes at three US auto plants after failing to reach an agreement over new contracts, the first-ever simultaneous labor action against the Detroit Three automakers.
The UAW contracts at General Motors, Ford Motor and Chrysler parent Stellantis expired at 11:59 p.m. EDT on Sept. 14.
Detroit automakers, like their global counterparts, have been focused on cost reductions, which in some cases include job cuts, to help accelerate a shift to electric vehicles (EVs) from gasoline-powered vehicles.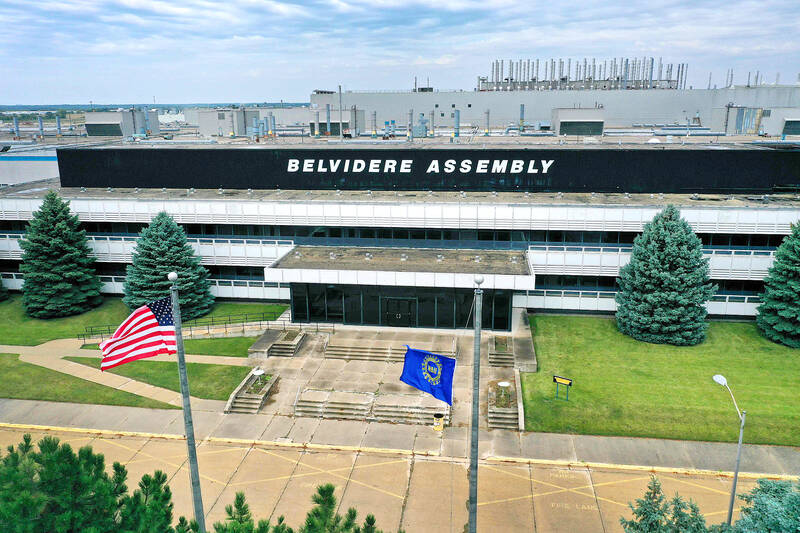 An aerial view shows and American flag flying next to a UAW flag outside of the Stellantis Belvidere Assembly Plant on Sept. 19 in Belvidere, Illinois. The facility, which last produced the Jeep Cherokee, was shuttered indefinitely by the auto manufacturer last February. The UAW, which is currently striking Ford, GM and Stellantis facilities as they negotiate new labor contracts, is bargaining with Stellantis to have the facility reopened as a condition for ending their strike. 斯泰蘭蒂斯公司位於貝爾維迪爾之裝配廠外,懸掛著美國國旗與美國汽車工人聯合會(UAW)之旗幟。9月19日空拍於美國伊利諾伊州貝爾維迪爾。該工廠去年2月被車商無限期關閉,最後生產之車型為吉普切諾基。UAW正對福特、通用汽車及斯泰蘭蒂斯工廠進行罷工,談判新的勞工合約,並與斯泰蘭蒂斯協商重啟工廠,作為結束罷工之條件。
Photo: AFP 照片:法新社
The UAW is pushing automakers to eliminate the two-tier wage system under which new hires earn as much as 25 percent less than veterans.
UAW President Shawn Fain has said repeatedly that the union will push to restore pay improvements tied to the cost of living and retiree benefits cut during the 2008-2009 economic crisis.
The UAW also wants strong salary increases, given the financial success of the automakers, citing generous executive payouts and large US federal subsidies for EV sales.
United Auto Workers members rally at the Stellantis North America headquarters on Sept. 20 in Auburn Hills, Michigan, US. 美國汽車工人聯合會成員在斯泰蘭蒂斯公司北美總部集結示威。9月20日攝於美國密西根州奧本山。
Photo: AFP 照片:法新社
The union also wants defined benefit pensions for all workers restored, 32-hour work weeks and additional cost-of-living hikes, job security guarantees and an end to the use of temporary workers.
The UAW has been wary of the industry shift to EVs and called on the Biden administration to soften its proposed vehicle emission cuts that would require 67 percent of new vehicles to be electric by 2032.
EVs require fewer parts to build, and industry officials have said that will result in a need for fewer workers. Fain has said there should be no jobs lost because of the EV shift.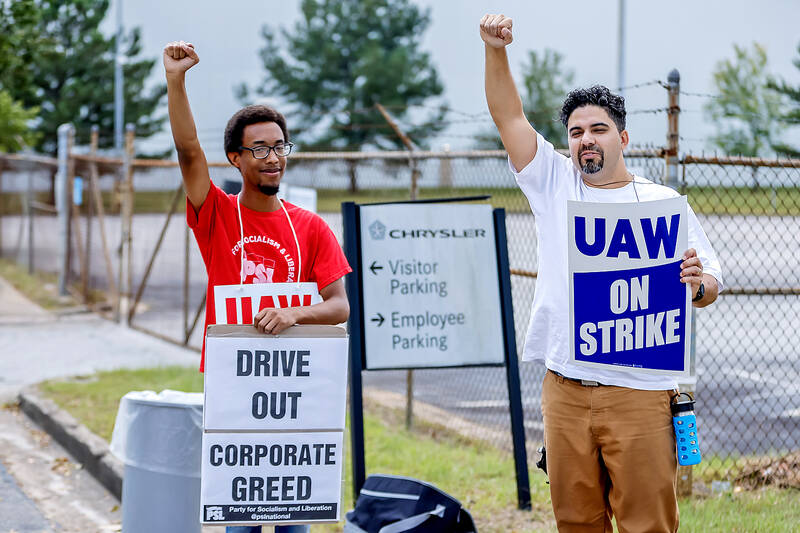 United Auto Workers (UAW) union members picket outside a Stellantis-owned Chrysler-Mopar Parts Distribution Center in Morrow, Georgia, US on Sept. 22. 進行罷工之美國汽車工人聯合會工會成員,在斯泰蘭蒂斯旗下之克萊斯勒─莫帕零件配送中心外站哨。9月22日攝於美國喬治亞州莫羅。
Photo: EPA-EFE 照片:歐新社
The Detroit Three want to close the cost gap they have with foreign automakers with non-unionized US factories.
Ford sources estimate that their US labor costs are US$64 an hour, compared with an estimated US$55 for foreign automakers and US$45 to US$50 for EV leader Tesla.
The companies also want greater flexibility in how they use their US workforces to increase efficiency and cut costs as the industry shifts to EVs.
The industrial action hit the Detroit Three automakers as they ramp up efforts to maximize gasoline and EV vehicle production to capitalize on demand for new vehicles.
A full strike would hit earnings at each affected automaker by about US$400 million to US$500 million per week assuming all production was lost, Deutsche Bank previously estimated. Some losses could be recouped by boosting production schedules later, but that possibility fades if a strike extends to weeks or months.
(Reuters)
美國汽車工人聯合會(UAW)與美國三家汽車廠未能就新合約達成協議,UAW在9月15日發起了罷工,這是首次同時針對底特律三大汽車製造商的罷工。
通用汽車、福特汽車及克萊斯勒母公司斯泰蘭蒂斯與UAW的合約於美東時間9月14日晚上11點59分屆期。
底特律汽車製造商與全球同業一樣,一直努力降低成本(在某些情況下包括裁員),以便加速從汽油動力車轉向電動車(EV)。
UAW正敦促汽車製造商取消兩級工資制度──在該制度下,新進員工的薪水比舊員工低25%。
UAW主席尚‧費恩多次表示,工會將努力恢復有關生活成本與退休人員福利的調薪措施,這些措施在2008-2009年經濟危機期間被削減。
由於汽車製造商大賺其錢,美國汽車工人聯合會也希望大幅加薪,理由是高層主管薪酬豐厚,以及美國聯邦政府對電動車銷售的大幅補貼。
工會還希望恢復所有工人的固定福利退休金,要求每週工作時數為32小時、因應物價上漲的加薪、工作保障,以及停止使用臨時工。
UAW一直對汽車製造業轉向電動車持謹慎態度,並呼籲拜登政府軟化所擬議的汽車減排措施──該措施要求,到2032年,67%的新車應為電動車。
製造電動車所需的零件更少,車業官員表示,這將導致所需之工人減少。費恩說,轉向電動車不應導致失業。
底特律三巨頭希望縮小與無工會組織之外國車商美國廠的成本差距。
福特消息人士估計,他們在美國的勞動力成本為每小時64美元,而外國車商為55美元,電動車領頭羊特斯拉則為45至50美元。
隨著產業轉向電動車,這些公司還希望在使用美國勞動力上有更大的彈性,以提高效率並降低成本。
底特律三大汽車製造商正盡可能提高汽油及電動車之產量,以滿足市場對新車的需求,此次罷工對這些車商造成了打擊。
德意志銀行先前估計,若失去所有生產力,全面罷工將使每家受影響的汽車製造商每週損失約4億至5億美元的收入。一些損失可透過之後提高產能來彌補,但若罷工持續數週或數月,這種可能性就會越來越小了。
(台北時報林俐凱編譯)
Comments will be moderated. Keep comments relevant to the article. Remarks containing abusive and obscene language, personal attacks of any kind or promotion will be removed and the user banned. Final decision will be at the discretion of the Taipei Times.