輕鬆華語GO: EASY CHINESE GO
祝老師們教師節快樂 Happy Teachers' Day to all teachers
對話 Dialogue
清清:下禮拜四是教師節,我那個在念清華大學的弟弟放一天假,真羨慕他!
Qīngqing: Xià lǐbài sì shì Jiàoshī jié, wǒ nàge zài niàn Qīnghuá Dàxué de dìdifàng yìtiān jià, zhēn xiànmù tā!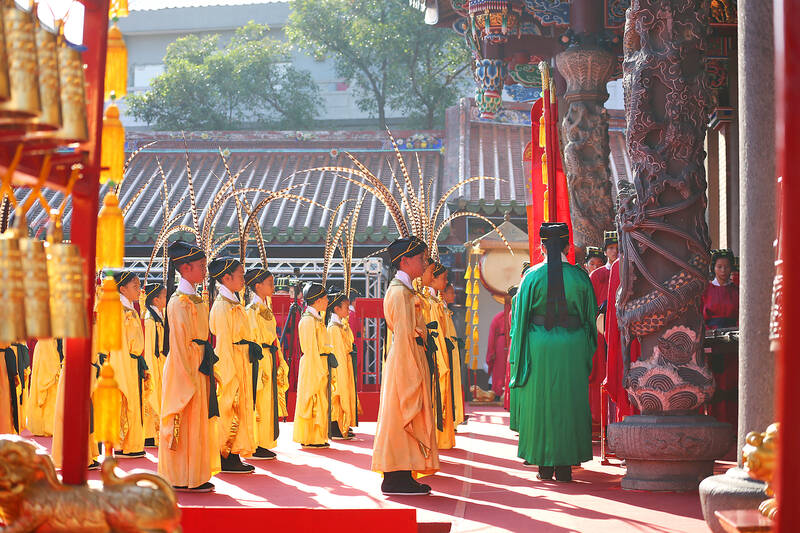 PHOTO COURTESY OF Unsplash / 照片:Unsplash 提供
華華:噢!9月28號是孔子的生日,也是台灣的教師節。
Huáhua: Ō! 9Yuè 28hào shì Kǒngzǐ de shēngrì, yěshì Táiwān de Jiàoshī jié.
清清:我以前去中國大陸玩的時候,聽說他們的教師節不是9月28號,而是9月10號,跟我們不一樣。
Qīngqing: Wǒ yǐqián qù Zhōngguó Dàlù wán de shíhòu, tīngshuō tāmen de Jiàoshī jié búshì 9yuè 28 hào, érshì 9 yuè 10 hào, gēn wǒmen bù yíyàng.
華華:沒關係,相信感謝老師的心都是相同的。你都怎麼謝謝你的老師的?
Huáhua: Méiguānxi, xiāngxìn gǎnxiè lǎoshī de xīn dōu shì xiāngtóng de. Nǐ dōu zěnme xièxie nǐ de lǎoshī de?
清清:我每年都寫卡片寄給老師,謝謝他們的教導,祝他們教師節快樂!
Qīngqing: Wǒ měinián dōu xiě kǎpiàn jì gěi lǎoshī, xièxie tāmen de jiàodǎo, zhù tāmenJiàoshī jié kuàilè!
華華:真是好學生。建議你弟弟放假可以去孔廟走走,有的孔廟會有慶祝活動,很有意思的。
Huáhua:Zhēnshì hǎo xuéshēng. Jiànyì nǐ dìdi fàngjià kěyǐ qù Kǒngmiào zǒuzǒu, yǒu de Kǒngmiào huì yǒu qìngzhù huódòng, hěn yǒuyìsi de.
清清:好啊!我再跟他說,謝謝。
Qīngqing: Hǎo a! Wǒ zài gēn tā shuō, xièxie.
翻譯 Translation
Qingqing: Next Thursday is Teachers' Day, and my younger brother who is studying at National Tsing Hua University will have a day off. I'm really envious of him!
Huahua: Oh! Sept. 28 is Confucius's birthday, which is also Teachers' Day in Taiwan.
Qingqing: When I visited China before, I heard that their Teachers' Day is not on Sept. 28 but on Sept. 10. It's different from ours.
Huahua: That's OK. I believe the gratitude toward teachers is the same. How do you thank your teachers?
Qingqing: Every year, I write cards and send them to my teachers, thanking them for their guidance and wishing them a happy Teachers' Day.
Huahua: You're such a good student. I suggest your brother visit the Confucius Temple during his day off. Some temples have celebratory activities, which are very interesting.
Qingqing: Great! I'll tell him. Thank you.
生詞 Vocabulary
1. 教師節 (Jiàoshī jié) Teachers' Day
2. 羨慕 (xiànmù) to envy
3. 孔子 (Kǒngzǐ) Confucius
4. 中國大陸 (Zhōngguó Dàlù) (mainland) China
5. 不是……而是 (búshì… érshì) not. . . but
6. 相同 (xiāngtóng) the same
7. 教導 (jiàodǎo) teaching, instruction
8. 孔廟 (Kǒngmiào) Confucius Temple
教材音檔 Audio Files
國立清華大學華語中心提供
By National Tsing Hua University Chinese Language Center:
Comments will be moderated. Keep comments relevant to the article. Remarks containing abusive and obscene language, personal attacks of any kind or promotion will be removed and the user banned. Final decision will be at the discretion of the Taipei Times.